Published November 01, 2019 by Rebecca Goldfine
Author Elaine Weiss Brings History of Voting Activism to Campus
One week before Election Day, journalist Elaine Weiss—author of The Woman's Hour: The Great Fight to Win the Vote—spent a day at Bowdoin discussing the history of the US suffrage movement with students and giving an evening talk. Throughout her visit, her message emphasized the importance of voting.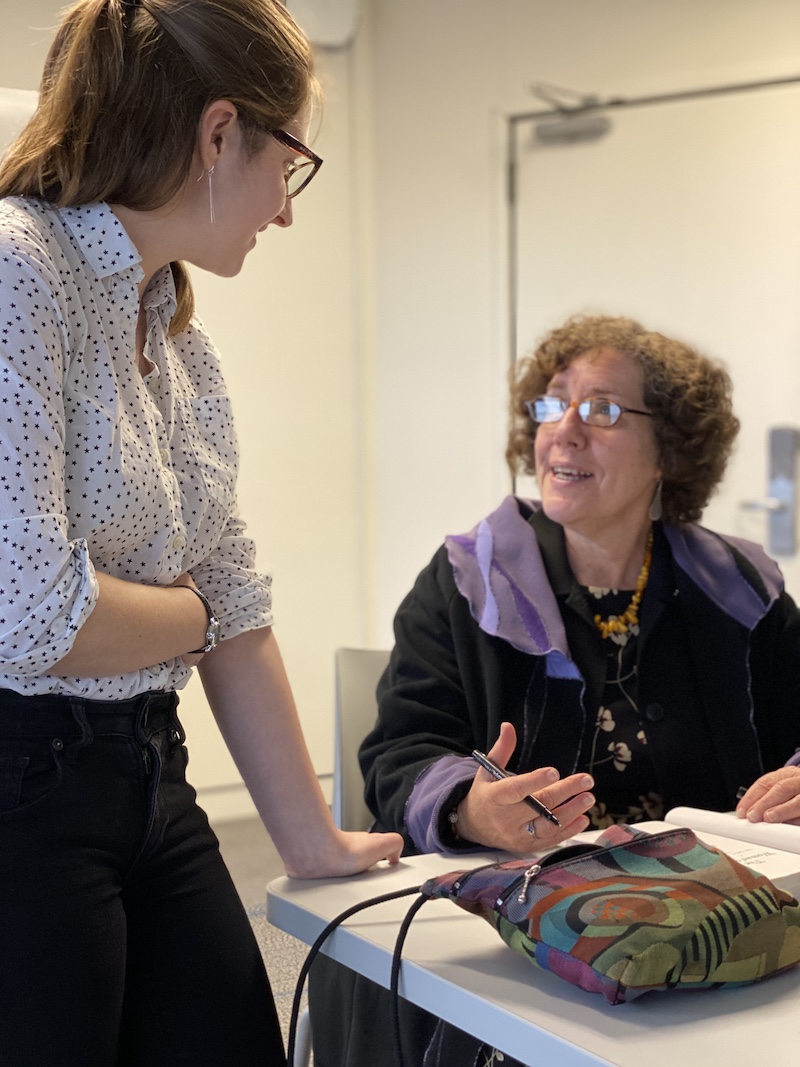 The Woman's Hour, published in 2018, recounts the dramatic six weeks leading up to the ratification in 1920 of the Nineteenth Amendment granting women the right to vote. The book is being adapted into a TV series by producers Steven Spielberg and Hillary Clinton.
Speaking in Kresge Auditorium Tuesday evening, Weiss said she was thrilled to be at Bowdoin to talk about "the power of grassroots activism and American women's fight to gain the most fundamental right of a democracy: the vote."
The fight for women's suffrage is one of the defining civil rights struggles in our nation's history, Weiss argued, "and it is one that cuts to the heart of what democracy means: Who gets to participate? Who has a voice? When we say, 'we the people,' do we really mean everyone? And of course, we're asking that same question today."
Bowdoin's get-out-the-vote effort, Bowdoin Votes—along with the gender and women's studies department and the Sexuality, Women and Gender Center—asked Weiss to campus to help draw attention to the elections right around the corner.
"This event was created to bolster students' understanding of the importance of exercising their right to vote in every election, especially on the eve of an election day that might otherwise be easy to overlook," said McKeen Center Associate Director for Service and Leadership Andrew Lardie, who also runs Bowdoin Votes. "Also, we thought it was important to mark the centennial of the Nineteenth Amendment with programming to promote understanding and action around voting rights."
Before giving a talk in Kresge, Weiss visited a couple of classes and met with students. In the morning, she spent time in the Political Leadership class—taught by Bowdoin's Thomas Brackett Reed Professor of Government Andy Rudalevige—to consider leadership within the suffrage movement. "We talked about about what qualities three generations of leaders had and how you sustain leadership in a movement over time," she said.
In the afternoon, she dropped in on the gender, sexuality, and woman's study class, Women, Performance, and Activism in the Americas, taught by Visiting Assistant Professor of Latin American Studies Irina Popescu.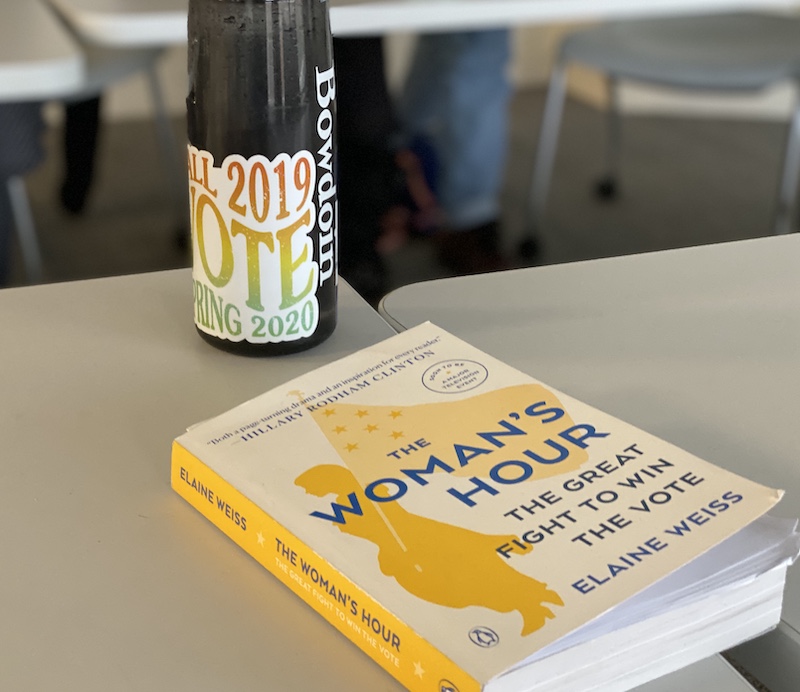 After greeting Weiss, Popescu said she thought The Woman's Hour—which all of her students had been assigned—read like a novel, making the history feel immediate and gripping.
"I could not make this up," Weiss replied. She added that she been inspired to write a readable "narrative history" about suffrage after discovering there was very little popular treatment of the movement. A successful journalist already, she said she studied and adopted novelistic techniques for building suspense.
She also chose to tell the story through "real characters you could be invested in," to explore the women and men who had dedicated their lives to this cause. "What motivated them? What propelled them? What scared them?" she asked.
Through the telling of this history, Weiss's book examines how change happens. "It doesn't come out of the air," Weiss said. "It happens because people dedicate themselves to it."
At the end of Popescu's class, several students lingered in the classroom to ask Weiss to sign their copies of The Woman's Hour. As she scribbled a note in the book of a female student, Weiss said to her, "After what all these women went through, I am making a big pitch: You have to vote!"