Published October 28, 2019 by Rebecca Goldfine
Annual President's Symposium Celebrates Students' Quest for Knowledge
Over 120 students set up posters in Morrell Gymnasium to showcase synopses of their summer research or internships in the arts, sciences, and social sciences.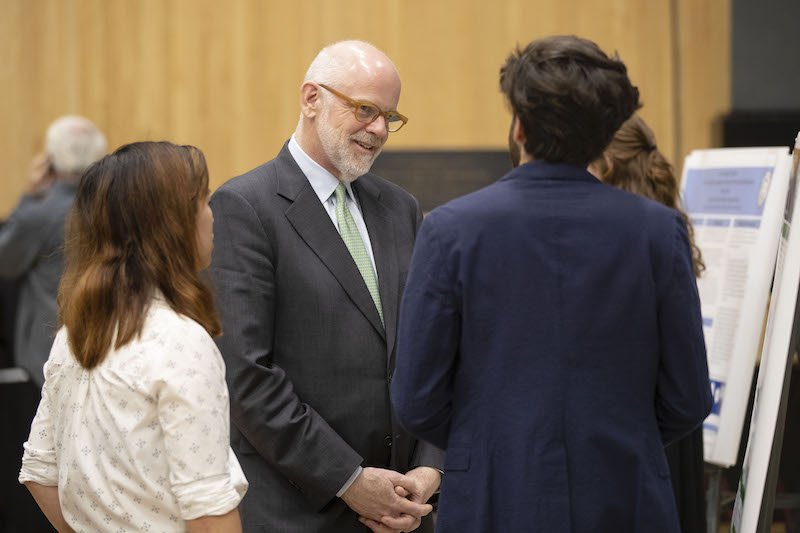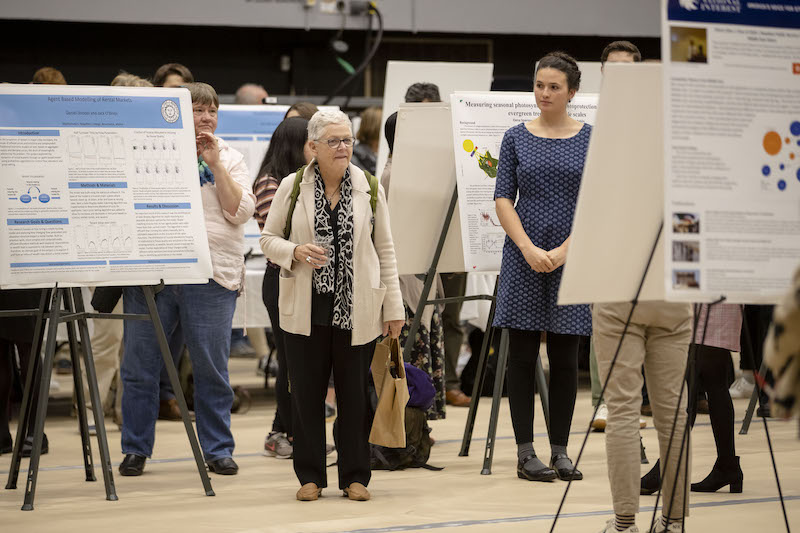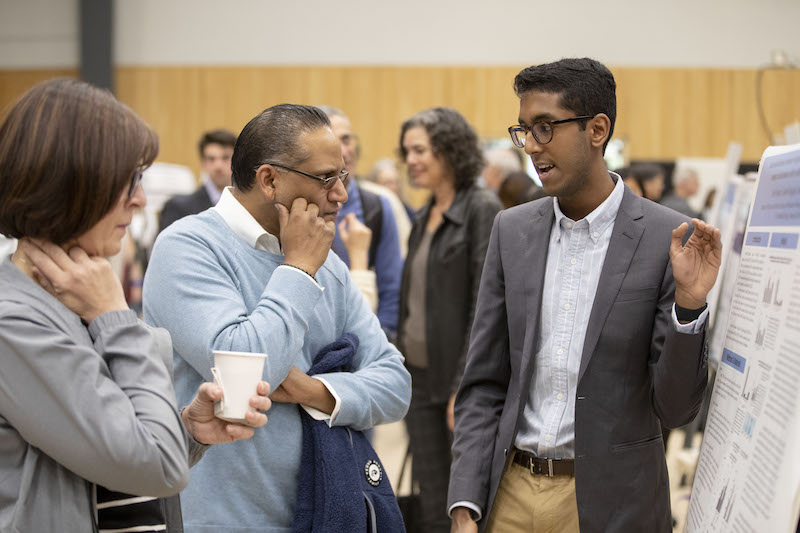 The President's Summer Research Symposium, held the Friday before Family Weekend, is the reason why once a year an entire gymnasium fills with the energy and noise of shared knowledge and discovery. 
All of the students who pursued a funded research project or internship over the summer were asked to create a poster for the symposium. Guests drifted from poster to poster, chatting with the students and asking many questions.
President Clayton Rose, in his welcome, said the research represented in the room "runs the gamut of the human and intellectual experience," and often leads students to honors projects and "lifelong pursuits."
Highlighted below are four students who presented at the symposium.
Eskedar Girmash '20, Bowdoin Public Service Fellowship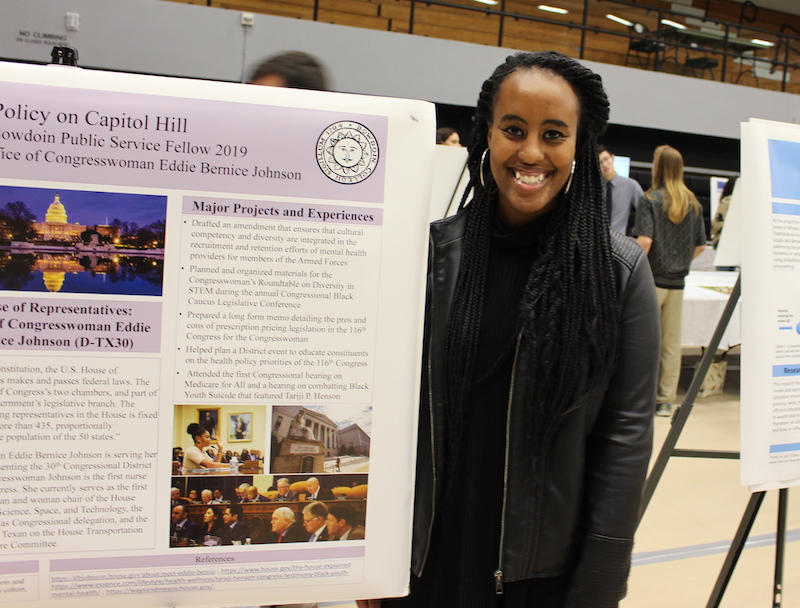 Over the summer, Africana studies major Girmash worked for Texas Congresswoman Eddie Bernice Johnson, an 83-year-old former nurse who has served in the House of Representatives since 1993.
Girmash, who is also a biology minor, worked closely with Johnson's assistant for health legislation. One of her tasks was to research and draft a legislative amendment to ensure that healthcare providers who treat veterans are trained to address the different ways ethnic and racial groups across the country deal with mental illness. 
She also had the chance to attend the first congressional hearing on the Medicare for All Act, as well as a hearing on combating suicide among black youth. "It was amazing to live in DC," Girmash said, adding that her favorite part of the summer was getting to know the needs of Johnson's constituents and learning to translate those needs into research and policy. "I hope to use these experiences to inform my future career in primary care and public health policy," she said.
Jack Rodgers '20, Surdna Foundation Undergraduate Research Fellowship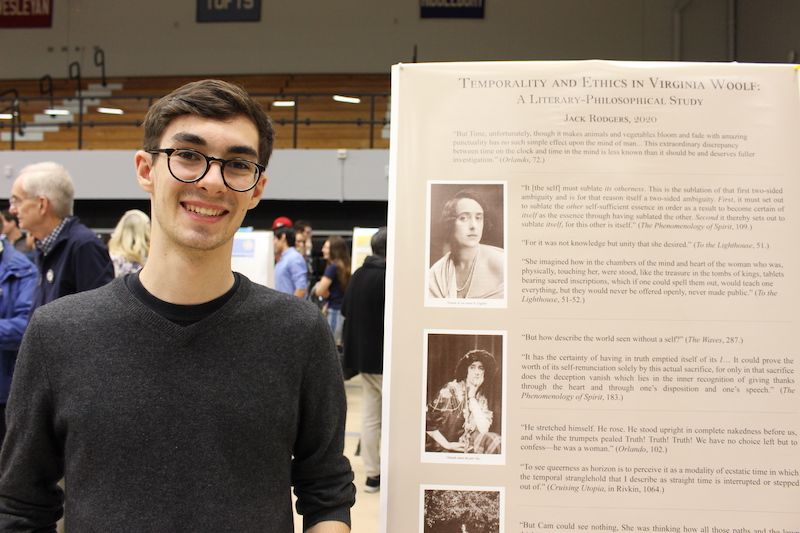 Over the summer, philosophy and English major Jack Rodgers began the first part of his senior-year honors project: an examination of the treatment of time in Virginia Woolf's writings. "For a lot of her characters, the past is unreal—they've lost connection to it," Rodgers said, thus opening new, previously unimaginable directions for themselves.
As he continues his research this fall—he's also examining time in the literature of Marcel Proust and James Joyce—arching over all his literary analysis is his interest in German philosopher Georg Wilhelm Friedrich Hegel's disparate idea that the future is the logical conclusion of past events. 
If the past is too remote and difficult to connect with—as Woolf describes—how can the future be tied to it? "If the past is unreal, how is the future real?" Rodgers asked. "I want to destabilize the Hegelian model that the past leads to the present and the future."
Important to him, too, is to find ethical arguments in the works of the three writers. "A lot of the criticism against modernists and post-modernists is that they're playing with language and breaking things down, and they don't leave us with anything—they're ethically insufficient," Rodgers said. Yet, he believes modernist writers actually can teach readers a lot about our world and ourselves, particularly around gender, race, queerness, and "otherness."
Jed Perler '21, Computer Science Student Fellowship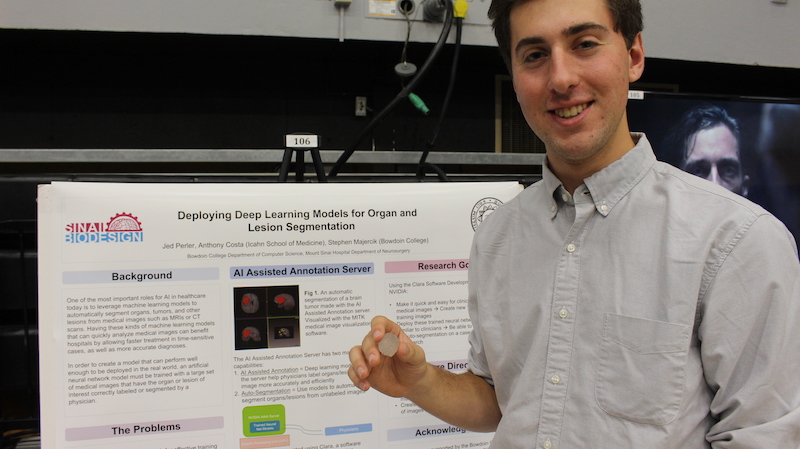 Perler, a biology major and computer science minor, interned at the Mount Sinai Hospital Department of Neurosurgery's Sinai BioDesign team in New York City this summer. Anthony Costa '04, an assistant professor at Mount Sinai's Icahn School of Medicine, developed and now directs the BioDesign team, which collaborates with physicians and researchers to create innovative medical devices and technological solutions.
Perler's primary task was to work on an artificial intelligence server that can more quickly and accurately detect tumors. "Physicians and researchers can interact with the trained artificial neural network models on this server to obtain automatic segmentations of organs and lesions to aid their diagnosis and treatment," Perler wrote in his project abstract.
"Having these kinds of machine learning models that can quickly analyze medical images can benefit hospitals by allowing faster treatment in time-sensitive cases, as well as more accurate diagnoses," he added.
Katie Bacall '20, student-faculty research grant (National Science Foundation and Maine EPSCoR)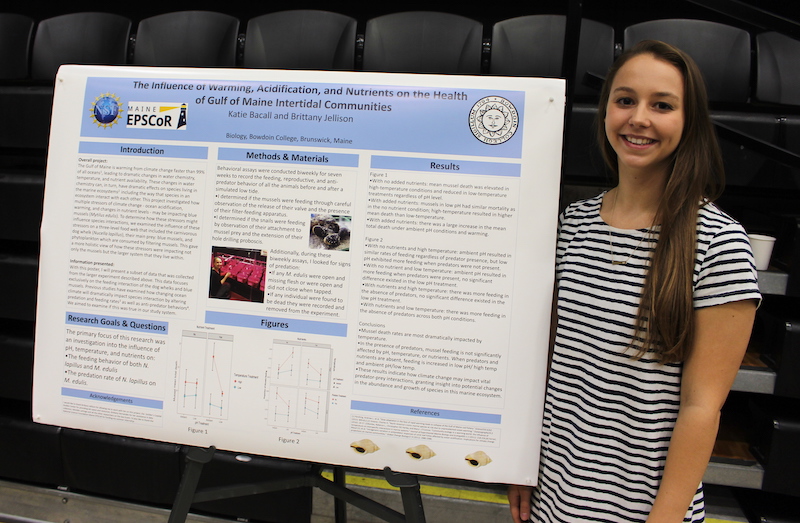 Working at Bowdoin's Schiller Coastal Studies Center this summer, Bacall studied how warming from climate change is impacting the feeding behavior of two species in the Gulf of Maine: blue mussels and the dog whelk, a kind of predatory snail. Mussels filter water to eat plankton and phytoplankton. Dog whelks prey on mussels.  
Bacall's work is part of a larger study run by Brittany Jellison—Bowdoin's Doherty Marine Biology Postdoctoral Scholar—into potential and anticipated climate change effects on the behavior, interaction, and physiology of the two species.
Over the course of the summer, Bacall observed mussels and dog whelks living in more than ninety containers with varying seawater conditions to see how the species fared. She found, for one, that higher temperatures led to higher mussel mortality, possibly because in warmer water snails are more active, and as they burn more calories, they eat more.
"We don't know how all these climate changes and changes in water chemistry will affect species and their interactions. Studying this can help us predict what may happen in the future ecologically and economically," she said. Bacall grew up in Maine, and is familiar with how important the sea is to many people's livelihoods here. "Research like this will help us adapt and prepare and determine if there is anything we can do to prevent more change," she added.