Published September 25, 2019 by Rebecca Goldfine
Caribbean Student's Company Cracks the Status Quo
During her first year at Bowdoin, Amanda Rickman '20, who is from Kingston, Jamaica, came up with an idea for a startup business to help Caribbean students apply to international universities. Today, her company has grown from six clients to thirty-five—and she plans to keep going.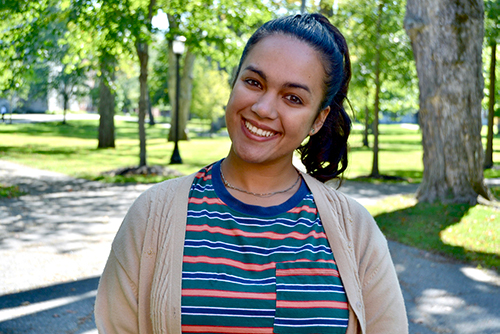 The inspiration for College Quo struck for Rickman when she was checking her Snapchat one day in her second semester at Bowdoin. She saw that a Jamaican student in his final year of high school—a friend of a friend she didn't know personally—was lamenting on the messaging app that he was overwhelmed by the process of applying to foreign universities.
"Hey!" she wrote him. "If you give me fifty dollars I'm happy to help!" He agreed—and he ended up being admitted to a number of schools in Europe before settling on a university in Wales.
"The fifty dollars was a huge bargain for him!" Rickman said with a laugh. "And I realized I was good at this and that I loved doing it. So I decided to launch a business and see what happens."
That business, College Quo, is a "boutique college consulting company" that offers personalized assistance to students in Jamaica and other Caribbean countries, guiding them through the process of applying to international colleges and universities. Rickman says she prices her service packages to be competitive with other college consulting businesses.
"The whole concept of College Quo is to provide an affordable service for students who want to go to university overseas but can't pay the big consulting fees," she said.
After a student signs up for College Quo, Rickman steers the student and the student's family through the months-long application process—from researching universities and burnishing resumes, to filling out financial aid paperwork and editing college essays.
Today, she has thirty-five clients, two part-time employees (university students at Wesleyan and University of Toronto), and a record of success.
"I've helped students get into [New York University] Abu Dhabi—that's a big one—Trinity College, the University of Miami, and lots of Canadian universities like Western, McGill, University of Toronto, and University of British Colombia, since Canada is popular with Jamaicans." 
The Jamaica Observer ran a feature on Amanda Rickman '20 and College Quo in August.
In the article, "Girl Boss breaking the Status Quo with the College Quo," Rickman explains the benefits of choosing to study at an overseas university, ones she learned firsthand at Bowdoin: "It gives you a chance to expand your horizons beyond anything imaginable, network, and make connections with different people from an array of backgrounds—and to learn how to find comfort within discomfort."
The reporter also notes that Rickman is a a co-leader of Bowdoin Women in Business, a senior interviewer for Bowdoin Admissions, and a peer advisor for Bowdoin Career Exploration and Development. "Amanda is a perfect example of a girl boss embracing her passions! We stan." (Stan is slang for to admire or adore.)
An anthropology major and history minor, Rickman says she wants to return to Jamaica after she graduates from Bowdoin to focus on building her business even further. While her parents are encouraging overall, they have also questioned at times whether she should get more corporate experience before becoming a full-time entrepreneur. 
She reassures them that she's confident and capable. "I've been doing this for three years," she has told them. "And my twenties are for taking risks."
Rickman's success has even inspired her mother to start her own business. Partnering with Rickman's aunt, who's a talented seamstress, Rickman's mom designs and sells high-end clothing in a line called Everything Cotton.
And Rickman's own achievements are also motivating her to keep striving with College Quo. She says she applies all the skills she learns at Bowdoin to her business—from public speaking to the knowledge she's picked up as a career planning peer advisor and as an admissions interviewer. "I want to find new, innovative ways to do my work better," she said. "I want to come up with new ideas and help people in different ways."