Published September 06, 2019 by Rebecca Goldfine
Aspiring Zoo Veterinarian Emilia Lawler '22 Finds Her Ideal Internship
It's had to have crossed the mind of many, many kids (and some adults), that a perfect job would be an animal caretaker at a zoo. Emilia Lawler got the chance this summer to live the dream.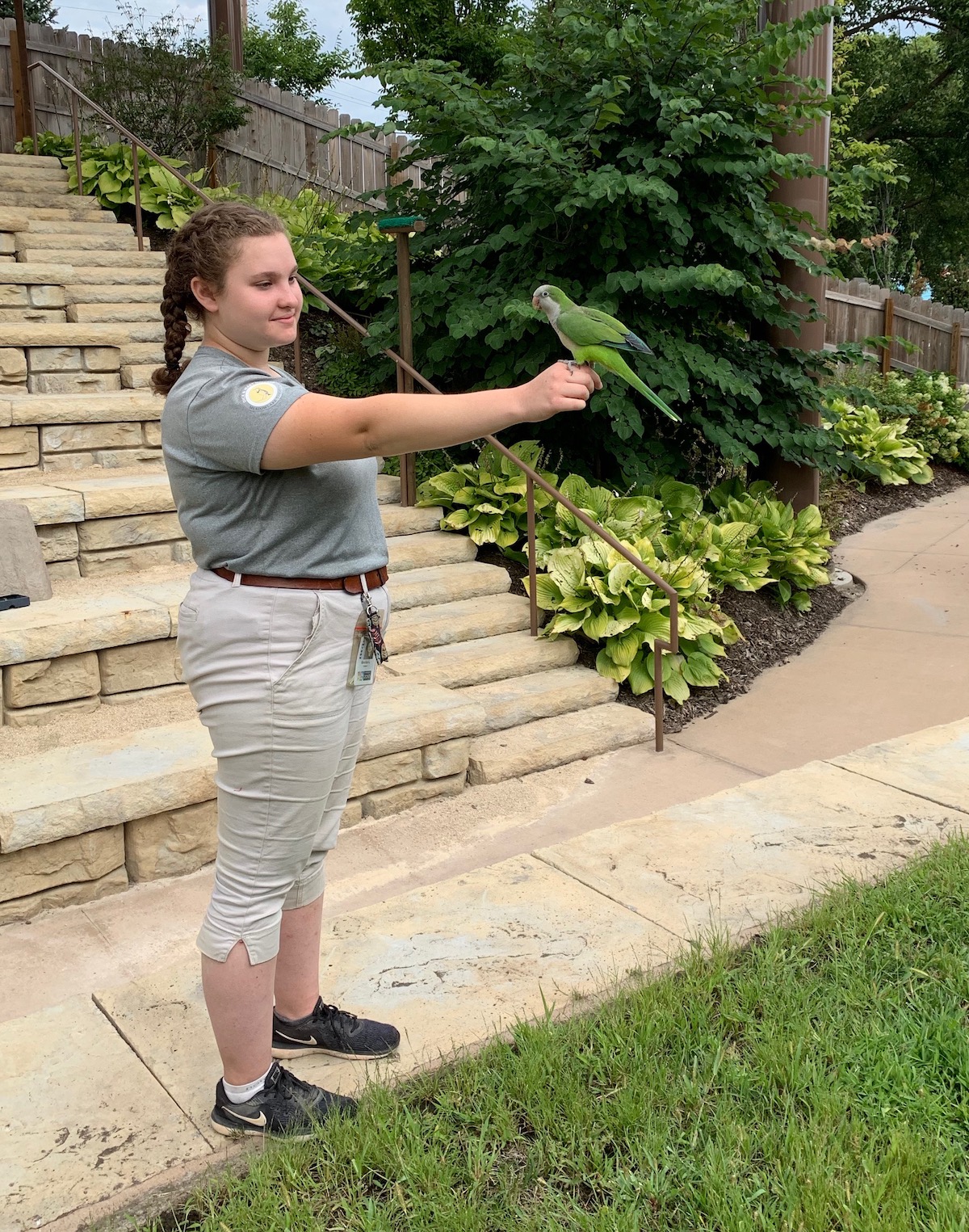 "It definitely is the best internship ever!" Lawler wrote in an email. She had a Peter Buck Internship Award from Bowdoin to support what otherwise would have been an unpaid summer position at Omaha's Henry Doorly Zoo and Aquarium in Nebraska.
Last summer, Lawler interned at a small animal clinic and wanted to expand her animal experience this year. "I knew I wanted to work in a zoo," she said. "I've always been interested in animals, and after working at the vet, I wanted to branch out a bit."
So she worked for the zoo's Birds in Flight program in the Meadowlark Theater, which offers a regular show featuring some of the zoo's thirty-five birds. In the performance, Harris hawks, guinea fowl, macaws, Quaker parrots, and other birds are trained to demonstrate their natural behaviors, such as using sticks to make nests.
While the show is entertaining, it is actually designed to teach audiences about birds, their habitats, and "what we can all do to make a difference for wildlife," according to the zoo website. "The overall message of the Birds in Flight program is one of conservation." 
Lawler hopes to be a veterinarian one day, ideally working for a zoo. This summer, while she was focused on taking care of birds and helping to train them, she also had a chance to shadow at the zoo's hospital, watching vets perform medical procedures on animals.
"I heard the heart rate of a zebra!" she said (it's a tad slower than a horse's heart). 
And she made a friend. "You're not supposed to have favorite animals," she admitted. "But the southern ground hornbill is my favorite. She's positive and upbeat."
To hear more stories from the 2019 summer funded interns, check out the poster fair on Monday, Sept. 9, from 4 p.m. to 5 p.m., in Morrell Lounge.