Published September 16, 2019 by Julius Long '20
Public Service Profiles: Rich Littlehale '92 Talks Cybersecurity and Law Enforcement
When Rich Littlehale '92 returned to the McKeen Study in Massachusetts Hall last week to speak on his journey from Bowdoin to his dream job in public service, he was feeling nostalgic. It was in that very room, in 1988, where he would take his first-year seminar and embark on the education that has guided him in his twenty-four-year career at the Tennessee Bureau of Investigation (TBI).
He is the first of several alumni to participate in Bowdoin's new Public Service Profile Series, led by Sarah Chingos, associate director for public service at the McKeen Center. The series features alumni with distinguished careers in public service, offering current students examples of pathways from Bowdoin to serving the common good.
This month, Littlehale began a new role as assistant director at the Technology and Innovation Division at TBI. Over the course of his career, the majority of his work has concerned cyber investigations, internet crimes against children, online threats to life, and encryption issues. He shared several accounts of his experiences along the way, spanning from his days as an unpaid law school intern at the U.S. Drug Enforcement Administration in Boston to his field work with TBI.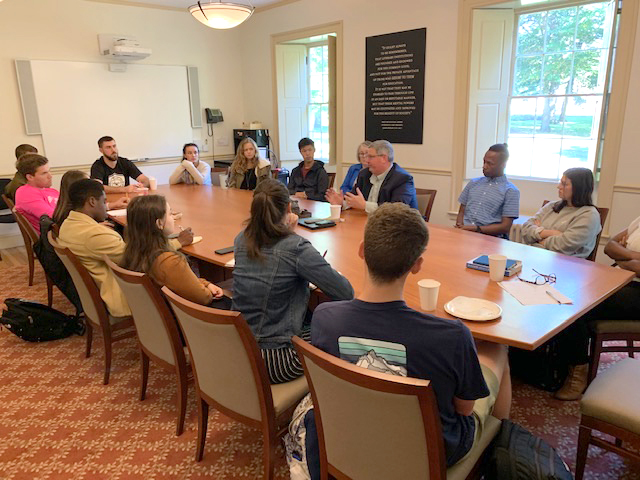 Among the students in attendance was Connor Downs '20, who last summer was also a state police intern in Boston. "I didn't know of any Bowdoin alumnus that had gone into law enforcement," Downs said. "I was very excited to hear about his journey from Bowdoin to where he is today, and pleasantly surprised to hear he also interned at the Boston DEA."
Littlehale, who earned a law degree from Vanderbilt University after graduating from college, expressed gratitude for the mentorship he received from Bowdoin Professors Jean Yarbrough, Allen Springer, John Rensenbrink, and Dick Morgan. He told students he still carries with him the lessons learned as a government and environmental science coordinate major.
Littlehale has testified before the US Congress on behalf of state and local law enforcement regarding access to digital evidence—something he says few in his field feel equipped to do. "Those are the sorts of connections that I draw back to the time I spent with Professor Yarbrough and others. 'How do you order a society in service of the common good and in service of liberty interests?'"
He encouraged students in the room to strongly consider careers in public service. "The notion of the classical liberal arts education is, in my mind, really relevant," he said. "We need people with a variety of perspectives. Whether it's in law enforcement or public service more generally, we need folks that seek to make a difference."