Published August 29, 2019 by Tom Porter
Overheard Conversation Sparks Brock Clarke's Fifth Novel
A. Leroy Greason Professor of English Brock Clarke's latest work is described by The New York Times as an "exuberant comic novel." Who Are You Calvin Bledsoe? (Workman Publishing, August 2019) tells the story of a middle-aged blogger for the wood pellet stove industry, whose life takes an unexpected turn when his parents die.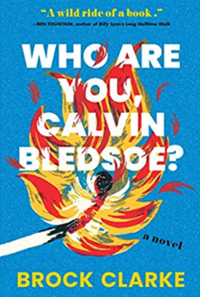 Approaching fifty and having only lived in small-town Maine, Calvin Bledsoe begins his journey of discovery at his mother's funeral, when he meets an eccentric aunt he didn't know he had and is whisked away on a European adventure.
Clarke dreamed up the character of Calvin Bledsoe after overhearing "some bozo rhapsodizing about how much he loved his pellet stove," according to The Times Record. Another inspiration, said Clarke, was the 1969 novel Travels with My Aunt by the great British writer Graham Greene, which he re-read a couple of years ago. At the time, Clarke explained, he had just abandoned a novel he had been working on because the character was too similar to himself. "It was important to be writing about someone different from myself," he said.
Although Calvin Bledsoe is at times a sad book, he added, the central message is essentially an optimistic one: "You can change your life... It's never too late to grow up."
Watch a television interview with Brock Clarke on WCSH 6's magazine show 207.
Clarke is currently on a national tour to promote his new novel. Click here for tour dates.