Published August 04, 2019 by Tom Porter
Bowdoin's Jean Yarbrough Appointed to National Council on the Humanities
Professor of Government and Gary M. Pendy Sr. Professor of Social Sciences Jean Yarbrough has been confirmed as one of sixteen new members of the National Council on the Humanities.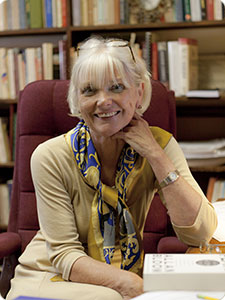 The appointments were made last year by President Donald Trump and confirmed by the US Senate on August 1, 2019. Sixteen prominent humanities scholars and advocates were confirmed, according to a press release by the National Endowment for the Humanities (NEH).
The Council has twenty-six members in all and is described as the advisory body to the NEH, a federal agency that supports research and education in the humanities.
"We are delighted to welcome this distinguished group to the National Council," said NEH Chairman Jon Parrish Peede, in the press release. "Together they bring a wide range of expertise," which, he added, would be invaluable to the NEH. The latest round of appointees includes experts in government and public policy, international affairs, law, archaeology, literature, and languages.
Yarbrough, who has teaching responsibilities in political philosophy and American political thought, has twice received fellowships from the NEH. Also being confirmed to the Council is Bowdoin's Keegan Callanan '03, currently teaching political science at Middlebury College in Vermont.  
The Council meets three times a year to review applications and advise the NEH chairman.