Published August 26, 2019 by Tom Porter
Bowdoin Secures Federal Grant for Using Pioneering Wood Product
Mass timber is an increasingly popular building product praised as a more sustainable alternative to concrete or steel. It's made using small pieces of laminated wood compressed into large panels used as structural components in buildings.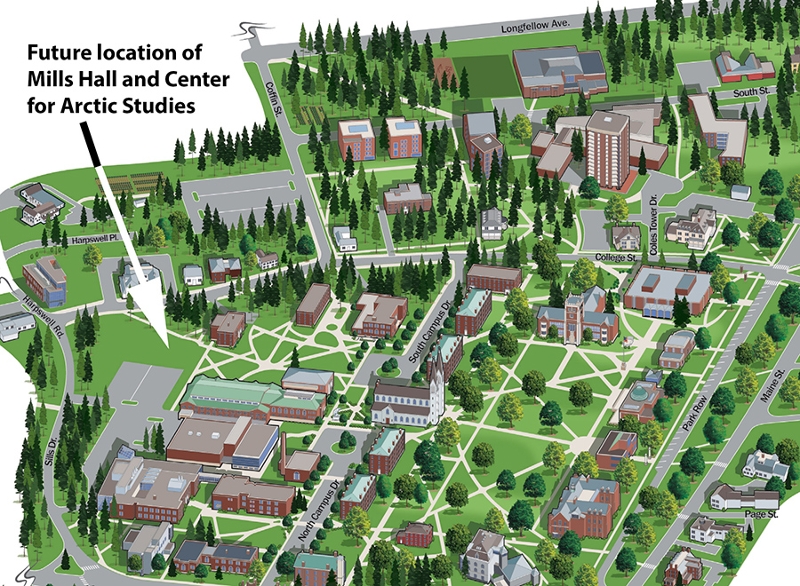 The US Department of Agriculture Forest Service wants to encourage greater use of the product in construction projects, which is why, in partnership with the US Endowment for Forestry and Communities*, it has awarded $1 million to ten institutions across the nation through its Mass Timber University Grant Program.
Bowdoin is among the recipients, due to the planned construction of two new buildings—Barry Mills Hall and a Center for Arctic Studies—both of which are in line to use frames made from mass timber. The $100,000 award will unlock matching funds of the same amount, which will be provided by Bowdoin and Consigli Construction, the builder.
Construction is anticipated to begin in the summer of 2020, with expected completion at the end of the 2021 fall semester. Bowdoin's Senior Vice President for Finance and Administration Matthew Orlando said there are numerous advantages to mass timber. "As a renewable resource, the embodied carbon of the mass timber that will be used for the project is about a fifth of a similar steel structure. And then there is the aesthetic value; when exposed, the timber framing will bring character and warmth to the interior of the buildings."
Lauren Piepho of HGA architects is the project's structural engineer. "While wood is one of the world's oldest building materials, modern mass timber is revolutionizing the possibilities for wood construction," she said. "Its high strength-to-weight ratio allows for an efficient superstructure and foundation system, all of which supports the College's commitment to environmental responsibility and carbon neutrality."
"We are excited about these projects and grateful for this important grant," said Bowdoin President Clayton Rose. "Using mass timber in projects like these makes perfect sense and reflects Bowdoin's commitment to responsible environmental stewardship. We are also grateful to our two US senators and their staffs for their support and assistance in securing these funds."
Maine's US Senators, Angus King (I) and Susan Collins (R), are strong advocates of mass timber, and they both signed onto a letter last December urging the federal government to set up the program. "Maine's forests are one of our state's greatest natural resources, and it is important we maximize these assets by exploring every possible use for this important economic driver," they said in a joint statement.
*The United States Endowment for Forestry and Communities, Inc. (the "Endowment") is a not-for-profit corporation that works collaboratively with partners in the public and private sectors to advance systemic, transformative and sustainable change for the health and vitality of the nation's working forests and forest-reliant communities.