Published August 31, 2019 by Samara Nassor '22
Environmental Orientation Trip Explores Local Progress in Action
On Thursday's crisp afternoon, ten students in the Midcoast Communities: Environment and Sustainability Trip, organized by the McKeen Center for the Common Good, learned about the actions local communities are taking to protect and preserve the environment.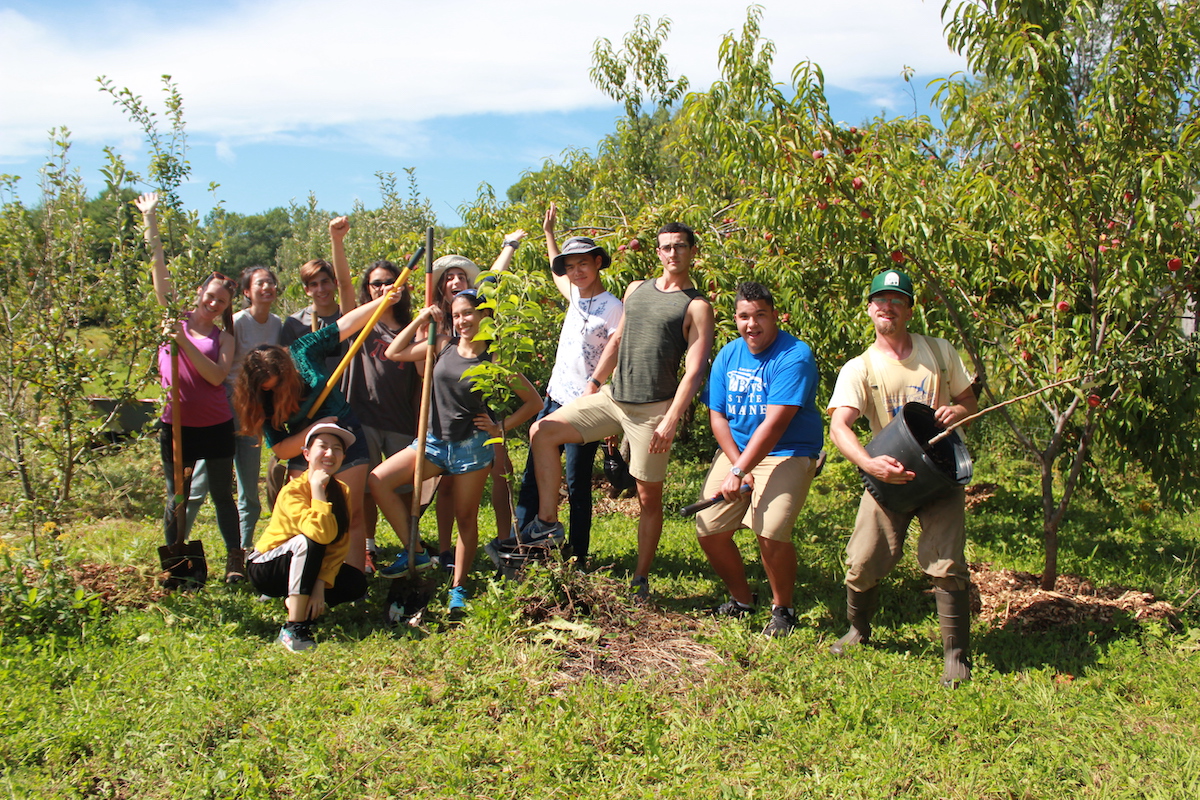 The trip is one of more than fifty orientation trips all first-years embark on the day after they arrive on campus. While many of the trips are outdoorsy, with hiking, camping, rafting, and biking on the agenda, several are more service oriented, including this one.
For one of their activities, the eight first-years and two student leaders volunteered at an orchard farm in Durham, Maine, owned by Richard Hodges, the program manager of a nonprofit called ReTreeUS.
"ReTreeUS shows students the benefits of environmental stewardship through practical solutions. We believe that sustainable gardening can eliminate tilling and mowing, eventually allowing soils to build organic matter and sequester carbon dioxide," Hodges explained to the gathered students.
Students learned the art of sheet mulching, a low-impact gardening technique that mimics the development of soil. They shoveled woodchips and compost. and then maneuvered their wheelbarrows through rows of snapdragons and sunflowers, and a nursery of young peach, cherry and apple trees.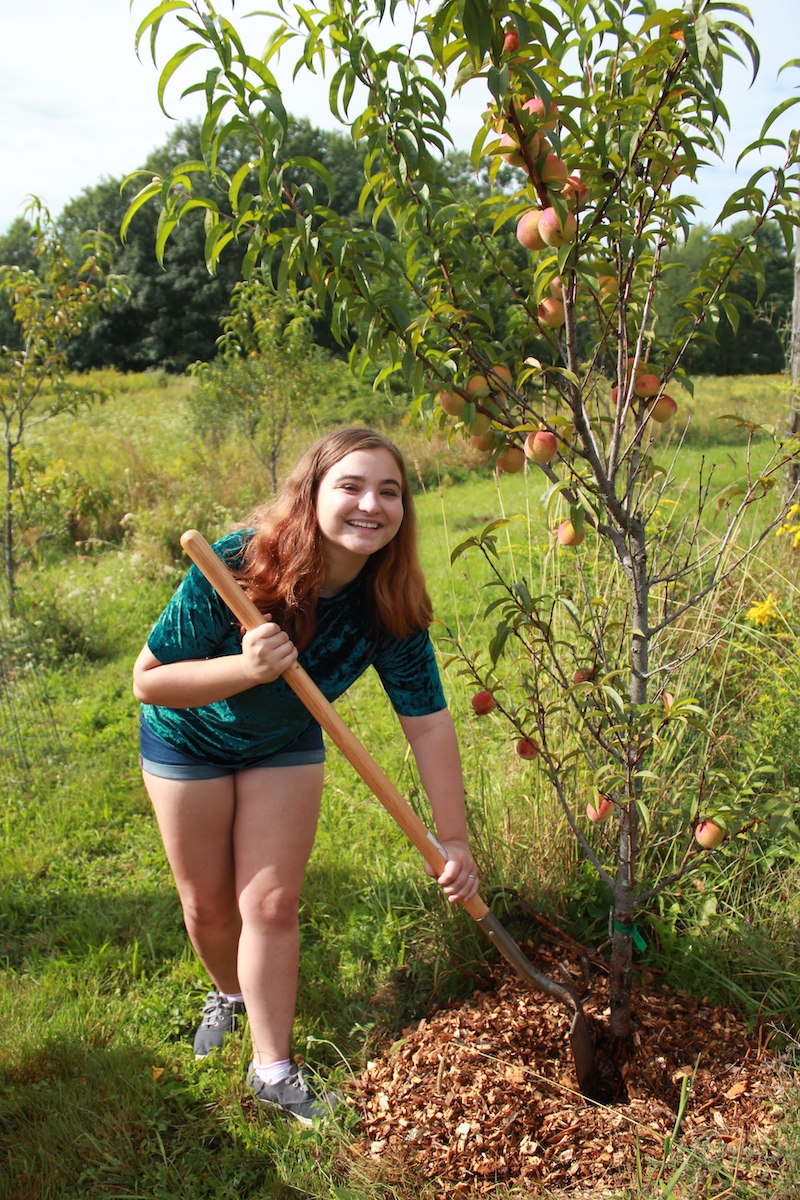 On the ground, sheets of recycled craft paper were rolled out; these acted as a base for the woodchips and compost. The students poured the essential ingredients onto the craft paper, providing a fertile garden bed for the plants to propagate and thrive.
"This one-man operation would have been completed in a week instead of a few hours!" Hodges said.
The trip was led by Ridhika Tripathee '22 and Manlio Calentti '20. Tripathee said she wanted to re-live her own orientation trip, while Calentti desired to gain hands-on experience in environmental leadership. "I'm glad to be outside leading an energetic group of people," Calentti said.
As Colby Santana '23 scattered woodchips from one end of the field to the other, he reminisced of the times he had  spent gardening with his father. "My father loves gardening and landscaping," he said. "I'm interested in the environmental field myself. I hope to join the Sunrise Movement and pass the Green New Deal."
Born and raised in Shanghai, China, Jane Wang '23 wasn't in touch with nature until recently. "Now I understand the old Chinese saying, 'Every piece of rice is part of hard work'!" she said.
At 2 p.m. the group arrived at South Portland, which Julie Rosenbach, the sustainability director of the city, hopes to be the greenest municipality in Maine—despite its history of oil ports.
"Sustainability is different from environmentalism because it has three focus areas: equity, environment and economics," Rosenbach said in her presentation to the students.
When a student asked, "What are your biggest obstacles?" Rosenbach replied that local and state action on climate and the environment will prosper no matter what happens at the national or international level.
"All we need is people like you," she said.