Published August 06, 2019 by Tom Porter
AFAM50: Bowdoin to Celebrate Half-Century of Multiculturalism and Scholarship
Bowdoin is gearing up for the AFAM50 celebration in November, marking fifty years of multiculturalism and scholarship. The year 1969 saw the establishment of the Africana Studies program, the African American Society, and the John Brown Russwurm African American Center—named in honor of Bowdoin's first African American graduate (Class of 1826.)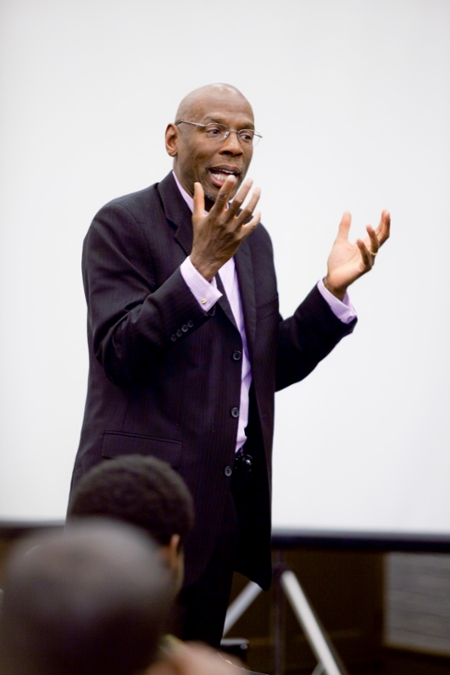 The AFAM50 weekend opens the morning of Friday, November 8, kicking off three days of lectures, symposia, art exhibitions, conversation, live music, and parties. Opening day highlights include:
A panel discussion titled "A Seat at the Table," led by Bowdoin alumnae leaders.
A symposium featuring historian and artist Nell Irvin Painter, who'll be in conversation with Tess Chakkalakal, director of the Africana Studies program, discussing Painter's critically acclaimed work The History of White People.
A cocktail reception and evening dinner, as well as live music and an African American Society House Party.
Saturday, November 9, will also feature two keynote addresses and a lunchtime conversation with prominent members of the Bowdoin community. 
The morning session includes an address by artist, educator, and curator David Driskell H'89, a renowned scholar on African American art.
Over lunch, President Clayton Rose will be in conversation with Kenneth Chenault '73, H'96, prominent business leader and former CEO of American Express.
That afternoon, there will a keynote address by Geoffrey Canada '74, H'07, the celebrated educator, social activist, and author who has run the Harlem Children's Zone in New York for nearly thirty years.
In the evening there will be an AFAM50 celebration ball, featuring live jazz, dancing, and DJ entertainment.
The event wraps up on Sunday, November 10, with a farewell jazz brunch and memorial service.
Both campus museums and the College library are also preparing special programming for the weekend. The Museum of Art will give special exhibition tours of African/American: Two Centuries of Portraits on both Friday and Saturday. The Peary-MacMillan Arctic Museum will feature a program on Matthew Alexander Henson, the first African American at the North Pole, and the library will host two sessions of an exhibit talk, titled Tension/Tenacity: Africana Studies at 50.
Bowdoin faculty voted in 1969 to establish the Africana Studies program—a multidisciplinary approach to the study of the history, politics, culture, and experiences of people of African origin in Africa and the African diaspora. In the fifty years since, the College has received some of the most important scholars of African American history and culture, including Maya Angelou, Cornel West, Edwidge Danticat, Paule Marshall, Ntozake Shange, Derek Walcott, Sonia Sanchez, Sweet Honey in the Rock, Angela Davis, Michael Harper, and Patricia Williams.
The John Brown Russwurm African American Center houses a library of nearly 2,000 volumes and scholarly journals, accommodations for house managers, lounges and meeting spaces for classes and dances, an office for the Black Students Union, and various other public rooms. The downstairs lounge is often used for receptions for speakers sponsored by either the Black Student Union (formerly the African American Society) or the Africana Studies Program.
Alumni planning to attend this special event can register here.