Published August 30, 2019 by Rebecca Goldfine
Orientation Group Focused on Food Insecurity Visits the Western Foothills
Standing at the head of garden beds bursting with kale, arugula, basil, red-veined chard, and deep-purple amaranth, several sunflowers were slightly bowing their heads at the sun.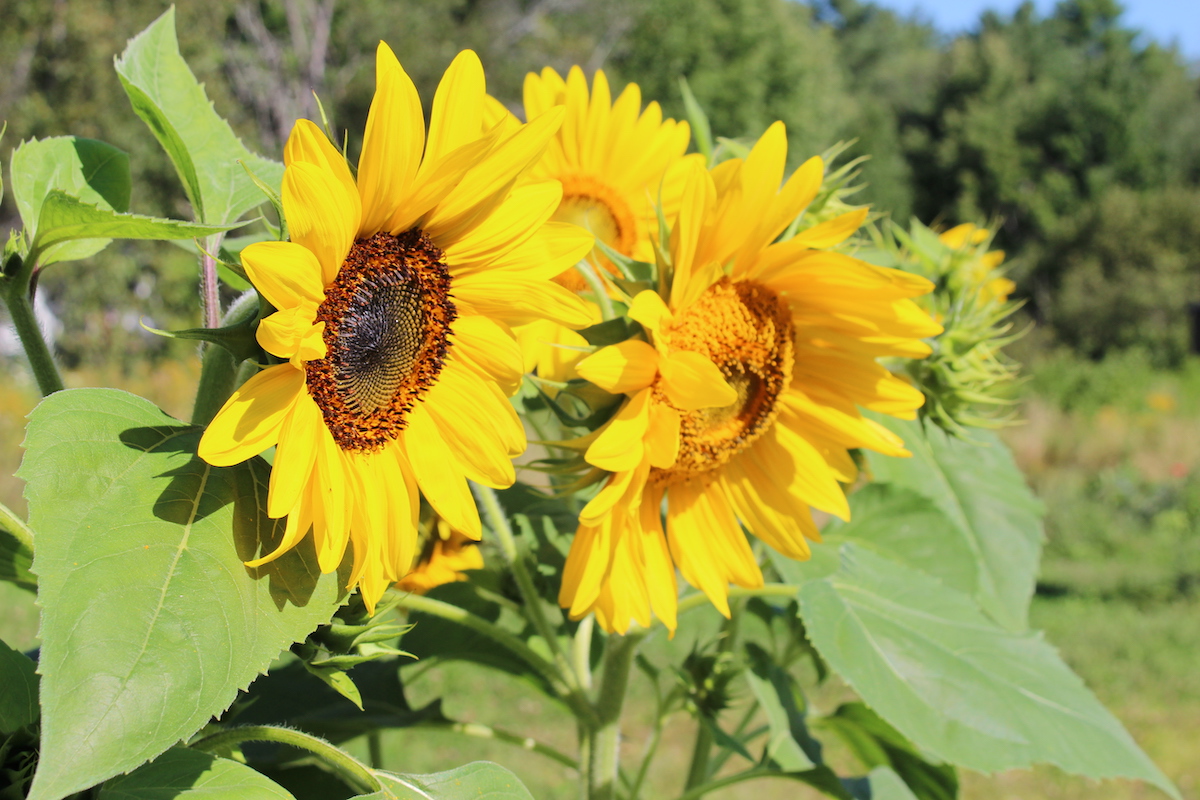 Looking at them, first-year Grace Carrier, who is from Brooklyn, New York, told a couple of other students of an oddly anthropomorphic quality of the flowers. When it is bright out, they face the sun. But when it's cloudy, "they turn to face each other," she said.
Her story in a way seemed appropriate to the mission of the Western Foothills Orientation trip she is on. Much of the trip is focused on food insecurity and economic recovery in western Maine, and how local communities are addressing these issues and helping the people most impacted by them.
Carrier, with eight other first-year students and two sophomore leaders (Sulwan Ahmed '22 and Melissa Magrath '22), is on one of the more than fifty orientation trips that all first-years embark on the day after they arrive on campus. The students on Carrier's trip camp, hike, explore, and volunteer in Norway, South Paris, Waterford, and other western towns that, like much of rural Maine, have been affected by deindustrialization and the closing of mills.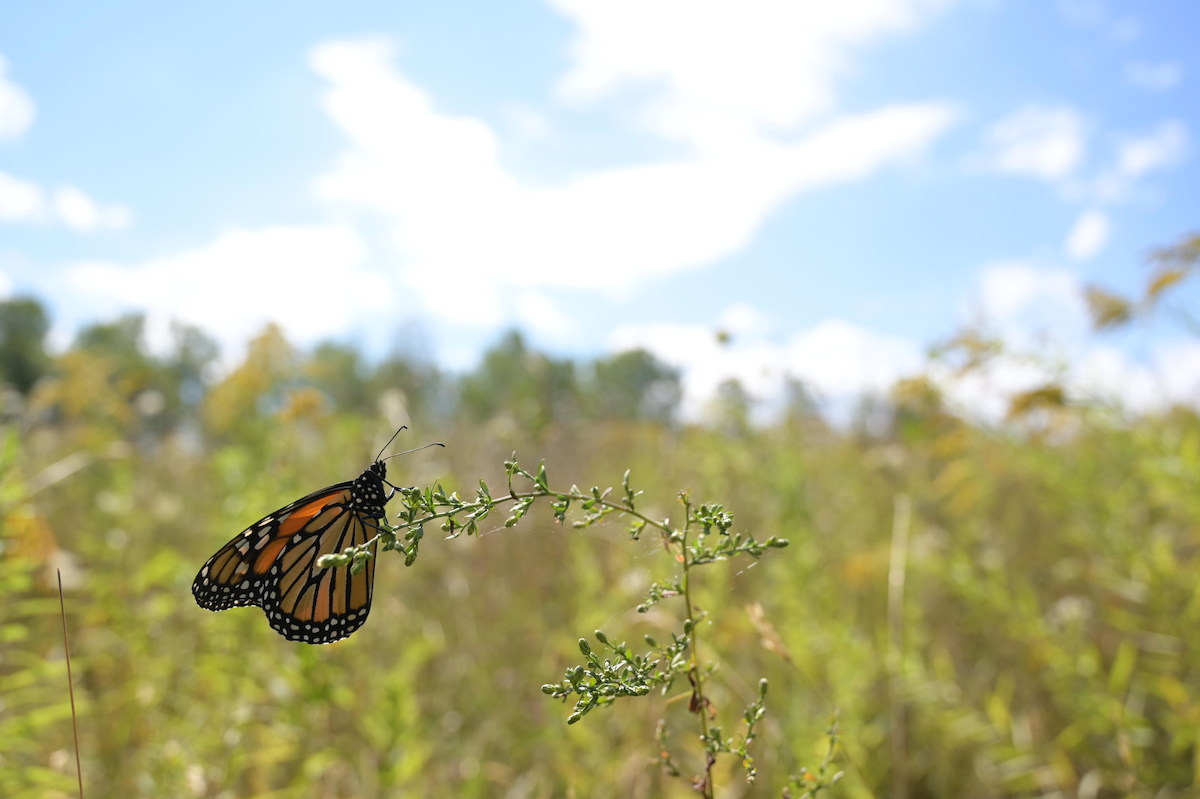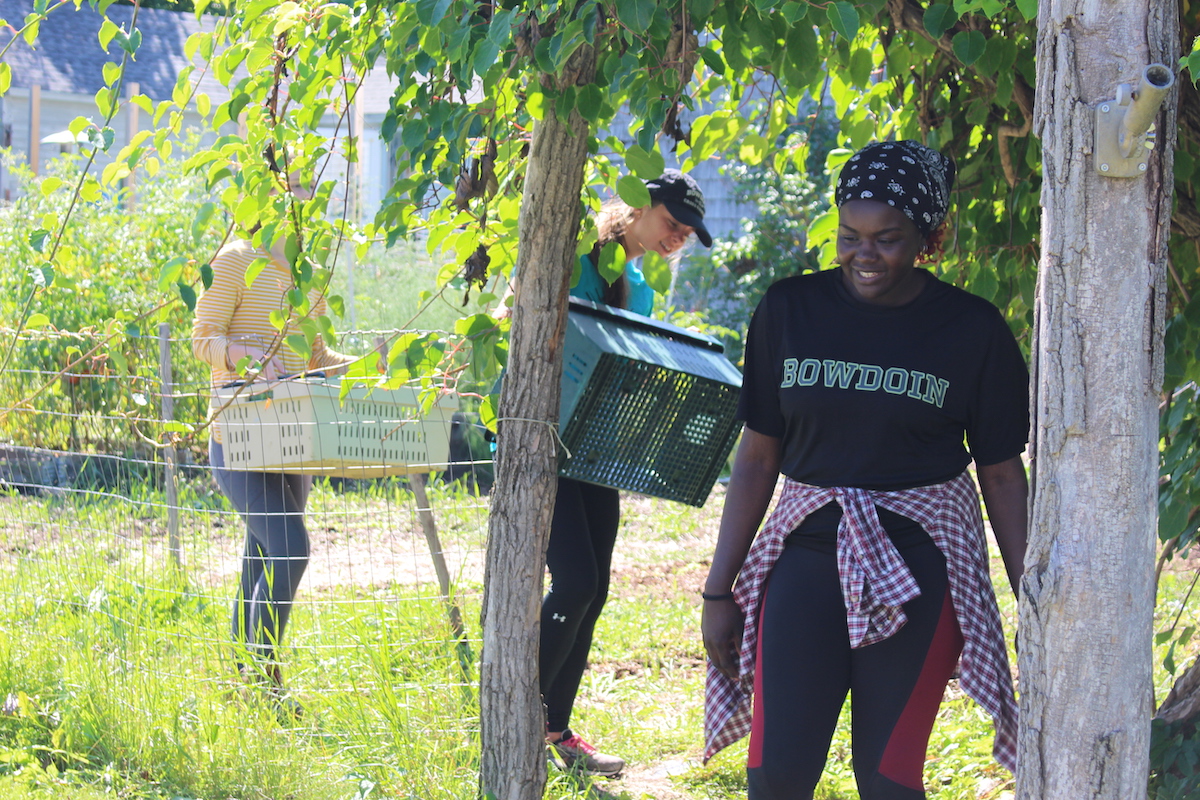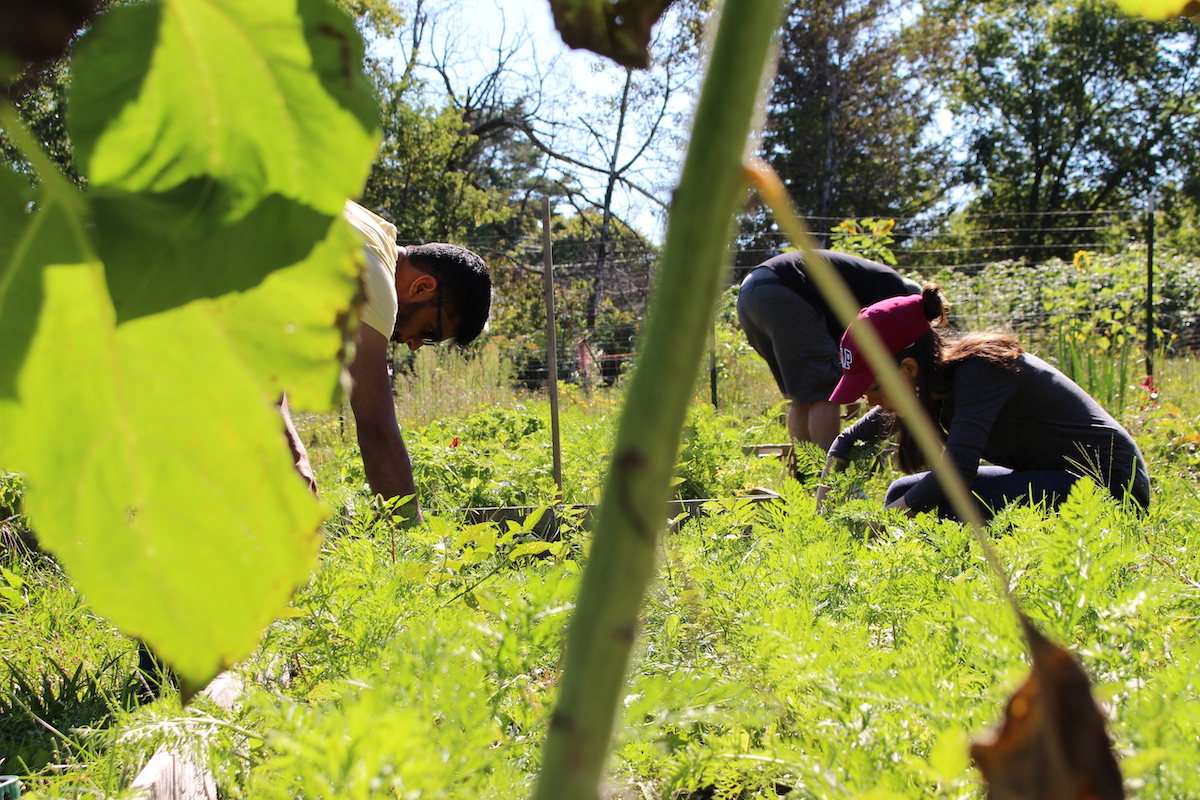 On Friday morning, the group was at the Alan Day Community Garden in Norway, which uses it gardens to teach and inspire people to grow their own organic food. Under the guidance of garden volunteers, the students harvested peas, broccoli, carrots, and other crops for the weekly market, held every Friday from 4:00 p.m. to 7:00 p.m. 
The day before, the students had harvested vegetables with Gardeners Growing Healthy Communities, which distributes its fresh food—no questions asked or documentation required—to local people once a week at an area church. About sixty people the previous night showed up to collect the free produce.
While working on a row of broccoli with Coltrane Joseph '23 and Alex Papanikolaou '23, Nick Anastas '23, from Ipswich, Massachusetts, said the best part of the trip so far had been connecting to local people. Coming from a more densely populated region, he noted that "it's really cool to see how tight-knit the communities are here." Joseph and Papanikolaou agreed.
Over in the row of peas, the conversation among Ahmed, Magrath, and Carrier had turned to another aspect of close communities, one slightly less positive. They were commenting on how easily colds and the flu are transmitted among college students. Carrier looked a bit concerned. Magrath joked that hanging out in dirt was good for them as it was exposing them to microbes and bolstering their immune systems.
Both trip leaders—Magrath and Ahmed—said that they had enjoyed getting to know the first-years, hearing their "incredible" stories around the campfire, and providing what wisdom they could about the transition to college life. "We can help them with that since we were just there," Magrath said. "And we are already seeing them transform." 
Ahmed added, "We're seeing them become Bowdoin students!"