Published July 03, 2019 by Rebecca Goldfine
Public Service: Funded Interns at the Town Office, City Hall, and City Park
Several students are working in public service in Maine this summer. Two are interning with local governments—one in a rural Maine town, the other in Maine's largest city. A third is working to make Portland's parks more accessible and vibrant.
All three have grants worth up to $5,000 from Bowdoin's funded internship program, which this summer gave ninety-seven students the financial freedom to pursue unpaid work opportunities and explore career paths.
---
 At the Town Office in a Rural Maine Town
As she was scouting for place to intern this summer in her hometown of Millinocket, Fredericka Hibbs '21 kept an eye out for an organization that could clearly benefit from her services. "I thought, if I am going to work for a company, I should work for one that can use free labor," she said.
She ended up looking beyond nonprofits and environmental organizations and walked instead into the town office. "They hired me right away!" she said. "They're really overworked because the community is suffering financially. I feel very helpful and involved and welcomed."
Hibbs grew up in Millinocket, a community of roughly 4,000 people that has struggled since the closing of major paper mills that once undergirded the regional economy.
A philosophy and English major with plans to attend law school, Hibbs sees her internship as an opportunity to observe how government "on a small municipal scale works and see how town ordinances work."
She's been placed in the town's assessing office, where she helps the code enforcement officer calculate the taxable value of the town's 2,500 or so properties, respond to noise and property complaints, and ensure ordinances are followed. 
Though she grew up in Millinocket and her family has been in the area a long time, her internship has provided her with a new perspective on her hometown. "I have gotten to know neighborhoods better, and I pay more attention to the needs of the community, how it is trying to help itself out as a fairly impoverished community," she said. 
---
 At the City Hall in Portland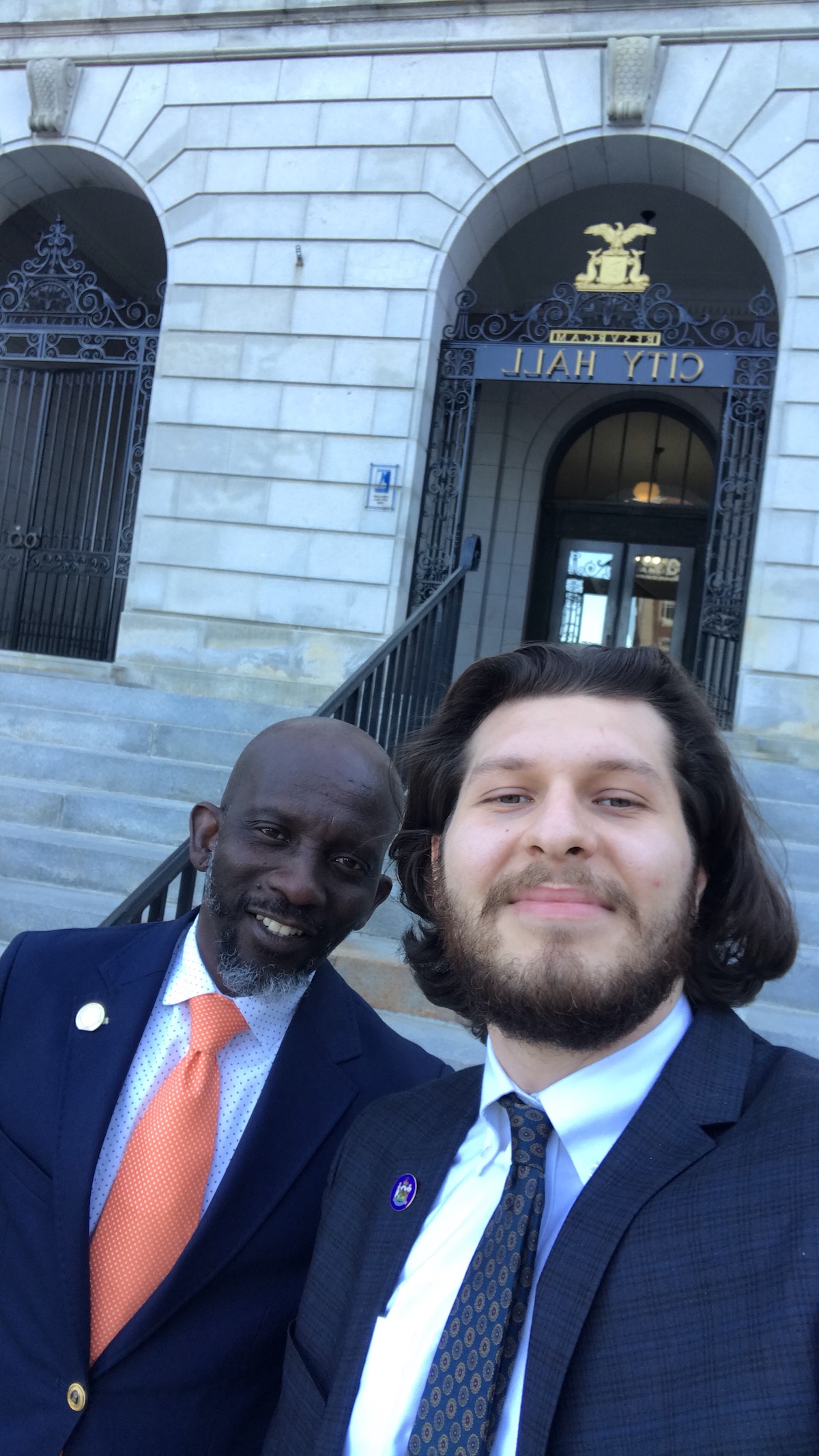 Salim Salim '20 is the first intern to work for the city's first African-born Muslim councilor, Pious Ali, who was elected to office in 2016. The two originally became acquainted when Salim was a politically active high school student engaged in his Portland community.
"Councilor Ali is always interested in fostering young leaders, and he always gets excited about people who are interested in public office, especially young immigrants like him," Salim said. Salim's family moved to Maine from Iraq when he was a child. 
This is Salim's second government internship. He interned for United States Senator Angus King in Washington, DC, last summer. Salim's attraction to public service reflects his interests in foreign policy, immigration law, and international peacemaking. Yet, though his focus spans the globe, he says he enjoys the international exposure he gets just by working for a city like Portland. "In local politics, you get to interact with communities of people that come from all over the world," he said.
The rising senior's most important task this summer is to conduct a survey of marginalized groups to find out what challenges they face in participating in local government. He will interview members of the city's LGBT community, Latinx community, and immigrant and refugee populations. He plans to present a final report on his findings to the Legislative and Appointments Committee of the Portland City Council by summer's end.
Salim said one of the best parts of his job has been walking the city streets with Ali, chatting with him and greeting people the councilor knows. "He's introduced me to many fascinating community members," Salim said. "And I enjoy the conversations I've had with him. Sometimes I get the most wisdom from him at the most random times."
---
 In Portland's City Parks
Annecy Schiffer '21 is technically not working for the city of Portland—her organization, the Portland Parks Conservancy, is a nonprofit—but she does work closely with the city's parks and recreation department. 
"The goal of Portland Parks Conservancy is to fundraise and support projects to improve city parks," Schiffer said. "And it tries to make the parks more accessible and more vibrant spaces."
Schiffer was drawn to the internship because she is considering a career in urban planning and green-space planning. "You can make a huge difference in designing smart cities now," she said, noting the trend of people moving into cities around the world. "You can make such a big impact on the future, determining social and cultural divides and environmental impacts of the city."
One of Schiffer's jobs this summer is to visit the city's parks to ask people using them what they think the space needs. She's researching possible new amenities, such as accessible playgrounds for kids with disabilities, and "senior playgrounds" that have lightweight exercise equipment. "These become hubs for senior citizens to socialize and get fresh air," Schiffer said.
She's also helping to make an interactive map of the city's parks, to show people what they can do in the park and a bit of its history.
One of the most appealing parts of the position for Schiffer is that the organization just launched last year and the staff is still tiny. "They are so new, I thought I could be helpful in getting them started, and see how a nonprofit comes into being," she said.