Published July 09, 2019 by Rebecca Goldfine
Learning about Cultural Sovereignty: A Funded Internship with the Association on American Indian Affairs
Amanda Cassano '22 has found the perfect internship for her this summer. She is working for the oldest nonprofit in the country dedicated to protecting the
 sovereignty and culture of American Indians and Alaska Natives.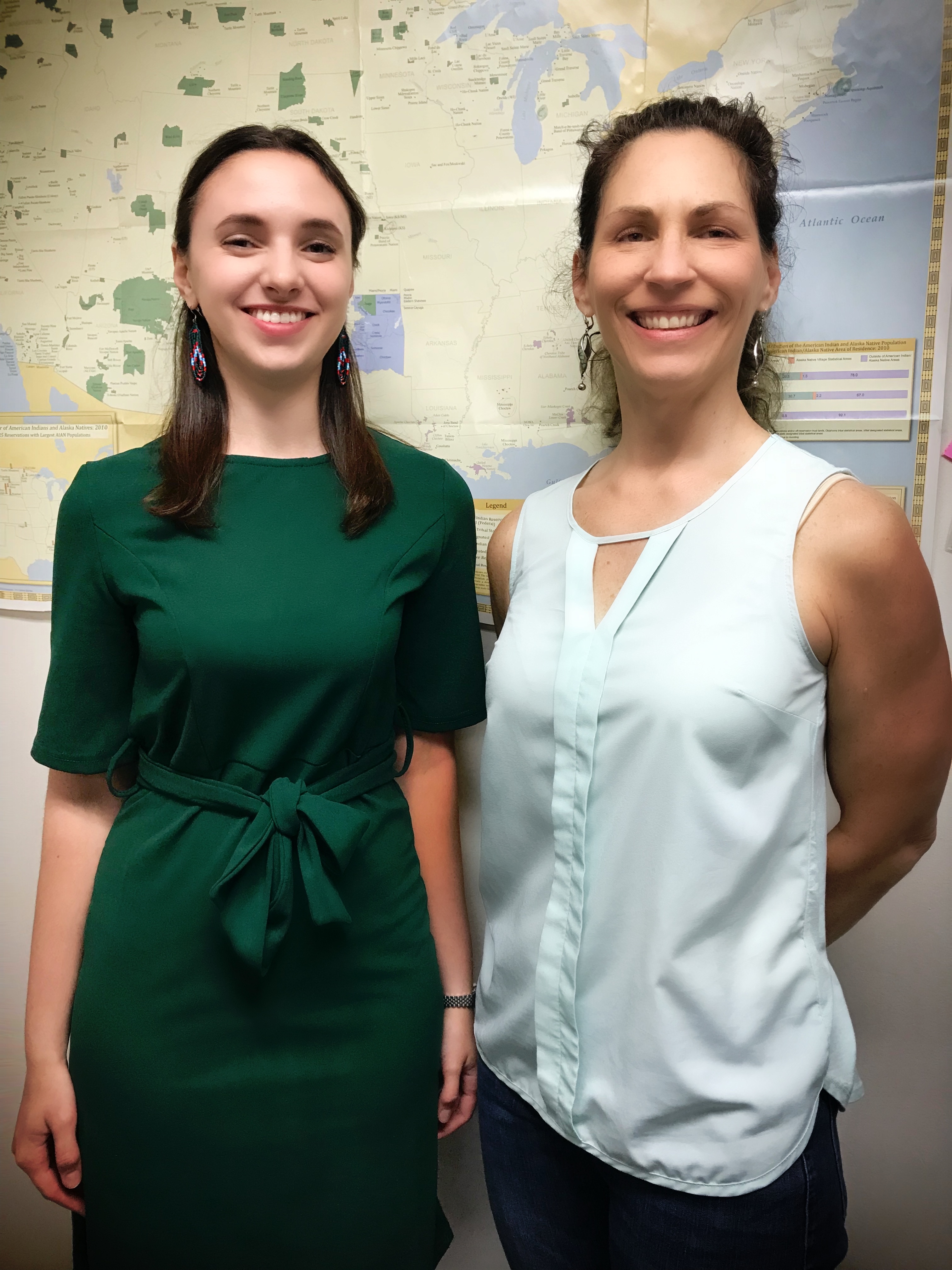 When she was looking for a summer job, Cassano sought a position that would offer her both an education on issues affecting Native people and a deeper sense of her own identity. She found the right fit with the Association on American Indian Affairs (AAIA). "I'm Native American, part of the Mohawk Tribe," Cassano said. "I didn't grow up on a reservation and always wanted to learn more about my culture—and give back to my community." 
Because the organization is lean, with only two full-time staff and two or three paid full-time fellows, it relies on its volunteers and interns. "That's another great thing here—the work you do has a direct impact on the success of the organization," Cassano said. 
AAIA supports both federally recognized and non-recognized tribal governments and citizens, working in collaboration to support national advocacy efforts and grassroots programs in Indian County. These might include the repatriation of ancestral objects that have cultural, traditional and historical importance to the heritage of a Native group; child welfare and adoption cases; juvenile justice; and the protection of sacred sites and treaty rights.
Cassano is working on several projects, including one she developed independently (the first in the list below).
Compiling a list of all US universities and colleges with courses in indigenous, Native American, or American Indian studies. So far she has listed about 200 programs and will expand into Canada and Latin America if she has the time. (While Bowdoin's curriculum does not include such a program, it does offer Arctic Studies—coursework, research, and initiatives covering the history and current-day realities of the region's small-scale societies, including the Inuit, Innu, and Sámi. Other professors teach courses on Native Americans or issues affecting them.)
Developing materials to support AAIA's grant-writing efforts. For this, Cassano has also been able to employ the grant-writing skills she learned this past year when she worked with the McKeen Center's Common Good Program. The extracurricular program offers students a hands-on workshop in nonprofit philanthropy. "I learned a lot about fundraising and grant writing, and it's come in handy," she said.
Researching Native American sites around the country to determine whether to apply for United Nations protections. It's not always clear this is the right course of action for tribes to take. While a UNESCO World Heritage Site designation protects significant areas from development or oil and natural gas extraction, it also publicly reveals the locations of places with spiritual and historical significance to Native people—thus potentially opening them to more tourists and other visitors. 
Drafting a white paper describing the organization's position on protecting cultural heritages. "We're involved in the effort of asking international and domestic auction houses not to sell tribal cultural heritage," Cassano said. This requires poring through the listings of auction houses across the world and, after identifying a piece of Native art, putting pressure on the business to stop its sale. While Native American cultural heritage has some protections in the US, there are few laws mandating repatriation from other countries. Cassano said the most effective tactic is to have a tribal government official make an official request of an auction house to assert claims under tribal and/or federal laws and treaties and, if applicable, international law. 
In between immersing herself in these endeavors, Cassano said a lot of the value of her internship lies in the relationships she's made with her officemates. For instance, "The fellow I work alongside is really interesting, and he's got great advice," she said. "We talk a lot about being Native American, what it means to be Native, and how it's different with every person. It's such a relief to have these kinds of conversations." 
Cassano is one of ninety-seven Bowdoin students who received a grant worth up to $5,000 from the College to pursue an unpaid internship this summer.