Published July 14, 2019 by Rebecca Goldfine
Bowdoin Celebrates Pride Month Across the Country
From Portland, Maine, to San Francisco and New York City, Bowdoin community members gathered to join festive Pride parades and celebrate the
LGBTQ community.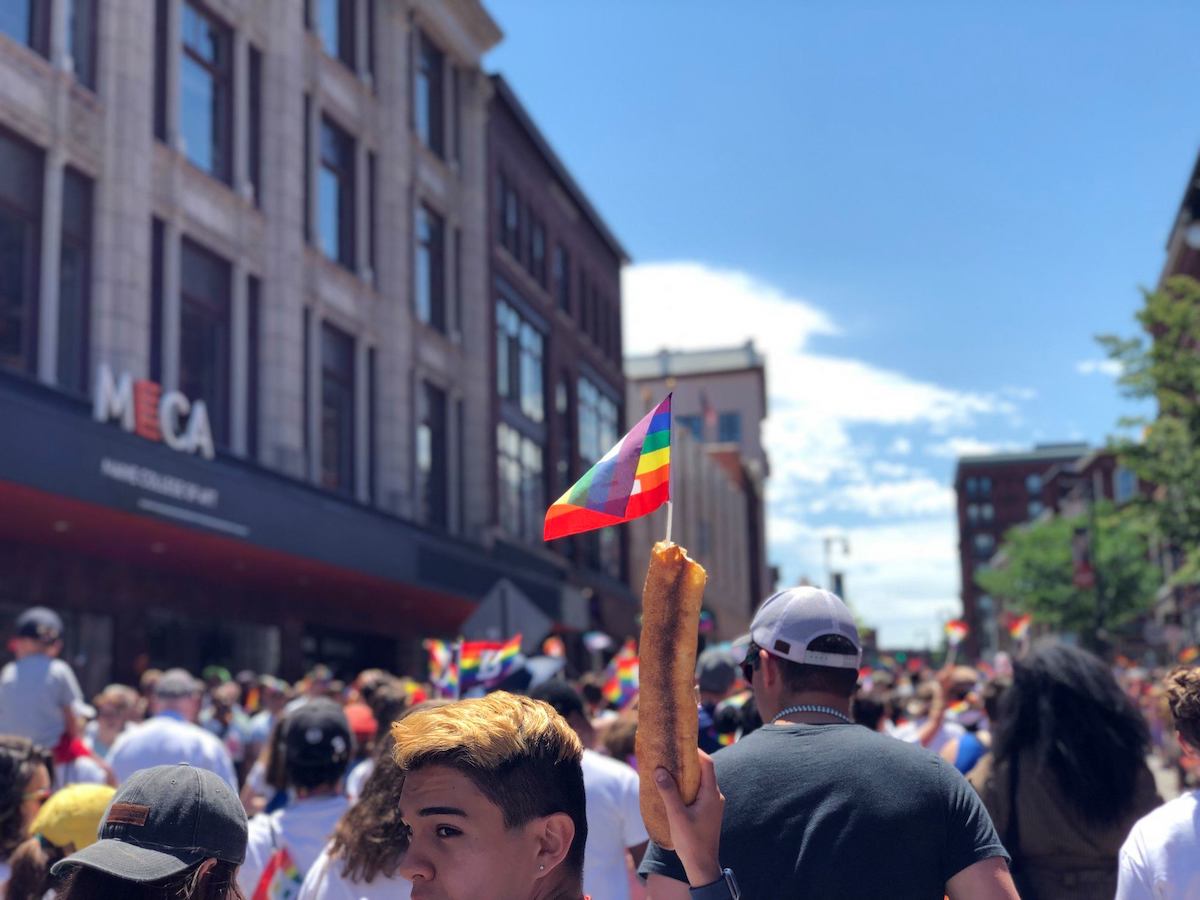 Matt Roberts '93 joined more than 100 other people to march behind the Bowdoin College banner in New York City for World Pride, on June 30. "It was a meaningful day in many ways, not least of which was seeing so many familiar Bowdoin faces while making new friendships at the same time," he said.
This June was also the 50th anniversary of the Stonewall uprising in New York City, an event that helped galvanize the gay rights movement.
More than 300 members of the Bowdoin community gathered for one of the five Pride celebrations across the country. Below are some highlights. 
June 8, Boston Pride Parade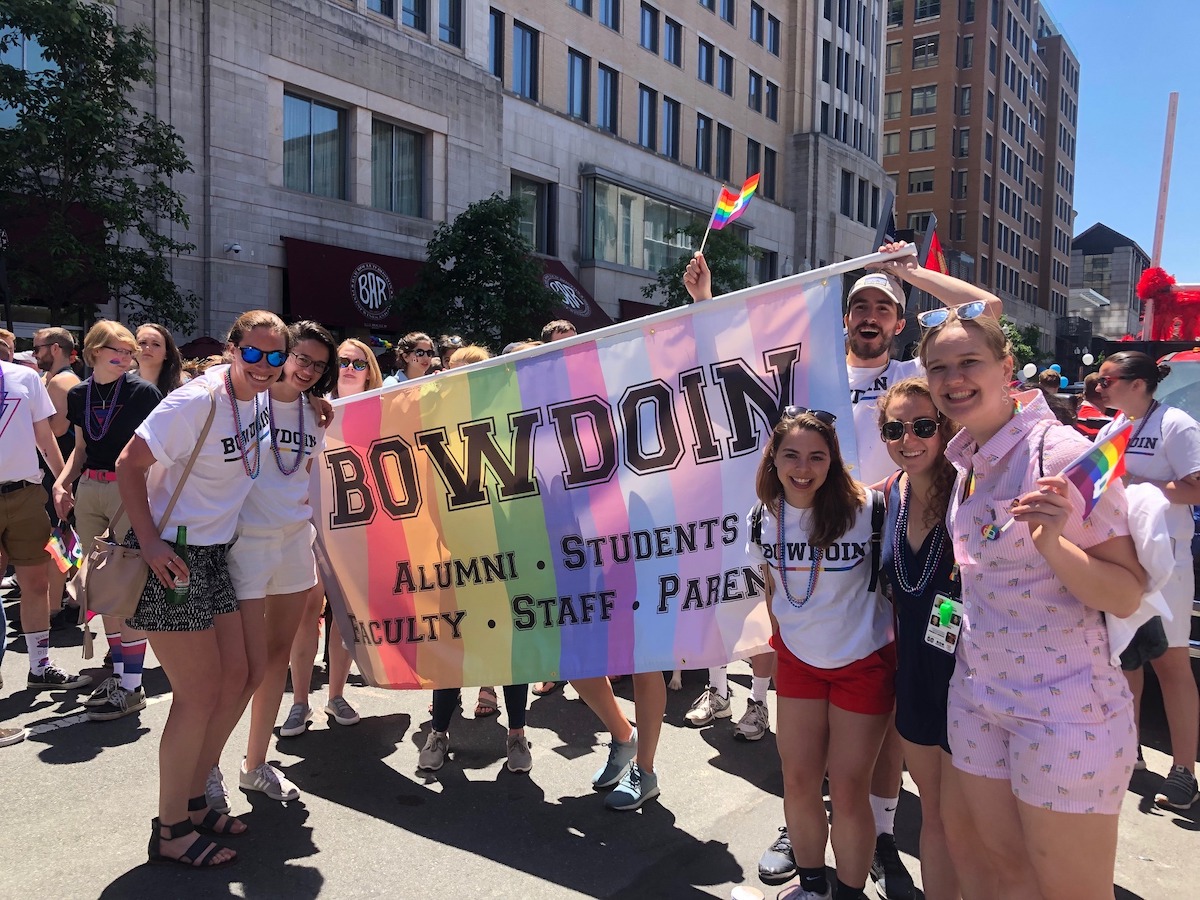 Forty-two alumni, students and friends marched behind Bowdoin's banner in Boston. "This was the first year that Bowdoin participated in this celebration and the energy, enthusiasm, and support was widely felt," Associate Director of Alumni Relations Lindsey Lessard said. She helped plan the Pride gatherings.
Host committee: Paulina Borrego '12, Luisa LaSalle '14, Kenzie Richey '13, Natalia Richey '11, Courtney Stock '09, and Kate Stern, who is Bowdoin's associate dean of students for diversity and inclusion and director of the Sexuality, Women, and Gender Center.
June 8, Bowdoin at the Capital Pride Parade (which ended in an unforeseen way)
Forty-four Bowdoin people marched in Washington, D.C. Unfortunately, the parade was halted while police were called to investigate a false report of gunshots. Assistant Professor of Sociology Theo Greene, who participated in the event, said he was amazed by "the way the students and alumni came together to protect each other during the chaos that ensued." The group had been approaching Dupont Circle when the stampede began, putting them "right in the line of danger." As people ran for cover, the Bowdoin Pride banner was dropped. "The most touching aspect for me was, as things began to settle, the younger alumni went back to retrieve that banner and brought it back to me," Greene added. "Bowdoin was so important to these young people that they felt the need to make sure that this symbol of their pride returned home safely. And it did. It is sitting in my office as we speak."
Host committee: CJ Buys '13, Dan Eloy '15, Tom Elson '06, Ike Irby '09, Jordan Lantz '15, Mark Lenhart '89, Michael Wood '06, and Theo Greene, assistant professor of sociology. At the event, Mark Lenhart '89, Alumni Council member and volunteer, presented Jordan Lantz '15 with the 2019 Young Alumni Service Award, an award that recognized exemplary continued service to the College.  
June 15, Bowdoin at the Bowdoin at the Portland Pride Parade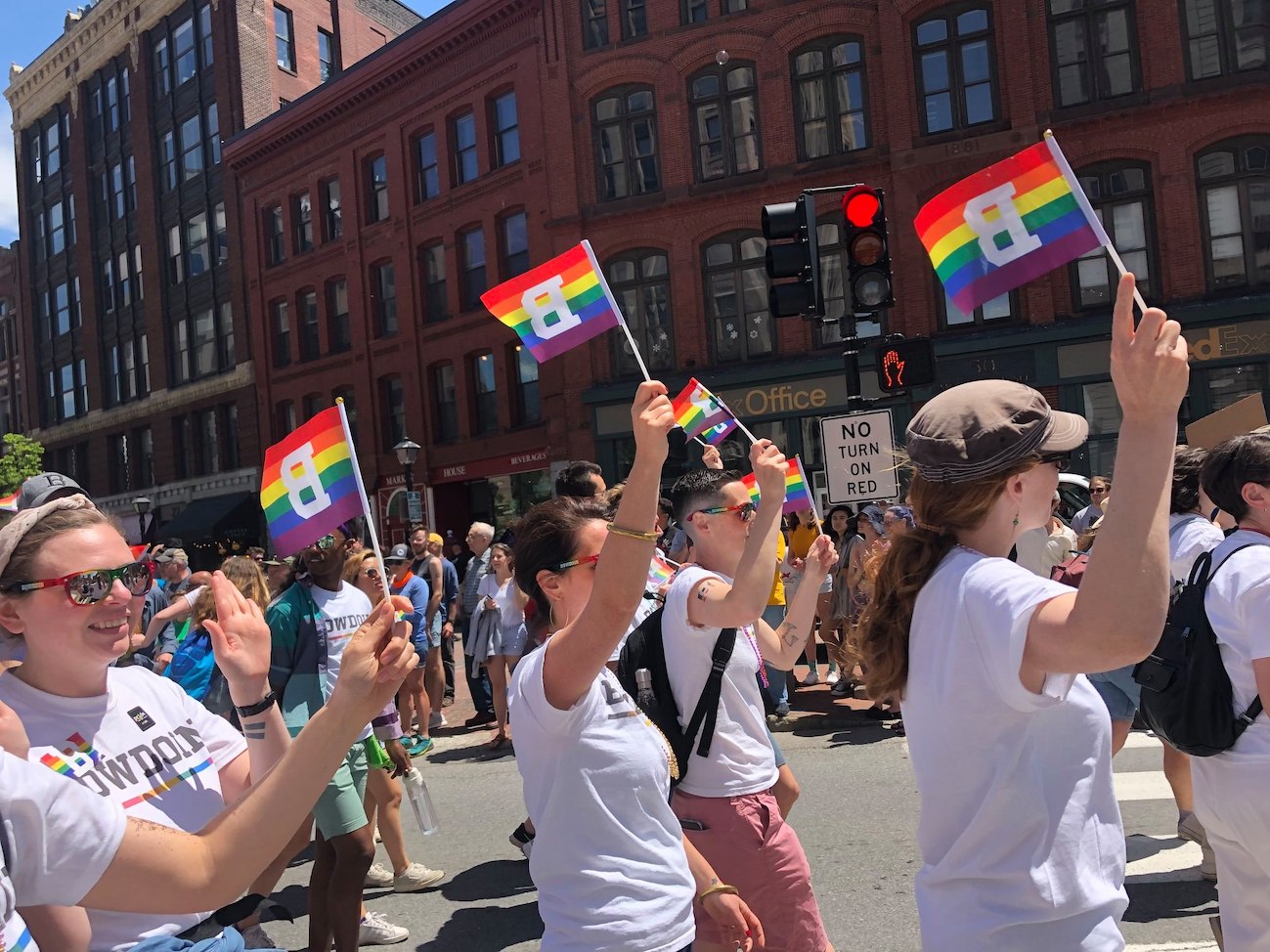 Eighty-three Bowdoin community members marched in Portland. Bowdoin President Clayton Rose and his wife, Julianne Rose, showed up to support the group. "Given the proximity to Bowdoin, this parade had a strong presence of current students and faculty and staff and their families," Lessard said.
Host committee: Shane Diamond '10, Linda Nelson '83, Brandon Ouellette '15, and Kate Stern.
June 20, San Francisco Pride Happy Hour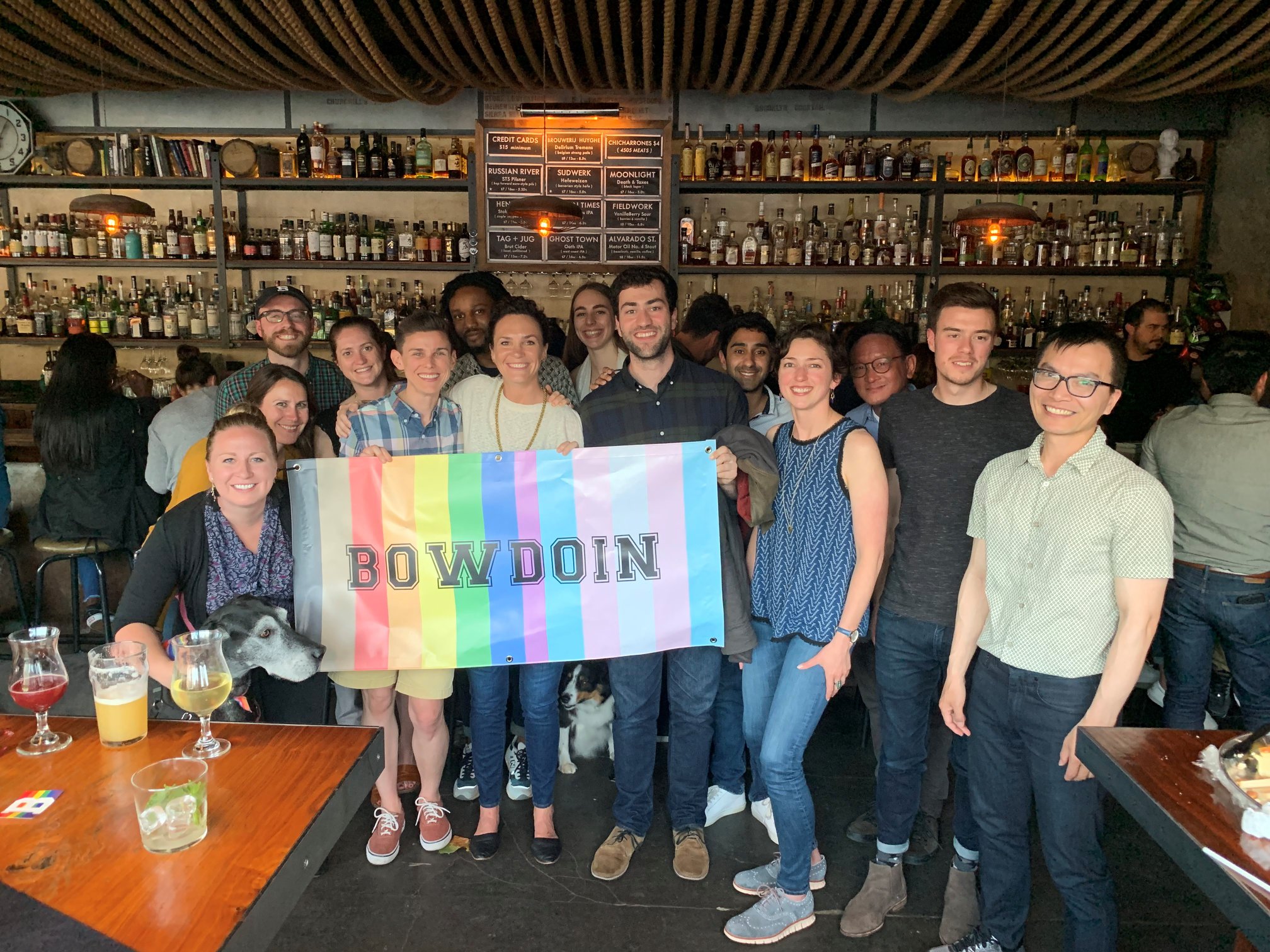 Thirty-one Bowdoin-ites marched in San Francisco. Attendance jumped from six Bowdoin participants in 2018 to more than thirty this year. The group opted to meet up for happy hour instead of joining the parade. 
Host committee: Dara Sklar '99 and Karl Reinhardt '15
June 30, Bowdoin at the NYC WorldPride | Stonewall 50 March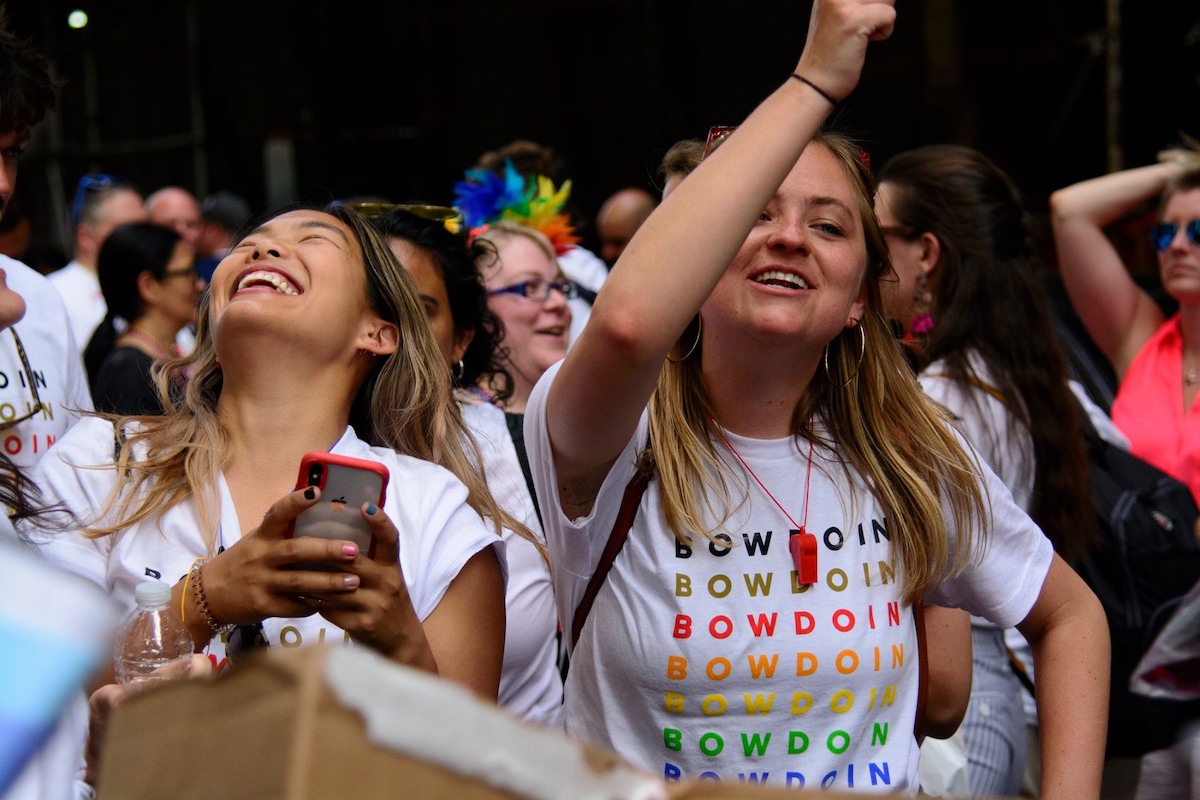 A record 103 Bowdoin people gathered in New York City for WorldPride and the 50th anniversary of the Stonewall riots. The New York event Pride drew an estimated 150,000 participants—so many, in fact, that the Bowdoin group had to wait several hours for its turn to march. This year's Bowdoin NYC WorldPride T-shirts were designed, at no cost to the group, by Louisa Cannell '13. 
Host committee: Maurice Asare '19, Daniel Dickstein '13, Andrew Fried '08, Ana Timoney-Gomez '18, Sarah Guilbault '18, Colin Joyner '03, Julia Loonin '07, Everett Nelor '14, Christopher Omachi '12, Matt Roberts '93, Peter Rothberg '74, Noah Salzman '17, Vanessa Rendon-Vasquez '14