Published June 27, 2019 by Peter Lind '75 for Bowdoin Magazine
Recipe: Peanut Butter Banana Chocolate Chip Ice Cream
In the summer of 1974, Brian Moody '75, Steve Cicco '74, and I started a small ice cream business. We made the custard bases in the morning, froze the ice cream at night, and sold it out of a small chest freezer on Maine Street in downtown Brunswick the next day. This recipe was our customer favorite.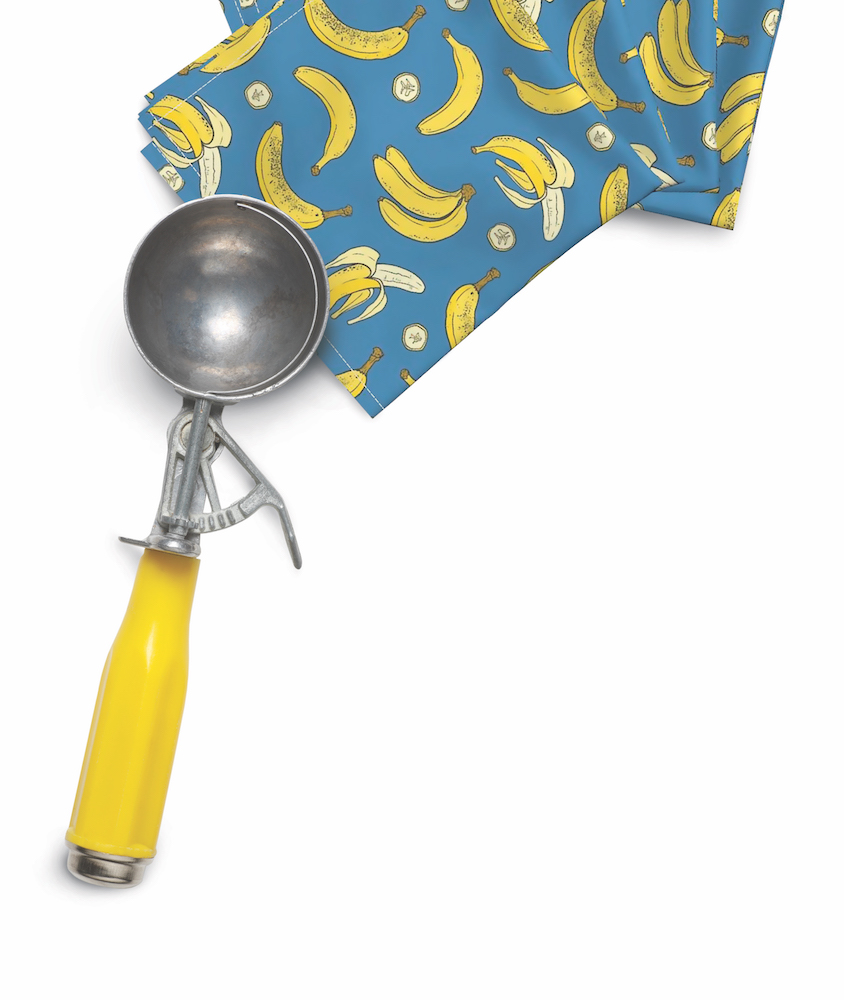 One night, Brian and I came back from work and heard the wooden one-gallon ice cream machine making an odd noise. The machine was bouncing around wildly and barely tethered by the cord. We opened the canister with the half-frozen ice cream to find a huge lump of peanut butter. Steve had forgotten to whisk in the peanut butter when the base was warm, figuring that it would mix into the ice cream with enough agitation. It didn't, of course, and the large chunk of peanut butter sent the machine into wild centrifugal thumping patterns around the counter. We ended up scrapping that batch of peanut butter banana chocolate chip ice cream. But, you won't have to scrap yours if you follow these instructions.
For a 1.5-liter ice cream maker:
5/8 cup (150 grams) sugar
1 tablespoon (6 grams) tapioca starch
2 cups (480 grams) whole milk
1/2 cup (100 grams) mashed ripe banana
1/2 cup (125 grams) peanut butter, any kind
1 cup (240 grams) heavy cream
1/8 teaspoon (1 gram) salt
3/4 cup (150 grams) chocolate chips*
Mix the tapioca starch into the sugar in a small bowl.
Mix the remaining ingredients, except the chocolate chips, in a large saucepan.
Stir in the tapioca-sugar mixture and cook, stirring, over medium heat until the peanut butter dissolves and the mixture starts to thicken. Use an immersion blender to blend smooth, if you like.
Remove from the heat and cool for thirty minutes, then store, covered, in the refrigerator for at least four hours.
Freeze in a 1.5-liter ice cream machine. (If you have a larger ice cream freezer, the recipe can be multiplied as required.)
When ice cream is a bit harder than soft-serve, add the chocolate chips. Process another minute or two, empty into a container with a lid, and place in the freezer.
Now that your ice cream is in the freezer, I will admit that, back in the day, much of our ice cream went to "quality control tastings" before it ever made it to storage. Sadly, we lost Steve last January—he would love to see us bringing back this favorite ice cream flavor.
*Chocolate Chip Recipe
I like dark chocolate in the range of 70 percent cocoa mass. For this amount of ice cream, two or three bars (3 to 4 ounces, each) is plenty. Break the bars into chunks and melt in a double boiler on a low heat, stirring occasionally, until smooth. Don't worry about tempering the chocolate, as it is going to be frozen. Wipe the bottom of the bowl, removing any moisture that has accumulated from the double boiler, and pour the melted chocolate out onto a parchment-paper-lined sheet pan. Spread as thinly as you can. Cool at room temperature, then place into the fridge to cool, then finally into the freezer. When frozen, carefully crumple the parchment, with the chocolate inside, breaking the chocolate into small chips as you crumple. Reserve chips in a small container in the freezer until you need them.
Did You Know?
July is National Ice Cream Month, a proclamation signed by President Reagan in 1984, with the third Sunday of July celebrated as National Ice Cream Day.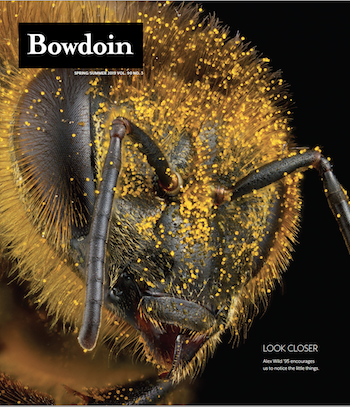 Peter Lind '75, a longtime flavor guru at Ben & Jerry's, is now concocting new chocolate and ice cream flavors for Lake Champlain Chocolates in Burlington, Vermont. On weekends, he kayaks with his wife and plays harmonica in a gypsy jazz band.