Published June 22, 2019 by Bowdoin Magazine
Lunch with Link
Arguably the most recognizable person on campus, emeritus athletic trainer Mike Linkovich holds frequent court in Thorne Dining Hall.
Interview by assistant football coach Kevin Loney.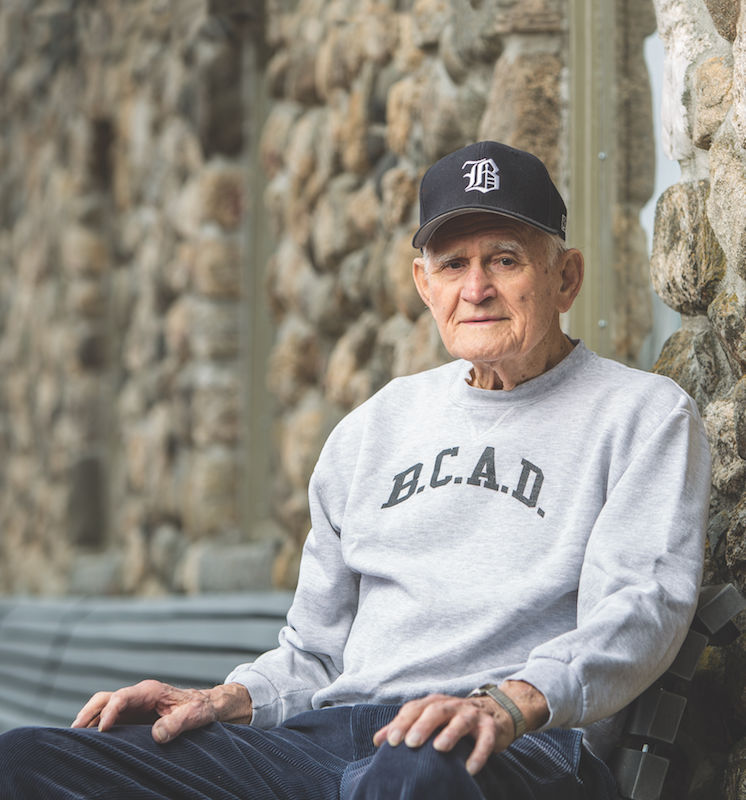 Tell me about becoming an athletic trainer, and how you got to Bowdoin.
After high school, I worked in a steel mill in the forging department. I was there for a few years, and I went into the service for three and a half years, over in Europe with the infantry. After the war, I returned to my hometown in Monaca, Pennsylvania, and went back to work in the steel mills again. I worked there for five years—I always felt that a lot of the good athletes in that area ended up going just one year to college because the money in the mills was so good—then I decided maybe I would be better off going to school because of the GI Bill. Uncle Sam would pay me to go to school. I went to Davis and Elkins College in Elkins, West Virginia, and I got my degree in physical education. I hoped to coach baseball and basketball and decided to go to Springfield College for a master's. The coaching plan changed because a professor got me into athletic training.
Bowdoin was looking for a trainer, and my professor thought it would be a good place for me to start. I thought, "Well, I've never been up to Maine, so I could go see what this looks like." The facilities were good, except they didn't have much for athletic training. So, I went back and I told my professor that I didn't really think it was the place for me. Then, I got another call. They asked me to come back, which I did, and I took the job, figuring I'd just be here for a year or so. "If you stay here, you'll never regret it," Dickie Morrell '50 told me. He was right. I've enjoyed a lot of good friendships with a lot of good people. So, things kind of turned out well in the long run.
Who's the best athlete you've worked with at Bowdoin?
That's not a fair question. I wouldn't think to say that Kevin Loney is better than Mike Linkovich. Well, that's debatable. We've had some good athletes here, you know—the Soule brothers, Jimmy MacAllen '66, and Joanie [Benoit Samuelson] '79, of course. I didn't work a lot with Joanie. Jeanne d'Arc Mayo was here then, and she took really good care of Joanie. Joanie's time at Bowdoin was great. She surprised a lot of people when she won the Olympics. She is a good representative of the College. [Joan Benoit Samuelson'79; the Soule family—father William '36 and his sons, Paul '66, Mort '68, Jim '77, and Phil; James MacAllen '66; and Jeanne d'Arc Mayo are Bowdoin Hall of Honor inductees.]
Favorite Bowdoin athletic moment?
I think one of the biggest all-time wins was when the football team beat the University of Maine 7-0 up in Orono in 1963. [Bowdoin and the University of Maine played football against each other from 1893 to 1964. The 1963 victory was especially sweet because Maine had announced that it would be dropping Bowdoin from its schedule after the 1964 season. The Black Bears had crushed Bates (49-0) and Colby (53-12), and they were looking for their third straight State Series Championship. On a rainy day in Orono, Bowdoin beat the heavily favored Maine team to earn its final four-way State Championship.]
What are some of your most memorable Bowdoin experiences?
Having my son Steven '84 go to Bowdoin is one of the big ones. Another was the Olympics in 1980 [as a trainer for the US hockey team at the Winter Olympic Games at Lake Placid]. And my relationships with professors, especially Professor [Herbert] Brown, who I really enjoyed having conversations with nearly every morning over coffee. [Herbert Ross Brown was a professor of English at Bowdoin College from 1925–1972.]
Every time I talk to an alum, anywhere I go, if they played sports, they ask about you.
If you stay here sixty-five years, you'd probably know somebody, at least one person, who had something nice to say about you.
Mike Linkovich established and perpetuated Bowdoin's legacy of outstanding athletic training over a forty-year Bowdoin career that began in 1954. He's held several national positions in the training profession, was a two-time US Olympic team trainer, and is an inductee in several sports halls of honor, including the Athletic Trainers Hall of Fame in Seattle, Washington, and the Bowdoin Athletic Hall of Honor.