Published June 07, 2019 by Symone Marie Holloway '22
Class of '64 Gifts a Bear to Bowdoin
The newest addition to Whittier Field is a heartfelt project that began nearly thirty years ago. And, while most polar bears are relegated to swimming in the Arctic, this polar bear underwent its final development stage at an aircraft facility.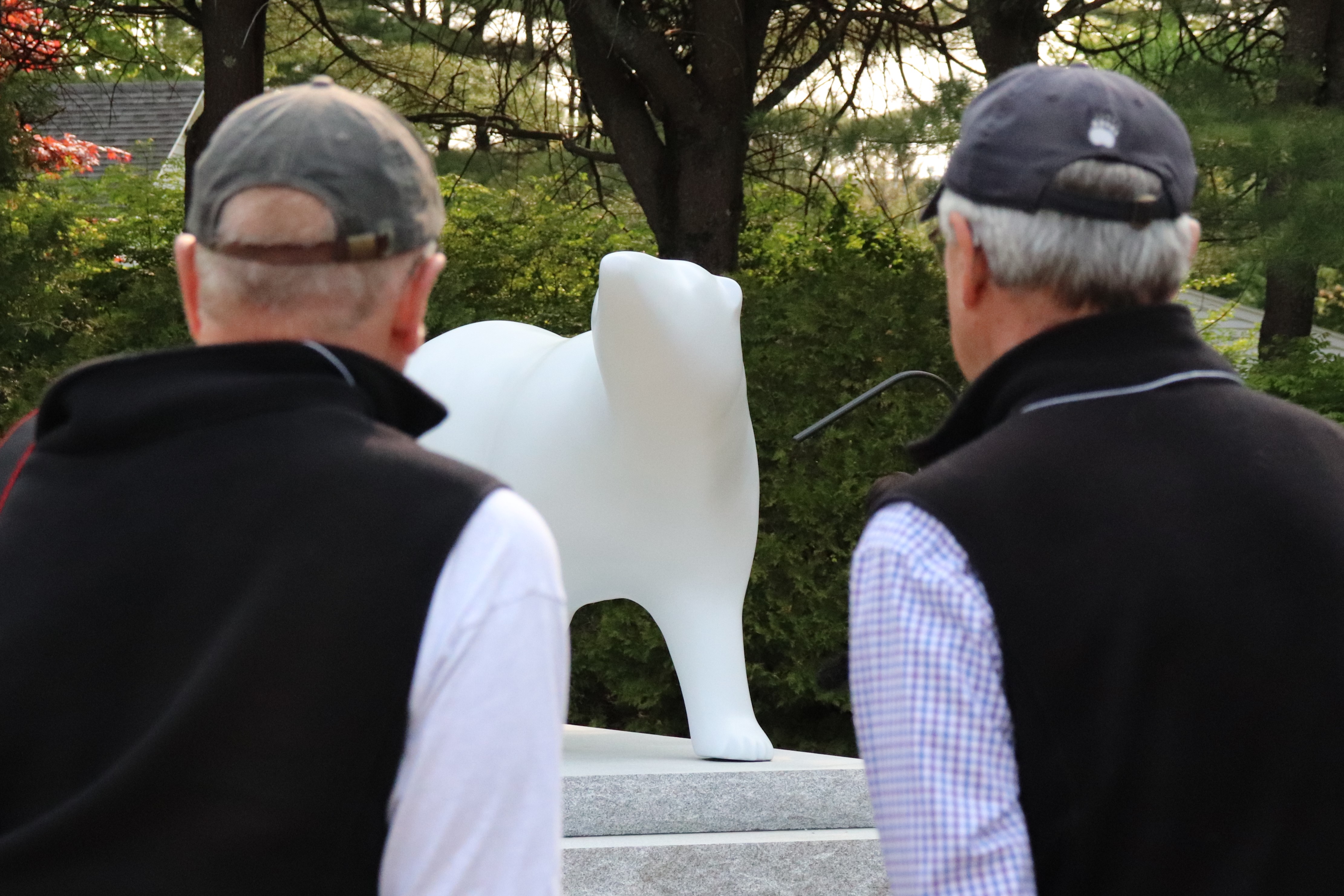 In the early '90s, Bowdoin commissioned artist Robert Hooke '64 to create small bronze polar bears that could be given as gifts to retiring presidents and as thank-yous to donors and others. The statues were less than a foot in length and height, but even then Hooke was thinking big. Why not create a life-sized bear?
In this case, however, it seems the old axiom still rings true: things are often easier said than done. The College rarely accepts large pieces of public art as donations. In some cases, it is Maine's winter weather that makes accepting such gifts difficult. Take, for example, the Class of 1922 Fountain—which used to be located between Hubbard and Gibson Halls. It couldn't withstand the elements and was removed. 
It wasn't until six years ago that Hooke and his classmates saw their chance. Hooke, along with Al Ryan '64, asked former Bowdoin president Barry Mills if they could present the project at the 50th Reunion for the Class of 1964 in 2014. Mills expressed interest in the project, but nothing came to fruition, and Mills stepped down from his position the following year.
It was then announced that Whittier Field was to be renovated, so Hooke pitched the idea to Senior Vice President for Development and Alumni Relations Scott Meiklejohn. Hooke and some of the classmates who supported his project were members of the '63 football team, so both Whittier and athletics in general hold special places in their hearts.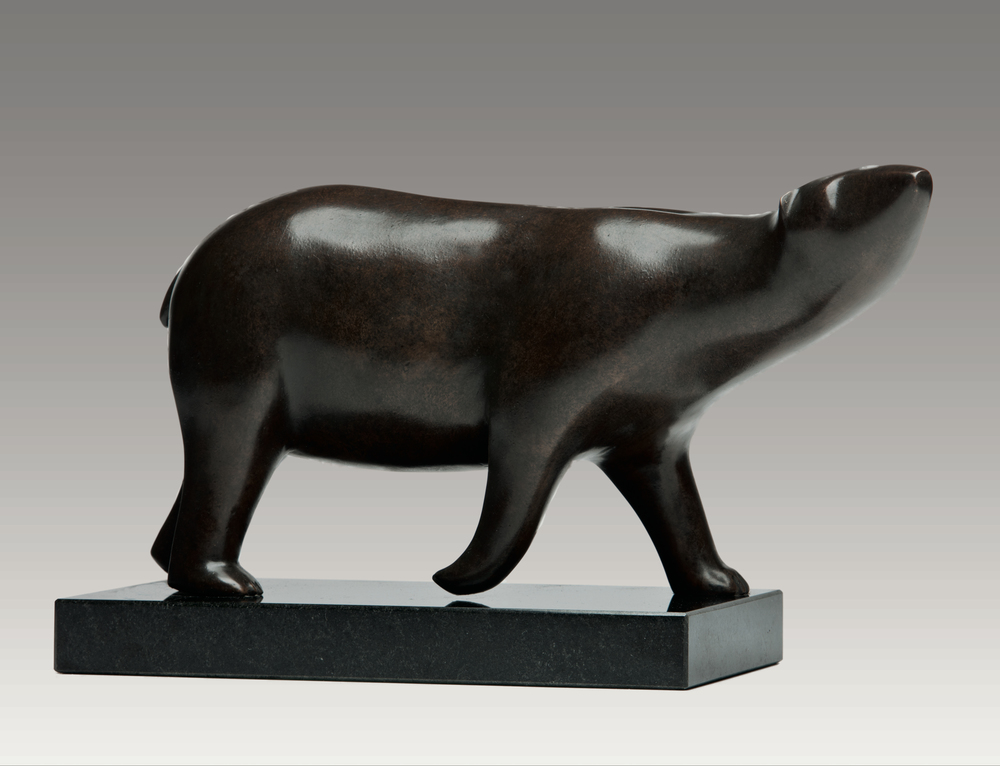 Last August, over coffee, Meiklejohn gave a soft okay, and official permission came in October. But that did not leave much time to create the work, which would take six months just to cast. Hooke also had another problem: he did not have a model for the nine-foot bear. Technology came to the rescue, and, using the smaller sculptures Bowdoin had commissioned earlier, he was able to have a 3-D scan made, and a facility had lasers cut a urethane model to scale. 
The model was cut into nine separate pieces, with each being cast individually at a foundry, before the work finally came together in bronze. But Bowdoin wanted a white bear, and white does not weather very well. Hooke, however, has had a lifetime of adapting to challenging new conditions. He earned an MBA from Columbia University and received a bronze star for his service in Vietnam. He's a former investment banker for Merrill Lynch, a founder of a London banking firm, a tournament polo player, and a deep-powder ski expert, and he has accumulated more than 25,000 miles on solo ocean expeditions.
His solution was ingenious: Ordinary paint used on bronze statues would most likely not last through Maine winters, but industrial airplane paint would. Hooke sent the assembled bear to an aircraft facility, where it was first painted and then waxed to dull the shine. His work was then shipped to Bowdoin and loaded on its pedestal near the entrance to Whittier Field.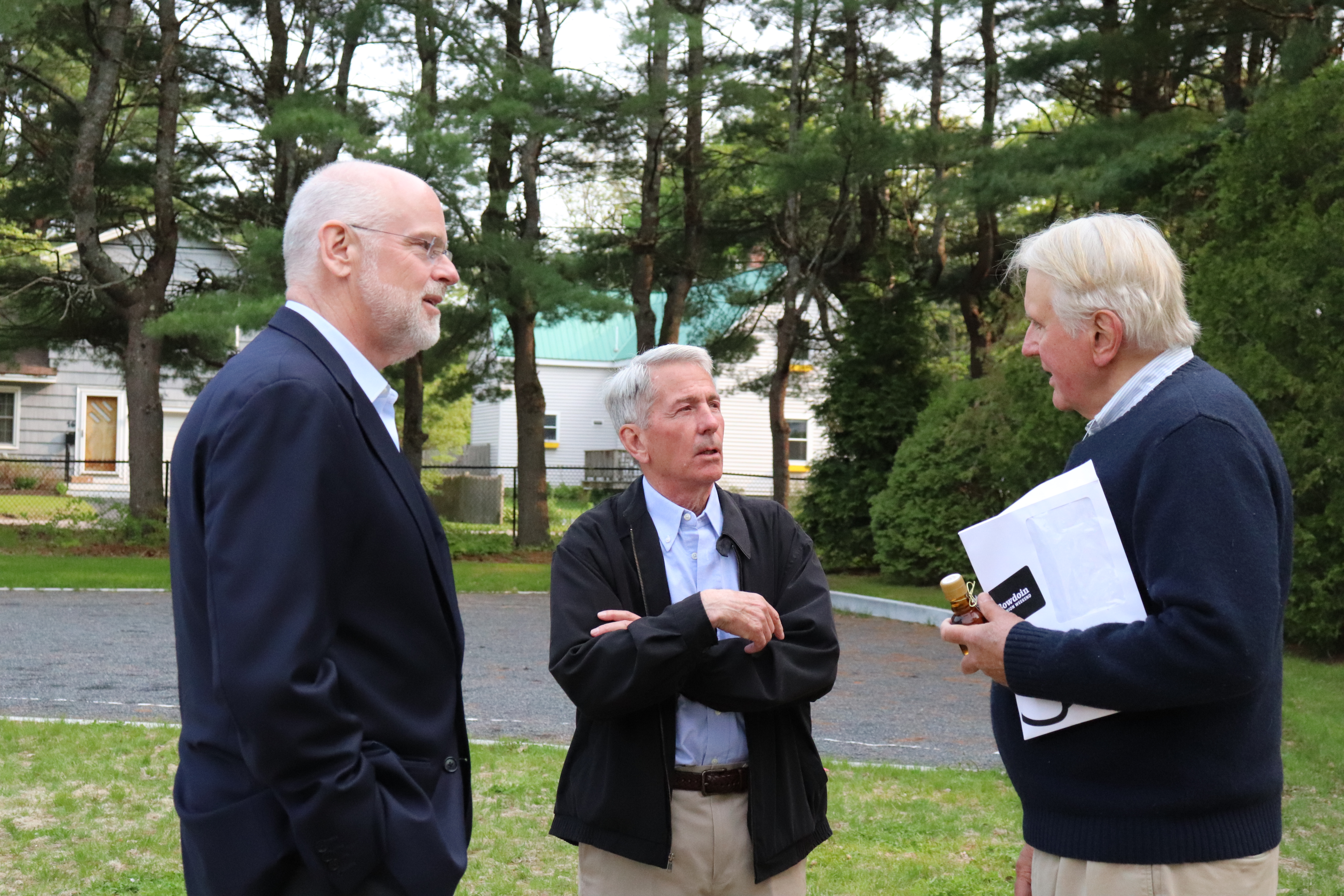 On Friday afternoon, May 31, 2019, alumni, family, and friends gathered at the sculpture to celebrate the unveiling of "Scenting the Wind."
"The title," said Hooke at the ceremony, "is to remind students that, in addition to having a good time, they're supposed to be scenting the wind of life and preparing for the future." He came up with the idea when watching a documentary about polar bears. It has a scene in which a mother tentatively leaves her cave following a long hibernation, raises a paw, and scents the wind. 
Hooke thanked his classmates Al Ryan '64, Bill Farley '64, and Tony Tarbell '64 for contributing to and supporting the project through its evaluation stage. The dedication reads: "Gifted by the Class of 1964, and dedicated to those Bowdoin students who, through self-sacrifice and teamwork, have represented well the competitive athletic spirit of the College." Hooke gifted the work to his class, who in turn gifted it to the College. 
Hooke's father, five uncles, and two cousins all went to Bowdoin. His parents met at the College. He designed the sculpture with a seating area in the pedestal and hopes that "in the future, when students, alumni, and other people are coming to Whittier Field, that the agreement will always be, 'I'll meet you at the bear!'"