Published May 17, 2019 by Tom Porter
Students Witness the Fine Art of Metal Casting
Marvin H. Green Jr. Assistant Professor of Art Jackie Brown took a group of her students on a new artistic experience last month. Members of her mold-making and casting class (VART 2602) visited the Green Foundry in Eliot, Maine, which specializes fine art metal casting. The place is run by Josh and Lauren Dow, who both attended the Massachusetts College of Art and Design.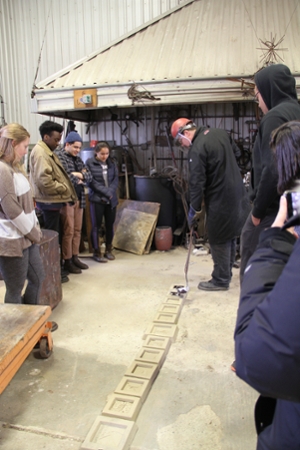 "The day started with a tour of their facilities, including the mold-making room, wax-casting room, slurry room, main foundry area, and a polishing/finishing area," said Brown. "Josh and Lauren both shared insights into the technical processes along the way, as well as insights into how they work with clients and what it means for them to run a sustainable business. Students then had a chance to carve into sand molds and participate in an aluminum pour."
Casey Breslow '19, neuroscience major, visual arts minor, wrote: "Our trip to the Green Foundry was an amazing experience! It was great to meet with artists who took a unique route in terms of a career path and ask them questions about their work. It was a wonderful learning experience, especially for our class, to be able to work with different materials and equipment."
Tala Glass '20, visual arts and environmental studies coordinate major, government and legal studies minor, wrote: "It was a really fun experience and a nice way to connect the work we do in Edwards [Center for Art and Dance] to what artists and makers do in the real world. Everywhere you turned there were cool things to look at: waxes, molds, metals, tests, and experiments. Lauren and Josh have made themselves a nice corner in the art world away from the stress of galleries and such, but they still get to determine their own creative process."
The trip was made possible through the Robert L. Hooke, Jr. '64 Fund for Visual Arts.