Published May 06, 2019 by Tom Porter
Profile of a Busy Senior: Amir Parker '19 Juggles Army, Track, Math, and Philosophy
It's late morning in the Smith Union café and finals are in full swing. Army Specialist Amir Parker '19 manages to spare a few minutes to chat, despite a hectic schedule. A math major, he's just come from one exam and has another in the afternoon, followed by a take-home exam that evening.
Despite these demands, Parker is relaxed and happy to talk. Being busy is something he's used to. For the last four years, he has been juggling the demands of serving in the US Army Reserve alongside those of studying at Bowdoin, where he is now captain of the track team. He also works up to twenty hours a week on campus as a math grader and tutor and as an athletics monitor at Farley Field House.
Parker is one of seventy-two first-generation students in his graduating class at Bowdoin—a place he had never heard of until a high-school counselor suggested he apply. "It was never on my radar. When you come from where I grew up, you don't necessarily know what a NESCAC school is."
He was raised in Baltimore and the surrounding communities. His family was, and is, supportive and loving: his father is a truck driver and his mother a hairstylist. But it was a challenging environment to grow up in, he says, one where violent crime is commonplace. In a 2018 campus discussion on gun violence, Parker, a powerfully built shot putter and discus-thrower, told the Bowdoin community how he would feel safer carrying a gun on visits home, for personal protection.
Parker is expecting seven or eight family members to come up for Commencement, when he will be "walking" with the class of 2019. It will be a huge occasion for everyone, he says, although he won't actually be graduating until December, as he has some classes to finish. He does have an excellent excuse for that, however. "I missed the first semester of my sophomore year due to Army commitments." To be exact, he was completing basic combat training, and advanced individual training with the US Army —a twenty-week commitment that spilled over into the academic year.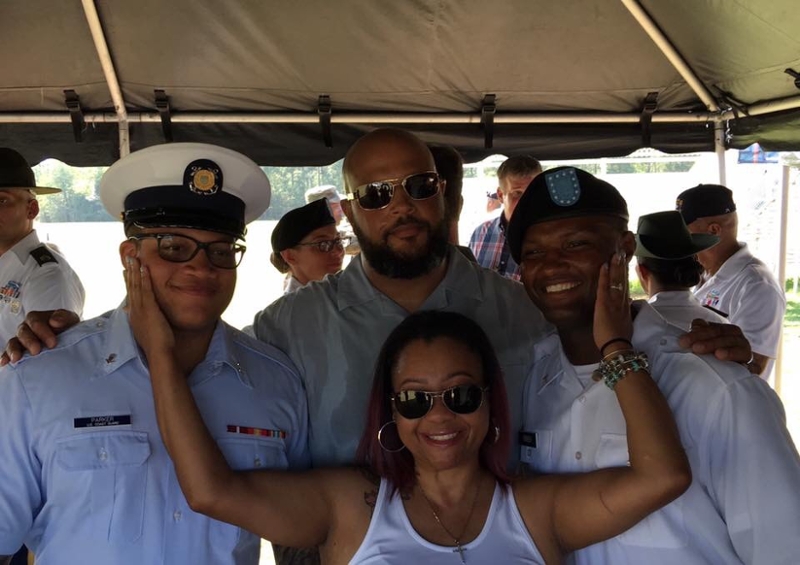 A Family Tradition
Military service is something of a tradition in Parker's family, going back to the Civil War. "My great-great-great-great-grandfather—maybe I missed a 'great'?—served in the Union Army. He was a former slave." More recently, both Parker's father and grandfather are Army veterans, while his brother is active-duty Coast Guard.
Parker is currently serving with an engineering company in the US Army Reserves, which involves at least one weekend a month training in New Hampshire, Vermont, or Massachusetts. This summer, he goes on his first overseas training assignment. During his first year at Bowdoin, Parker was enrolled in the Reserve Officers' Training Corps (ROTC) at the University of Southern Maine, meaning frequent early morning drives to Portland for training commitments.
After a year, however, the ROTC program was redistricted, meaning Parker would have to travel to UMaine Orono instead of USM. "This wasn't going to work, logistically," he says, "so I ended up enlisting in the Reserves, which is actually great, as it means I am now deployable as a serving soldier."
Next year, after graduation, Parker heads to Officer Candidate School in Fort Benning, Georgia, for twelve weeks of training. As an Army officer with a math background, Parker says he's likely headed for the intelligence or signals branch of the service, where his analytical and numerical skills could be best deployed.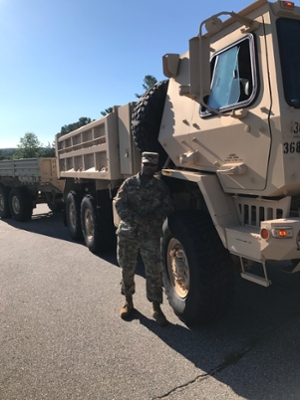 Support Network
Parker's most recent drill weekend with the Army stretched to four days ("it was pretty intense"), meaning he missed several classes. "It took a week and a half to get caught up, but my professors were great about it, and very understanding." Having the support of College staff and faculty has been key to helping him flourish at Bowdoin, he explains. "If I have to ask for an extension on a project, they know my reasons are genuine, and they really go the extra mile to provide additional help."
He also credits support from friends, both at Bowdoin and in the Army, and from nearby family. By coincidence, Parker has relatives in the area. "My cousins Nic, Christine, Sage, and Sierra all live in the Brunswick and Portland areas, and they have been extremely important sources of support over the last four years." 
In addition to being a math major, Parker has taken a lot of philosophy classes. "In math, you don't do a lot of writing, so philosophy has really helped keep my writing and communication skills up to par," something that will no doubt be important in his chosen career.
Parker's most important asset is his personal discipline. "I mean, I do have a social life, but when it's time to do work, it's time to do work. Sometimes you just have to switch off your phone, block out distractions, and focus." At this point, Parker checks the time, makes his excuses, and politely heads off to prepare for his afternoon exam.