Published May 09, 2019 by Rebecca Goldfine
President Rose Honors Six Exceptional Seniors
Each year, Bowdoin's president selects a few seniors to celebrate their achievements outside the classroom. (Academic accomplishments are recognized at the annual Honors Day ceremony.)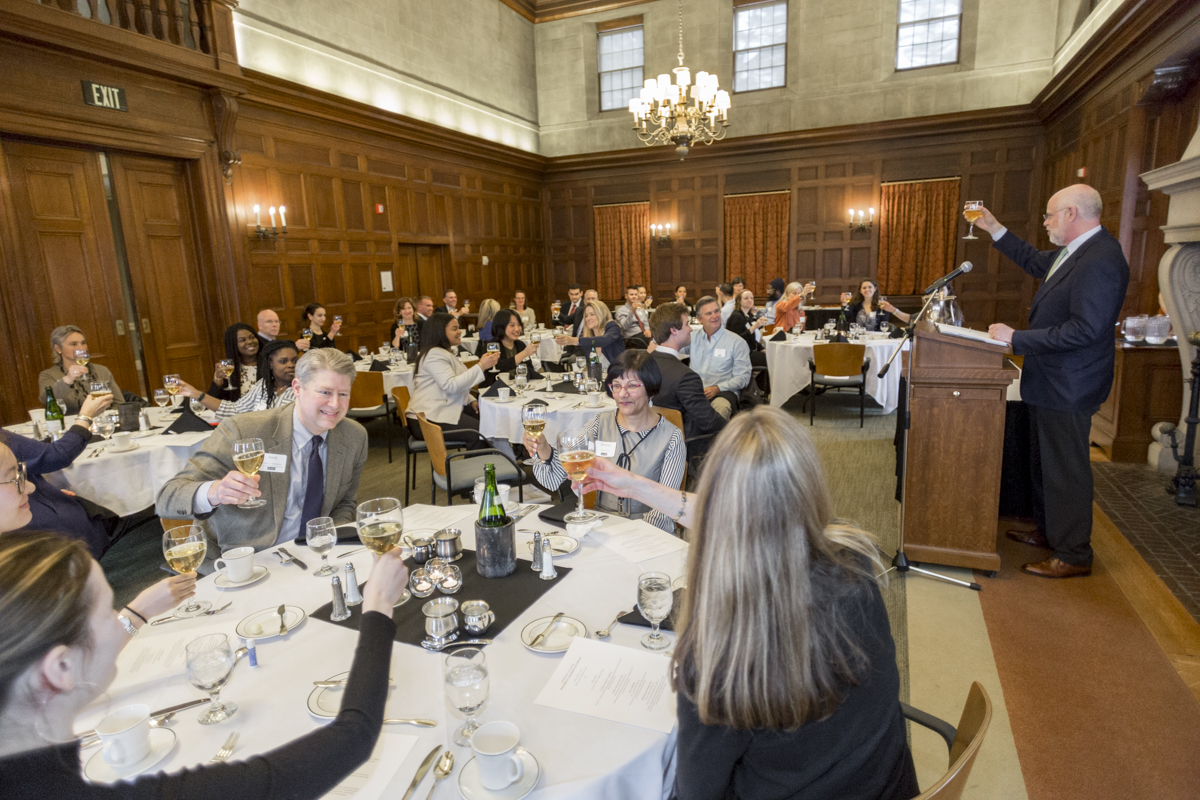 At a special luncheon in early May, President Clayton Rose presented six seniors with awards to celebrate their personal achievements and contributions to the College.
---
President's Award: Trevor Kenkel '18 and Anarelis Ramirez '19
Inaugurated in 1997 by Bowdoin President Robert H. Edwards, the President's Award recognizes a student's exceptional personal achievements and uncommon contributions to the College. The student's actions demonstrate particular courage, imagination, and generosity of spirit; and they benefit the atmosphere, program, or general effectiveness of the College.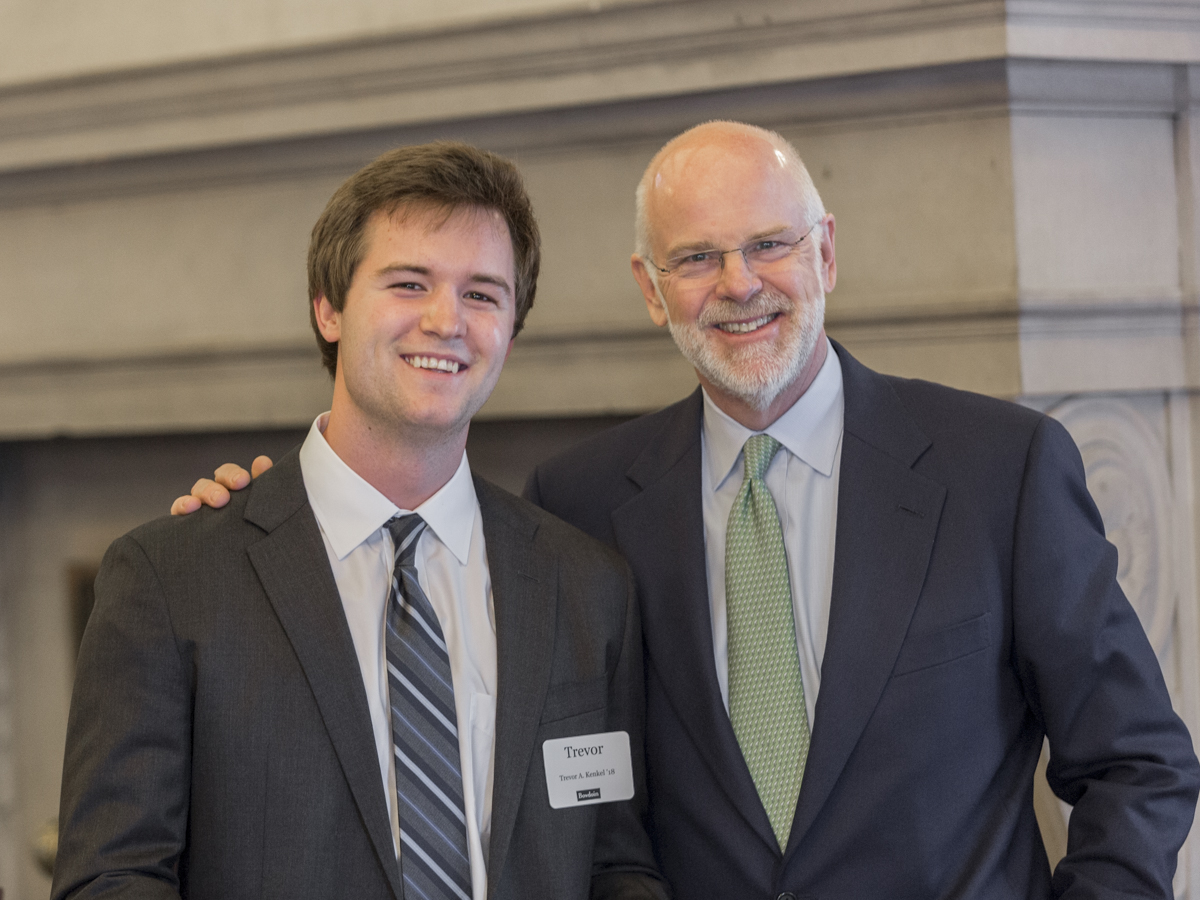 Trevor Kenkel, a biology and economics major, is the founder and president of Springworks Farm in Lisbon, an organic aquaponics business and a model for sustainable agriculture. He runs his farm while pursuing his studies at Bowdoin, earning him this descriptor: "part scientist and entrepreneur, part environmentalist and farmer—and full-time Bowdoin student."
Kenkel has grown Springworks into the largest aquaponics farm in New England, employing twenty-two people and supplying organic lettuce to more than 130 customers, including Bowdoin College, UMaine Orono, Colby, and thirty Hannaford supermarkets.
Biology professor Barry Logan, who has spent time working with Kenkel at the farm, describes his student as a "collaborator" who "works really hard to create an extraordinary balance" between his classes and his impressive business venture. And a former proctor of Kenkel's praised his "warm-heartedness, willingness to welcome others, and his ease with conversation."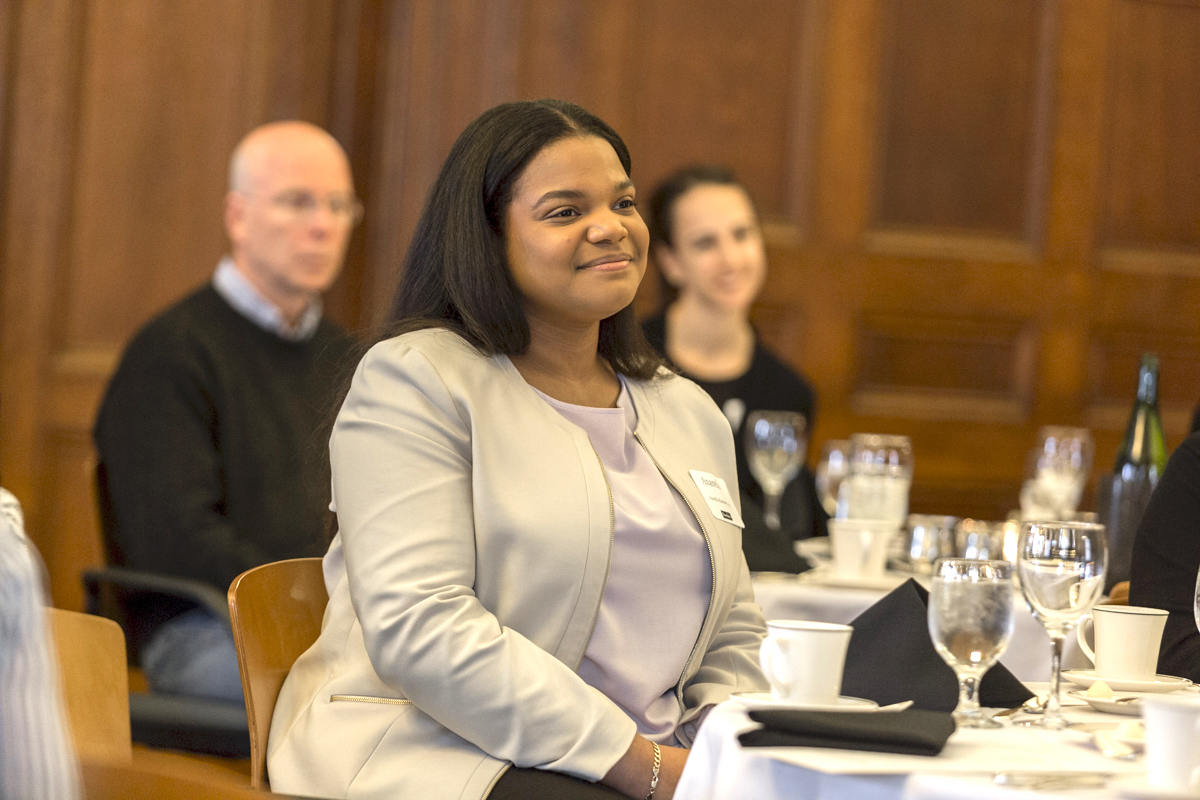 Anarelis Ramirez, a government and sociology major and a theater minor, is a Sarah and James Bowdoin Scholar. She is also on the Judicial Board, women's rugby team, and the Latin American Students Organization.
She has been a first-year proctor since her sophomore year—so she has never moved out of the bricks. Her proctees say things like, "I love Anarelis," and, "when people have had bad things happen to them, [Ramirez] is the first person they text."
Ramirez served on the search committee for the associate dean of student affairs and the director of residential and student life. From New York, she has had internships at a Manhattan law firm, the Manhattan District Attorney's Office, and the US Attorney's Office for the Southern District of New York.
One of her theater professors said she brought "a wild sense of play and joy" to the class, "a delightful surprise from her natural dignified, subdued presence." Another faculty in the department added, "She has contributed some truly brilliant analyses of contemporary plays."
---
The Franklin Delano Roosevelt Cup, Betty Louis '20
Furnished by the Bowdoin chapter of Alpha Delta Phi (Fi) Society, this cup is awarded to a non-senior whose vision, humanity, and couragemost contribute to making Bowdoin a better college.
Louis is a government and education major and a history minor. She is a Sarah and James Bowdoin scholar and a Pre-Law Undergraduate Scholar at the University of Maine School of Law.
She is a member of the Criminal Justice Reform Club and a regular volunteer at Long Creek Youth Development Center, where she is both a tutor and a mentor. Additionally, she helped establish the Youth Engagement Committee for the Juvenile Justice Advisory Group of Maine.
Professor of History Patrick Rael nominated Louis for the award, writing that "Betty is fiercely committed to playing a role in helping to keep at-risk youth out of the justice system. She opened my eyes to the intense need for restorative reforms that reintegrate youth into society instead of simply punishing them."
A peer nominator wrote of Louis: "She draws strength from deep and meaningful connections, and her burning desire to help people fuels her extraordinary work ethic." And another peer wrote: "Betty has always fought for what she believes is right....Her energy is captivating, people are drawn to her because of the love she extends to those she may not even know. She is the best representation of Bowdoin's values."
---
The Michael F. Micciche III Award, Victoria Yu '19
The Michael F. Micciche (MITCH-a-kay) III Award is given annually to that individual who embodies the entire Bowdoin experience; who engages the College community, achieves academic excellence, and earns the respect of his or her peers and professors. This individual must plan on broadening his or her education following graduation, either through enrollment at a graduate school or through a structured travel or volunteer program.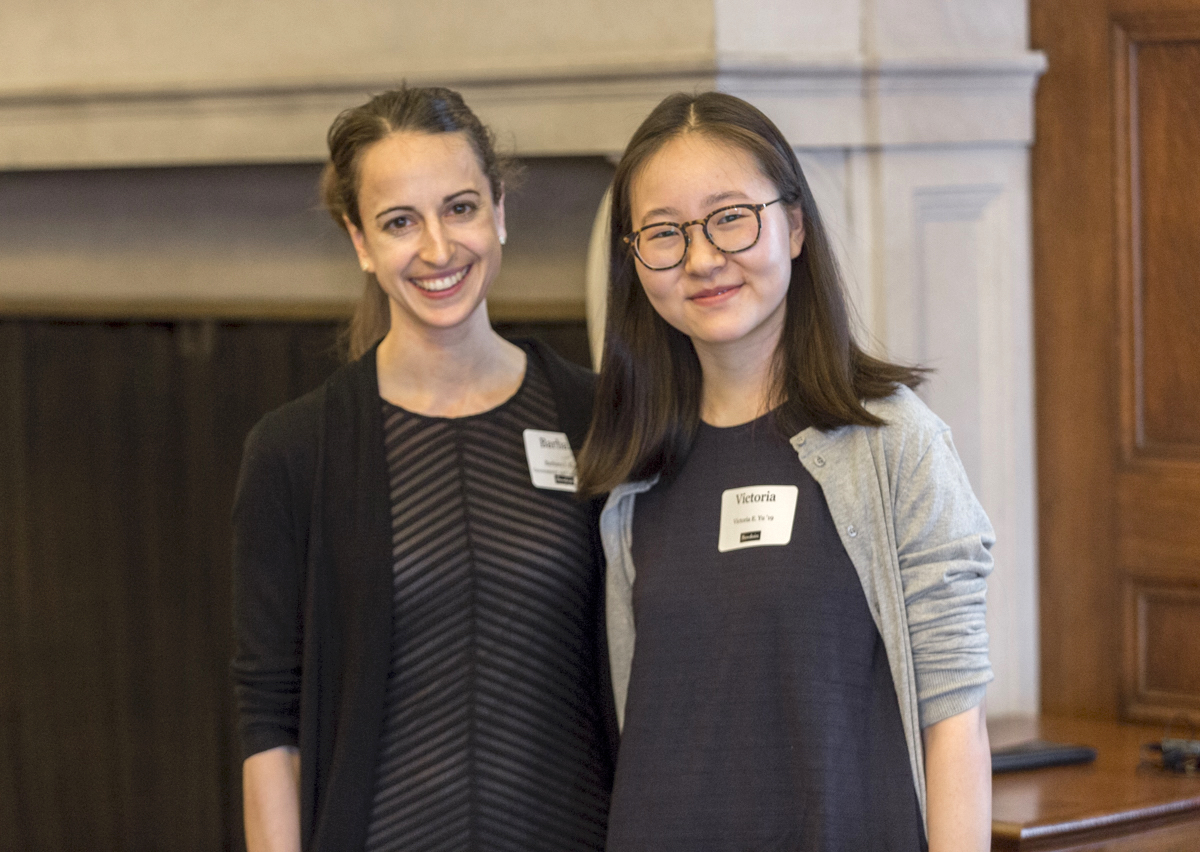 Yu is majoring in economics and government/legal studies. In addition to her outstanding academic achievements, Victoria was a co-winner of the Paul H. Douglas Prize for outstanding promise in scholarship in economics, is a member of the governance committee for the economics department, a member of the Curriculum Implementation Committee, an editor-in-chief for The Bowdoin Review, a former co-leader of NARAL Bowdoin, and a volunteer at Harriet Beecher Stowe Elementary School in Brunswick.
She was accepted to Harvard Law School after her junior year and will attend after working for two years.
Professor of Economics Zorina Khan wrote in her nomination: "Victoria upholds the highest standards of intellectual inquiry, personal integrity, and has made unique and valuable contributions to the common good. She is one of the most exceptional students I've encountered in two decades; she deserves the highest accolade that Bowdoin can offer."
Another nominator, John Fitzgerald, Bowdoin's William D. Shipman Professor of Economics, wrote: "Victoria really stands out from her peers in class discussions. She reads carefully and is willing to offer comments and questions that are spot on, yet done with humor and humility. She is a truly exceptional candidate with a lively mind, natural leadership skills, and real desire to help others. And a genuinely nice person."
And, Andrew Rudalevige, our Thomas Brackett Reed Professor of Government, said of Yu: "One of the top few students academically that I've had, ever; but also snarky, fun, and outgoing."
---
The Andrew Allison Haldane Cup, Jake Stenquist '19
The Andrew Allison Haldane (HALL-dane) Cup, given by fellow officers in the Pacific in memory of Captain Andrew Allison Haldane (HALL-dane), United States Marine Corps Reserves, of the Class of 1941, is awarded to a member of the senior class who has outstanding qualities of leadership and character.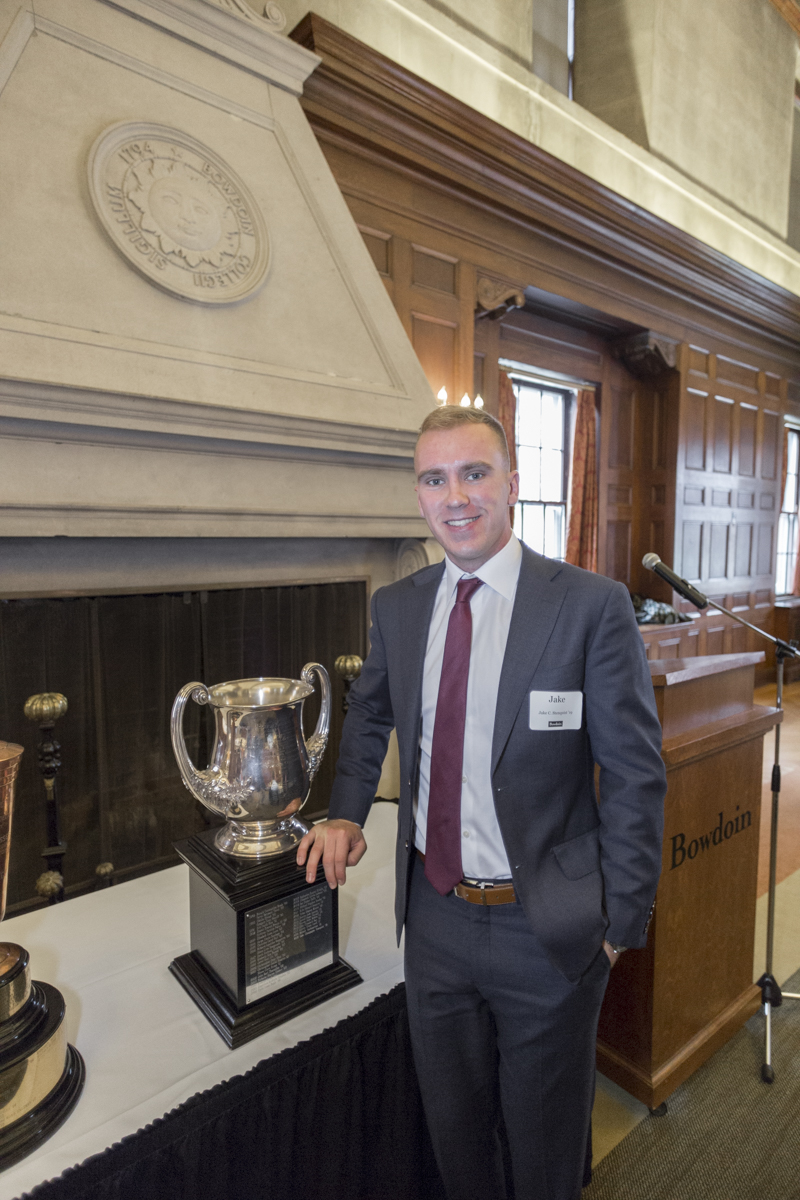 Stenquist is a government and legal studies major with a concentration on international relations. He has also taken five semesters of Arabic classes.
Fitting perhaps for a Haldane Cup recipient, Stenquist is an officer candidate in the US Marine Corps and later this month will be commissioned as a second lieutenant. Upon graduating from Bowdoin on May 25, he's off to the Marine Corps base in Quantico, Virginia, for further training before heading to Pensacola, Florida, for flight school.
Last summer, after completing his platoon leaders' course training, he graduated at the top of his program as the Marine Corps Association's Honor Graduate.
He credits his Bowdoin liberal arts education with helping him in his military career. He says the critical thinking and problem-solving skills developed in the classroom helped prepare him for the stressful demands of training to be a Marine Corps Officer.
This past year, Stenquist captained the men's soccer, leading his teammates in a winning season that saw them reach the quarterfinals of the NESCAC tournament.
He was a member of the Residential Life staff during his sophomore and junior years. Jake is also a rock drummer—he's played the drums since he was three—and in 2016 his band opened for Waka Flocka at Ivies.
---
Goodwin Commencement Prize, Anu Asaolu '19; Class of 1868 Prize, Julia O'Rourke '19; DeAlva Stanwood Alexander First Prize, Gerlin Leu '19
Each spring the Student Fellowships Committee invites members of the senior class to compete for the honor of speaking at Baccalaureate and Commencement. Students submit original speeches for consideration. 
Anu Asaolu, a neuroscience major and a theater minor, will deliver her speech "The Beauty in Resilience" at Commencement, sharing her experience as a Yoruba girl arriving at Bowdoin.
Julia O'Rourke is an education and English major, and government minor. She will give a Commencement speech called "A Bike-able Distance," in which she expresses gratitude for Charlotte, her bike, which provided her with a means of distraction from college and peaceful downtime during her years at Bowdoin.
Gerlin Leu, an Asian studies major, will speak about the connection between the different languages she speaks and the different parts of her personality in her speech "How I learned to Listen" at the Baccalaureate ceremony.