Published May 08, 2019 by Bowdoin
Page-Turner: Wildlife Author Writes of Her Audubon Experiences
Wildlife author Susan Hand Shetterly learned about what she calls "the splendors of this continent's wildness" in the journals of John James Audubon, the American ornithologist, naturalist, and painter.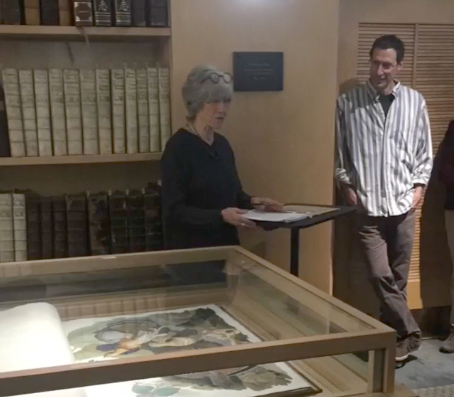 "I remember reading these words by lamplight and learning to see what was in front of my eyes by first learning to see through his," writes Shetterly in the May 2019 issue of Down East magazine.
Shetterly's column, "A Gift of Birds," coincided with her performing the ceremonial page-turning of Audubon's The Birds of America in the Bowdoin College Library's George J. Mitchell Department of Special Collections & Archives. 
"In the year I spent reading Audubon's journals, I saw a number of his magnificent prints, but I learned something about the life and the heart of this man from his words," she writes.
One of only 120 copies believed to still exist, Audubon's The Birds of Americais on permanent display. With a few exceptions, the page-turnings happen about once a month, allowing visitors to take in this celebrated masterpiece of natural history one specimen at a time.
They have become popular events in their own right, drawing between forty-five and seventy visitors, including one who travels from Massachusetts each month, and featuring guest speakers ranging from biologists and artists to historians, writers, and avid birders.
"Our speakers help us interpret the bird of the month and the legacy of Audubon's work," says Special Collections Education and Outreach Librarian Marieke Van Der Steenhoven.
"They share poignant personal and political reflections on Audubon's birds that help us contextualize this mid-nineteenth-century work in our understanding of the natural world."
Bowdoin received its copy of The Birds of America in 1955 as a gift from Roscoe Hupper, a member of the Class of 1907 and the Board of Overseers, in memory of his mother, Mary Alden Hupper.