Published May 23, 2019 by Bowdoin College
Lucas Johnson '22 Helps Usher In Maine Bill Requiring Mental Health Education in Schools
Working with Maine Senator Brownie Carson '69, first-year Lucas Johnson supported a new bill requiring Maine schools provide mental health education to their students.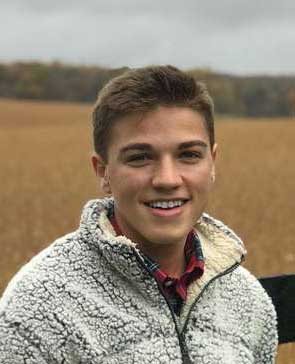 In April, Johnson was one of several people who testified at the state house in Augusta in support of the bill LD 1024, which ensures that mental health education be taught to students in elementary, middle, and high schools throughout the state.
"If implemented, this bill would assist Maine in addressing the tragedy of teen mental illness, and bring the discussions surrounding mental health out of the shadows and into the forefront of our society," Johnson said. 
Johnson already has experience fighting for legislation of this kind. In his home state of Virginia, he helped advocate for a new law requiring mental health instruction for ninth- and tenth-graders. It was signed into law in 2018.
National statistics from the US Centers for Disease Control and Prevention show that up to one in five adolescents between the ages of thirteen and eighteen have a mental disorder.
In Johnson's testimony, he cited even more local figures: "Maine's rate of major depressive episodes among adolescents aged twelve to seventeen is at 11.2 percent, compared to 9.9 percent nationally." 
Brownie Carson, a democrat who represents Brunswick and nearby towns in the state senate, said in his testimony that news reports and clinical studies both demonstrate that mental health education is essential in today's world. 
"Teaching our kids how to be more conversant about mental health...will help kids who are experiencing mental health problems to recognize them and seek out counseling and peer support more often," he said. "It will help students to avoid the isolation that so often afflicts young people who experience mental illness, and it may help friends and fellow students—and teachers, too—recognize signs and symptoms that a classmate may be in trouble, and to offer a hand." 
Johnson said he was motivated to help bring mental health education to schools after hearing from peers about their own challenges with depression, anxiety, bipolar disorder, or suicidal thoughts. "Mental illness discriminates against no one, and strikes everyone, making it a struggle far too many of us can relate to," he said.