Published May 15, 2019 by Tom Porter
Geoffrey Canada '74 Wins Leadership Award
Geoffrey Canada '74 has been honored for his work as a visionary educator and passionate advocate for children, community redevelopment, and education reform. On April 30, 2019, he was presented with the Richard Murphy Leadership Award at a ceremony in New York City.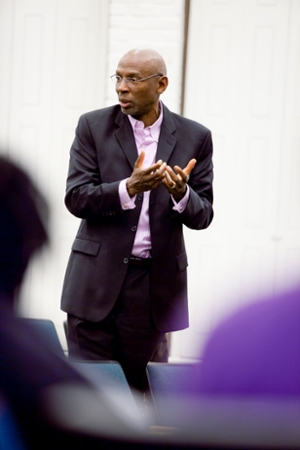 Canada was recognized for his "extraordinary accomplishments in the youth leadership field In New York City," wrote Nickolas Bagley in Youth Today. Richard Murphy, who died six years ago, was a former New York City director of youth services who pioneered the concept of using schools as community centers as a way of keeping young people off the streets.
This idea was employed by Canada as president of the Harlem Children's Zone (HCZ), an organization that targets a 100-block area in Central Harlem with a comprehensive range of services aimed at providing children and their families with support and resources that can transform lives and communities.
Under Canada's leadership, HCZ grew fourfold, wrote Bagley: "The undeniable success of the HCZ's model has led to its replication across the country. In 2009, President Barack Obama announced his plans to bring it to twenty cities."