Published May 14, 2019 by Tom Porter
Bowdoin Celebrates 2019 Scholarship Appreciation Lunch
Bowdoin's annual Scholarship Appreciation Luncheon, which took place Thursday, May 9, 2019, in Thorne Hall, brought together hundreds of students with the donors—alumni, parents, and friends of the College—who have provided the financial support that makes a Bowdoin education possible for them.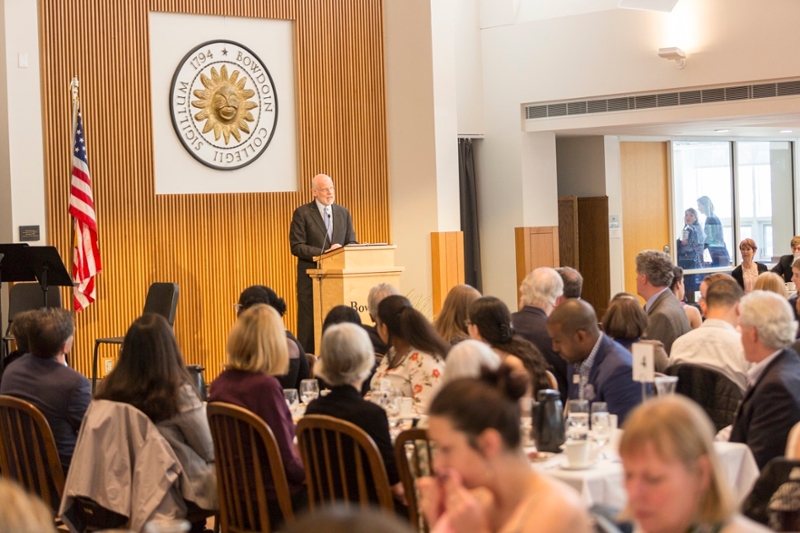 In his introductory remarks President Clayton Rose described the luncheon as a chance "to celebrate the opportunity to bring amazing students to the College from all walks of life." He reminded the audience that Bowdoin is one of nineteen colleges and universities in the country that is "need-blind" in its admissions policy, meets full financial need over four years, and features no loans in its financial aid program.
After a musical interlude performed by a student chamber group, this year's event featured speeches from scholarship funders Peter Grua and Mary O'Connell, both class of 1976, and from graduating senior Daniel Miro-Chinea.
In 2007, Grua and O'Connell established an endowed fund to support faculty-mentored student research in all disciplines. Each fall, the Student Fellowships Committee makes approximately a dozen awards of up to $2,000, all supported by that fund.
Grua recalled how he met O'Connell—the woman who would go on to become his life partner and wife—on his first day on campus in the fall of 1972. He also expressed gratitude for the help they both received during their time at the College.
"We are most fortunate to have had our Bowdoin experiences guided by faculty and staff members whom we consider to be angels who touched our lives," he said. "It may have been an unintended consequence on their part," he continued, "but they filled us with the strong desire to find ways to give back to Bowdoin. Now we view it as our turn to be angels through the financial support of our scholarship and research grant endowments, both today, and hopefully long after we are gone. "
He also recalled how, when he and O'Connell arrived at Bowdoin, it was just one year after the College had admitted its first full class of women. Those early efforts to transition to coeducation, he said, "set the stage for the diverse, welcoming community that Bowdoin has become today."
O'Connell said what she and her husband are most proud of is what they have given back to Bowdoin. "Our scholarship fund has helped many students," she said, which has added to the diversity of the college. She said her personal history makes her particularly passionate about the issue. Her father, she explained, was the son of a widowed schoolteacher who would never have had the opportunity to go to college if he had not received a scholarship to Columbia University, where he studied to be a civil engineer. "Among the many joys we have shared in our lives, few things have meant more to us than providing scholarships and research grants to others."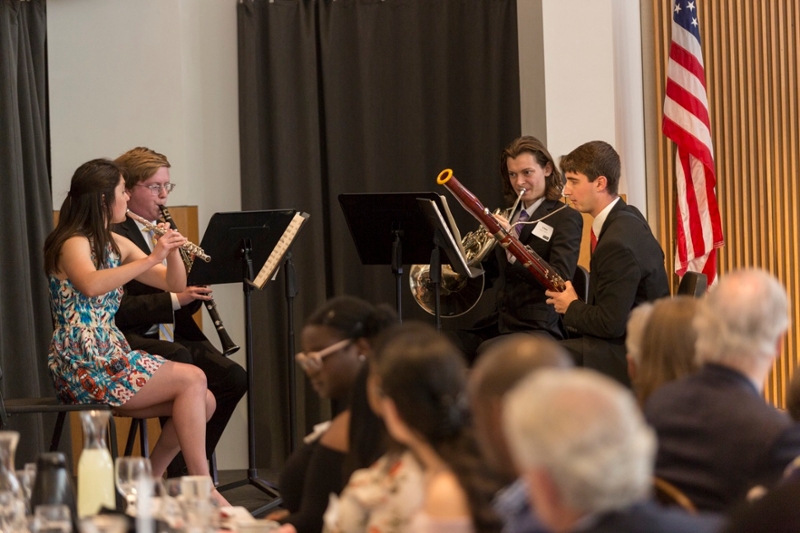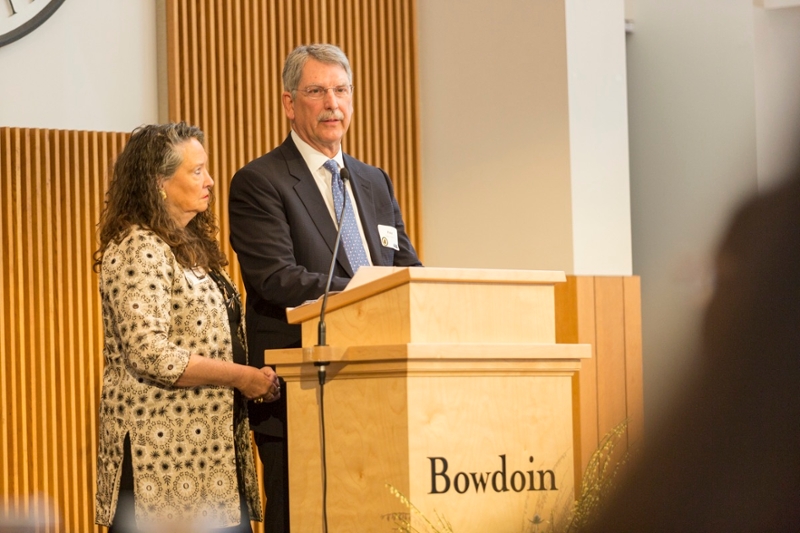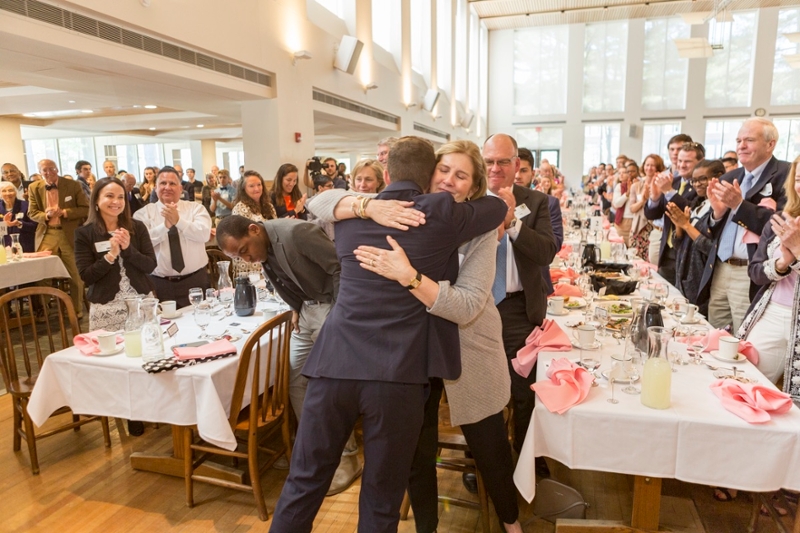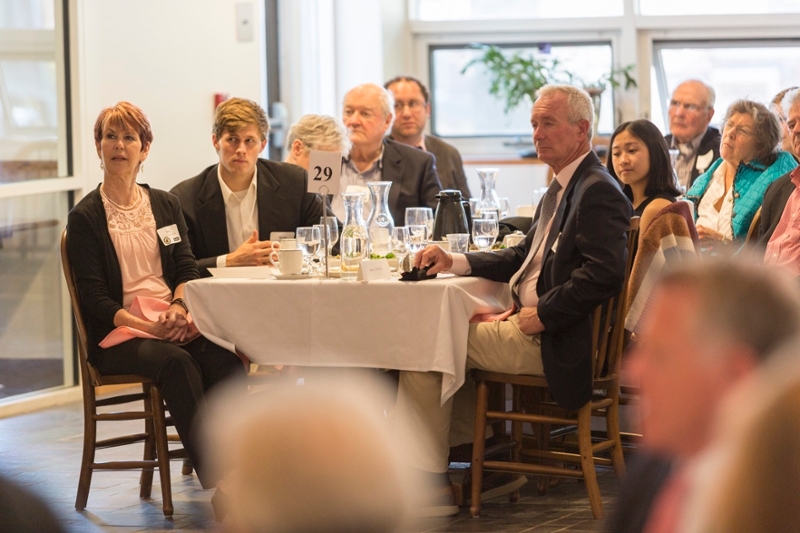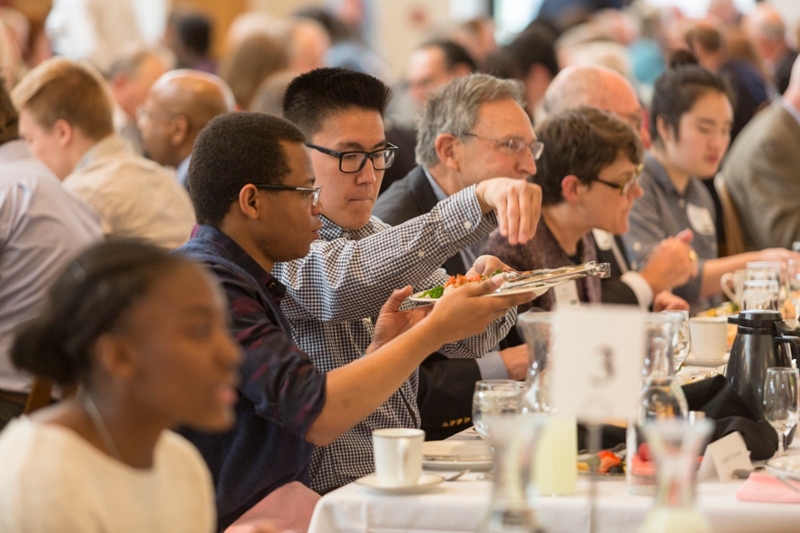 Photos by Dennis Griggs/Tannery Hill Studio
Daniel Miro-Chinea '19 described the emotionally charged moment in his household when he found out he had been accepted into Bowdoin. Close to tears, his mother said to him in Spanish: "Danny, I'm so proud of you, but remember it all depends on how much financial aid you get."
He grew up in Puerto Rico, he said, where life wasn't always easy but was "good and comfortable," at least until the recession hit there in the summer of 2009. His family moved to the US when his father took a job in Florida. But life was hard there too, as his father got laid off, his mother struggled to find a job, and they lost their house in Puerto Rico, along with all of their savings. "We downsized to a small apartment, white rice and eggs became our staple meal, the clearance rack our best friend, and we started accumulating a growing … credit card debt as a means to pay rent, bills, and simply survive."
Living in such straitened circumstances, Miro-Chinea said his parents were concerned that college would be an impossible dream. "However," he said, "because of the generosity of Bowdoin's financial aid, our donors and alumni, I was able to accept my offer of admission and have the privilege to be speaking in front of all of you today."
During his first year at Bowdoin, Miro-Chinea said he hiked Mount Katahdin, traveled to the Arizona-Mexico border to support migrants, and learned how to eat lobster. "As a sophomore," he said, "I worked on residential life staff to help new students adjust to Bowdoin and received funding to support survivors of human trafficking on the path toward US citizenship."
After spending his junior year studying abroad in the UK and Spain, he went on to visit Washington, DC, last summer as an inaugural Public Service Fellow, "which allowed me to serve as a criminal law investigator for the Public Defender Service for the District of Columbia and learn about the realities and challenges of our criminal justice system, and the power I have, and all of us do, to effect positive change." In his senior year, Miro-Chinea returned to DC as a student leader with the Bowdoin Public Service Initiative. He also shared the knowledge that he has landed a job at his top choice for employment after graduation. "For all these memories, experiences, and moments of growth, I want to say thank you," he said.
See a complete list of funds that support scholarship aid for Bowdoin students.