Published May 22, 2019 by Rebecca Goldfine
Using Art and Technology to Help the Community and Change the World
Students in the spring semester class Art, Technology, and Design for Social Change created promotional and documentary media for a local animal shelter, the farmers market, a day shelter for adults, and other nonprofits that serve the community.
The students' first assignment was to create videos for the local animal shelter. "I wanted to start with something that grabbed the students," said Erin Johnson, who is a visiting assistant professor of art and of digital and computational studies. This is the second year she has taught the digital and computational studies class.
"And they did, they loved it," Johnson continued. "We went to Midcoast Humane many times during class and outside of class, and a lot of them became especially invested in particular animals."
Johnson asked her students to pair up and create short films about different aspects of the shelter that the public might not know.
Working with Midcoast Humane's marketing manager, Jane Siviski, the students went down several paths. One pair made a video to explain the organization's transport program, Welcome ME Home, which delivers animals from southern US to Maine. Another video features kitten yoga (in which cats assist nearby yoga studio classes). A third short documentary explains the program's efforts to find homes for "overlooked" animals in a program called No Paw Left Behind.
"We began by collectively discussing the needs of the organization and our key messages, and after that, their creativity led the way," Siviski said.
Besides spending time with staff to learn about the organization's culture, scope of work, and messaging objectives,Siviski said, "The students spent plenty of time with the animals, getting gorgeous footage they incorporated into their videos. Under Professor Johnson's guidance they learned the techniques that helped bring each subject to life."
In her classes, Johnson taught her students—many of them new to filmmaking—cinematography, sound, lighting, and editing techniques. "We spent a lot of times looking at the New York Times' op-docs, and thinking about why these stories are compelling and how do we learn from that," she said.
The students "were clearly passionate about creating videos that we would love and use for years to come," Siviski said. "We now have six professional videos we can use across our social media (@midcoasthumane), on our website, at presentations, and anywhere else we can think of to tell the story of Midcoast Humane."
Kinaya Hassane '19, an art history major, said her experience with the class will help her as she pursues a career in the arts. "It taught me how to employ video production and editing skills in a way that can advance important social causes—and how to do so in a responsible and ethical manner," she said.
In the second half of the semester, the students branched out on their own to create a promotional project or documentary about an organization of their choice. 
While some continued to produce videos, others worked with different media. The end results include a podcast, a data visualization about the College Guild, and an app for The Guestbook Project. Hassane made a short video (below) about The Gathering Place, a local shelter offering poor and homeless people a place to stay during the day.
Hassane said she was impressed with the profound effects that come from The Gathering Place's relatively straightforward service. "While the video aims to highlight the very practical things that the organization does for the people who come through, I also wanted to showcase the really welcoming and warm community that exists there," she added.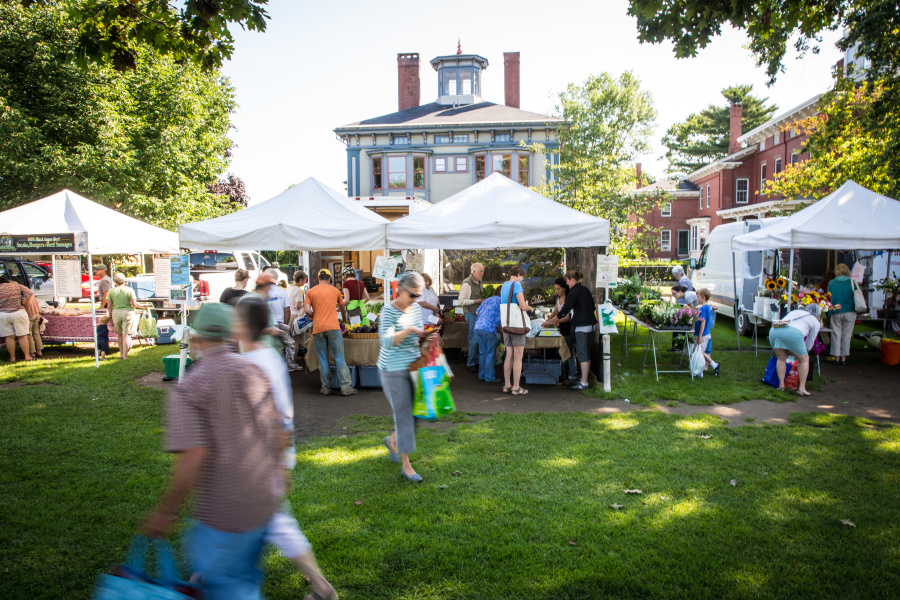 Reuben Schafir '22, another student in the class, made a podcast about the Brunswick farmers market, exploring the diversity among its vegetable farmers, cheese makers, bakers, and other vendors.
"I chose this project because it allowed me to do several of the things I love most—talking to and learning from new people," Schafir said. "I'm so excited that I have this in with the vendors at the market. It makes one feel much more local—or as local as a non-Mainer can feel—when you're a part of the community in this way."
Students get especially enthusiastic about their work, Johnson observed, when it's grounded in the world right around them, and "when they can see that the work they're doing in the class is meaningful."