Published May 25, 2019 by Bowdoin College
Bowdoin College Celebrates 214th Commencement
Bowdoin College conferred 472 bachelor of arts degrees to the Class of 2019 during its 214th Commencement ceremony on Saturday, May 25, 2019.
The Class includes students from forty-five states, the District of Columbia, Puerto Rico, and nineteen other countries and territories.
College Marshal Jean Yarbrough, who is Bowdoin's Gary M. Pendy Sr. Professor of Social Sciences, officially opened the commencement exercises ceremony. Eduardo Pazos Palma, director of the Rachel Lord Center for Religious and Spiritual Life, then offered the invocation.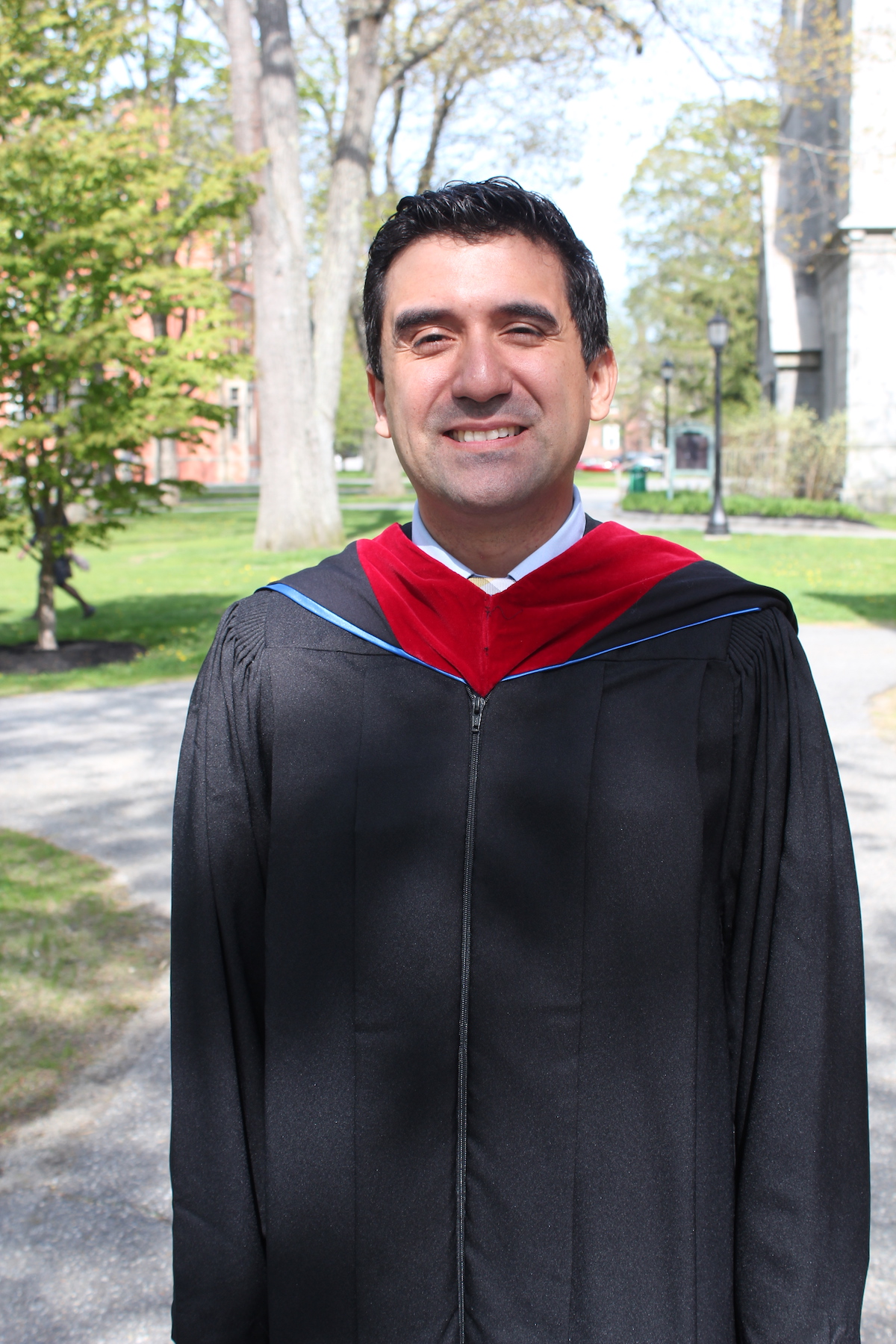 He urged the Class of 2019 to "go forth without fear, without hesitation, without worry," and "to work to create more just, sustainable, and equitable societies." Read the full text of Pazos Palma's invocation.
Chair of the Board of Trustees Michele Cyr '76, P'12, introduced Mohamed Nur '19, who gave the annual Greetings for the State, which is customarily offered by a representative from Maine. 
Portland, Maine, native Nur described how his mother emigrated from Somalia in 1993 to escape a brutal war, "with the hope that her children could have the opportunity to not only have a better life, but to pursue their wildest dreams," he said. Though it was challenging here for them, he added, "Maine has become home to families like mine." Read the full text of Nur's greetings.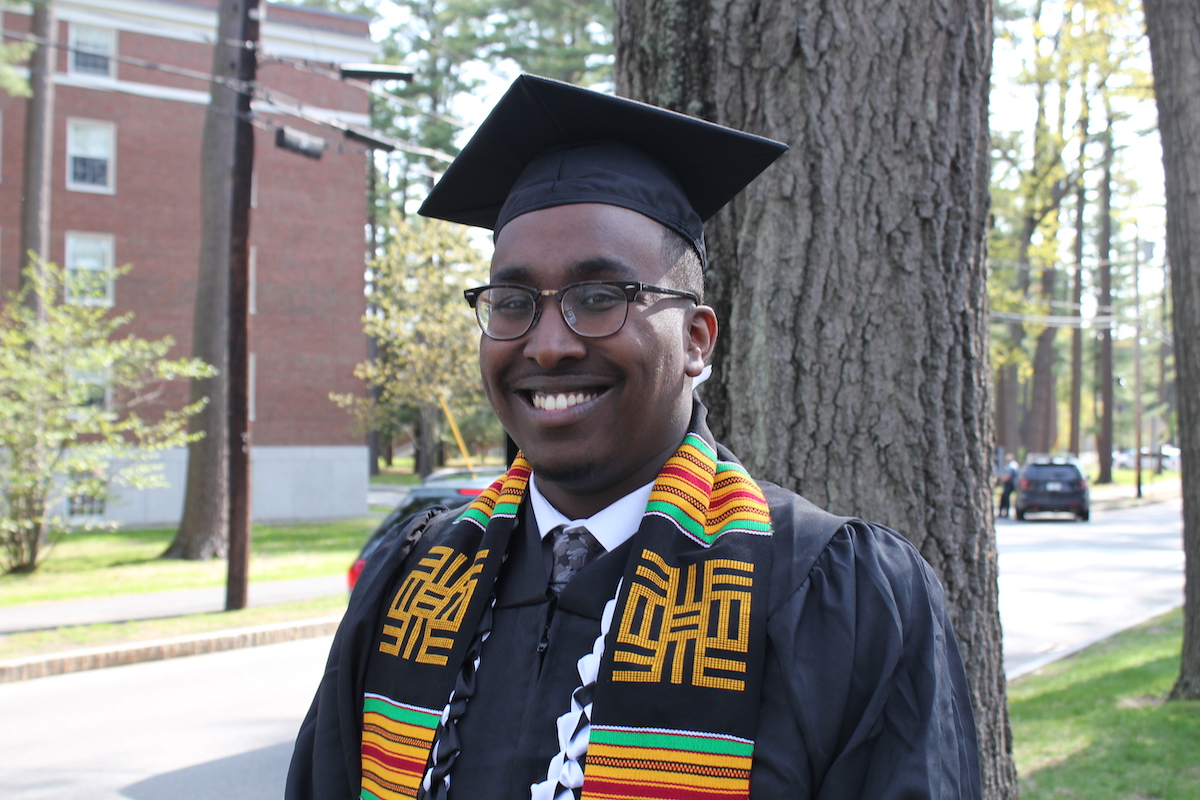 President Clayton Rose welcomed the graduating seniors, family, friends, and members of the Bowdoin community, and then asked the graduating seniors to stand up and thank the relatives and friends who have supported and loved them. 
He noted that, in 1806, when Bowdoin celebrated its first Commencement, Thomas Jefferson was in the White House, Congress was in its ninth term, and it would be three years before Abraham Lincoln was born. "Very few institutions have been as durable as Bowdoin, a place that embraces both change and a steadfast commitment to our core values as essential elements in providing a great liberal arts education," he said.
Rose took a moment to recognize graduating senior Jake Stenquist, who was commissioned into the United States Marine Corps in a ceremony on campus one day earlier. He also thanked Cyr and Dean Tim Foster, who are both stepping down from their positions, for their invaluable contributions to the College.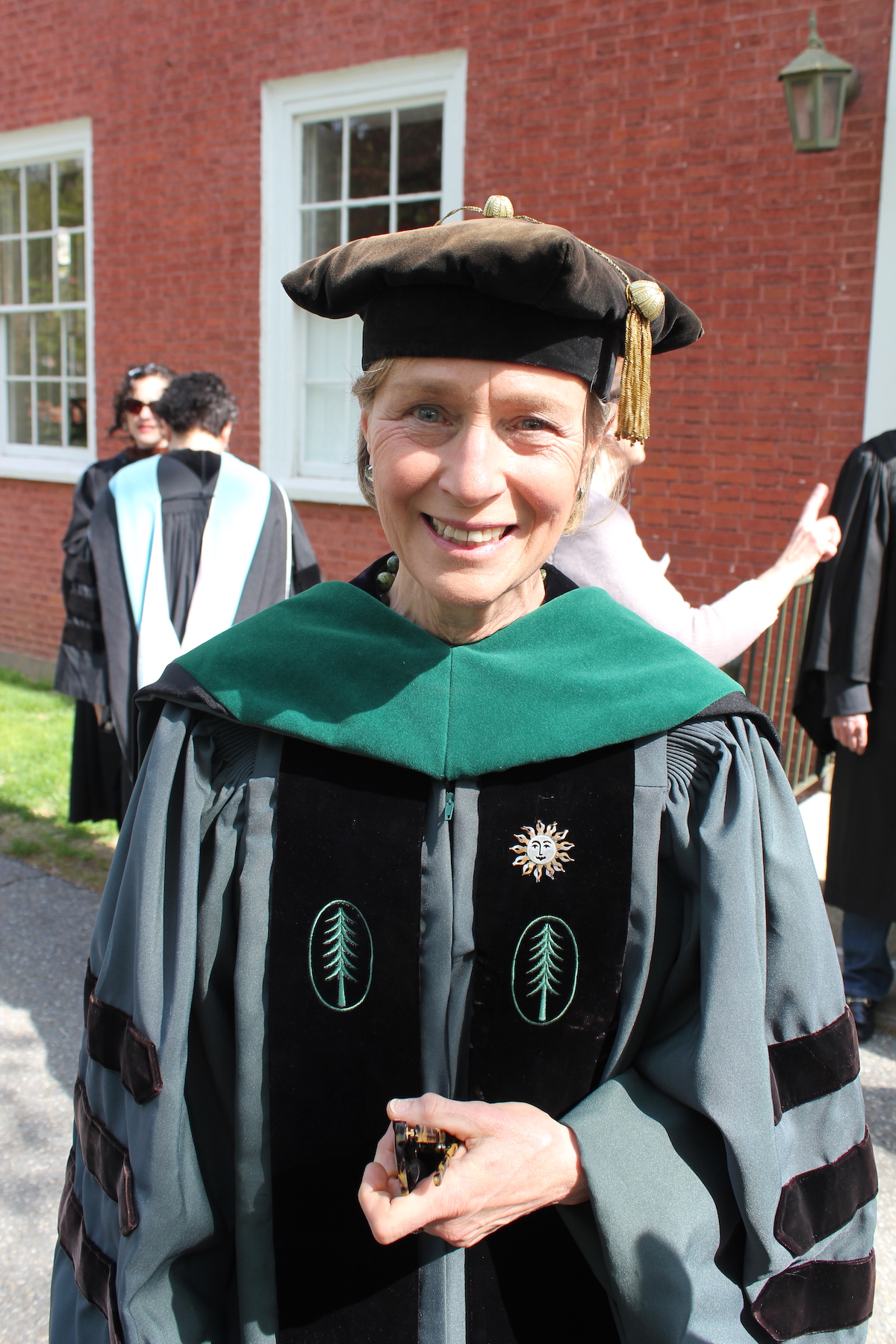 And he applauded Bowdoin dining employee Lisa Bouffard, who earned her diploma today with the rest of the Class of 2019.
Rose marveled at how transformative four years at Bowdoin can be, for everyone. "For all of us, the last four years have been amazing, not every moment has been easy or great, but taken all together, summing it all up, it has been nothing short of remarkable and life-changing, for you and for me. Know that you have made the College better, and you have made me better, as a person and a president," he said. Read the full text of President Rose's remarks.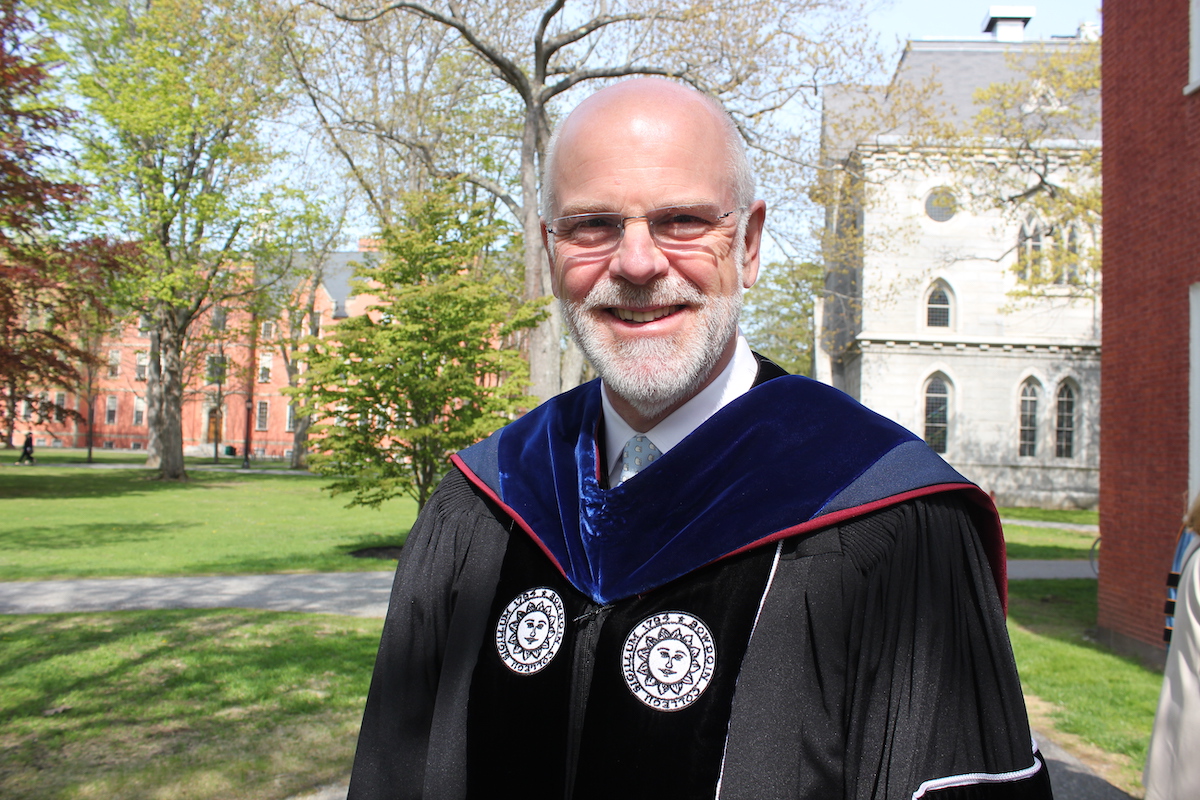 Commencement Speakers
As has been the tradition since Bowdoin's first graduation ceremony in 1806, Commencement addresses were delivered by graduating seniors.
This year's speakers, chosen through competition, were Julia O'Rourke '19 and Anuoluwapo Asaolu '19.
Class of 1868 Prize Winner Julia O'Rourke '19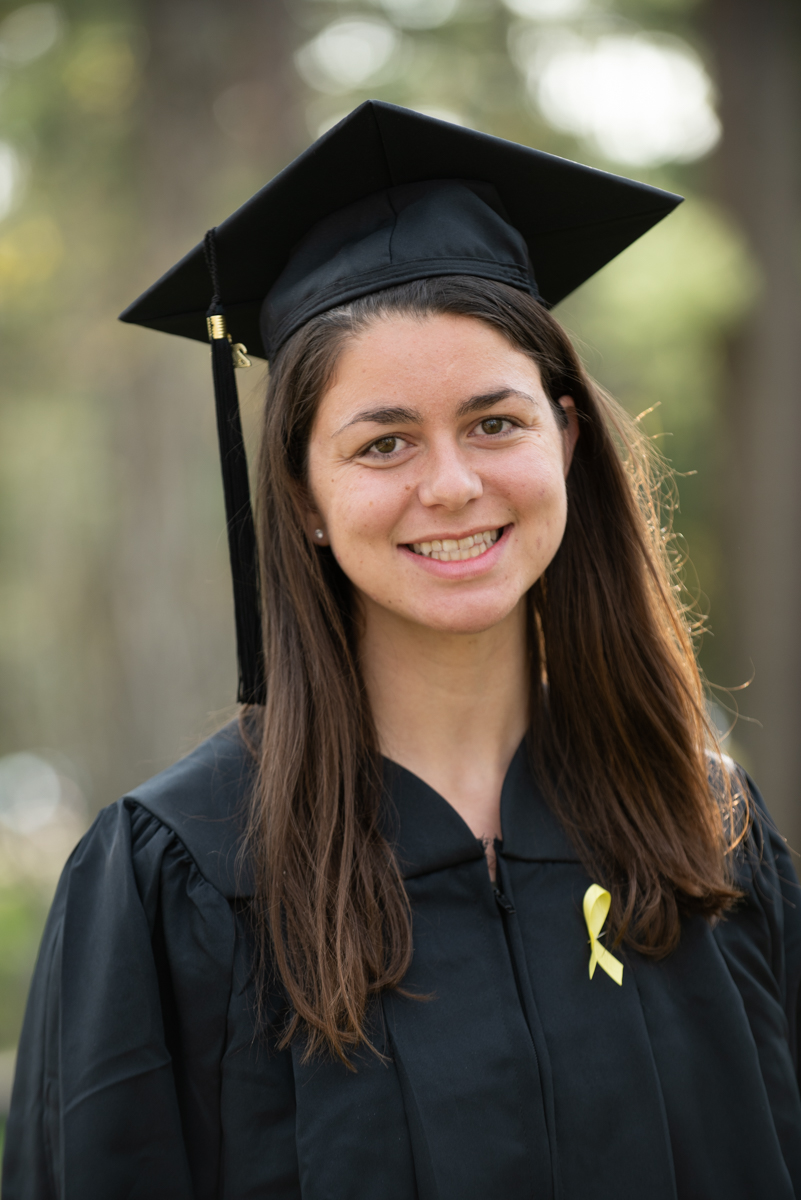 In her speech, "A Bike-able Distance," O'Rourke reminisced about buying a bike with her father the day before her first day at Bowdoin. Her jittery nerves had put her in a foul mood, she said, and her dad "seemed to know that what I needed was to feel [a] sense of freedom, to be reminded that I was independent enough to embark on a new experience even if the prospect scared me." 
She fell in love at first sight with a vintage pale-yellow bike, which she named Charlotte. On her ride back to campus, her nerves calmed. Over the following months at Bowdoin, the bike helped her arrive to classes and track practices on time, and it helped her find peace away from a hectic academic and social life.
Yet, that busyness also led her to eventually neglect Charlotte, and the bike sat outside rusting through rain, wind, and snow. That is, until the man who had sold the bike to O'Rourke passed it one day and texted O'Rourke that he'd fix it for her for free.
"How lucky are we that this is how Bowdoin and Brunswick operate?" O'Rourke said. "People look out for you, offer to help you, and pump up your tires when you are feeling low. This is the beauty of living in a small community like we do. I think it is this quality—of living within a bike-able distance of all the people and things we need—that makes it so hard to leave Brunswick and Bowdoin." Read the full text of Julia O'Rourke's remarks.
Goodwin Commencement Prize Winner Anuoluwapo Asaolu '19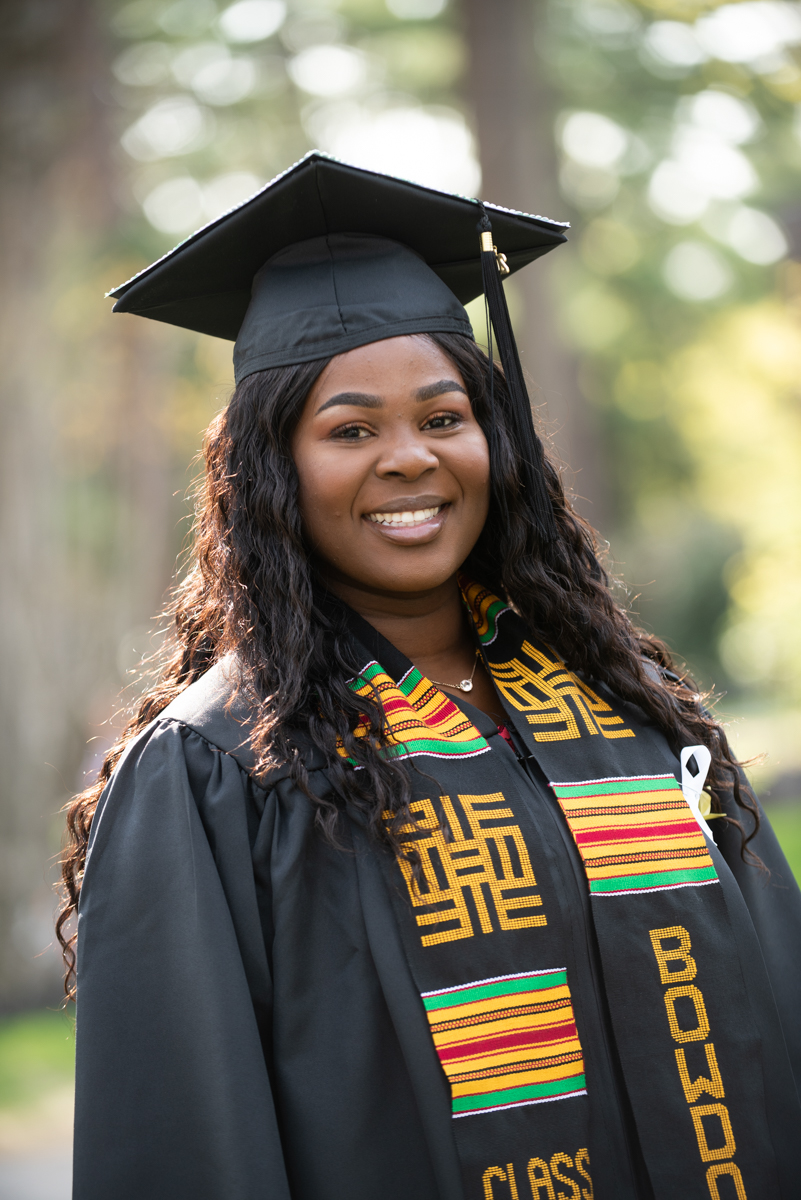 Asaolu began her speech, "The Beauty of Resilience," by admitting that her decision to come to Bowdoin four years ago had mystified her family members, and even her to some extent. "I did not know how a winter-hating, city-loving Yoruba girl like myself ended up in Brunswick," she said, other than desiring a challenge.
To fit in right away, she concealed parts of her life, particularly her family's financial struggles. She introduced herself to everyone as "Anu—like a new person." She tried to cover up her Nigerian accent.
The summer after her first year at Bowdoin, when she was back at home, her mother reminded her to not forget where they came from, and to have pride in their Nigerian heritage.
Back at Bowdoin, Asaolu began holding her "head up high and feeling proudly African." She continued, "Our mere presence is resilient. Our breath, walk, and existence disrupts the homogeneity of institutions like this one....With each day on this campus, our presence challenges stereotypes and assumptions."
Indeed, just as she has evolved during her time here, Bowdoin, too, has come a long way, she said, continuing to "revolutionize the narratives of minorities on campus." Read the full text of Anu Asaolu's remarks.
Honorary Degree Recipients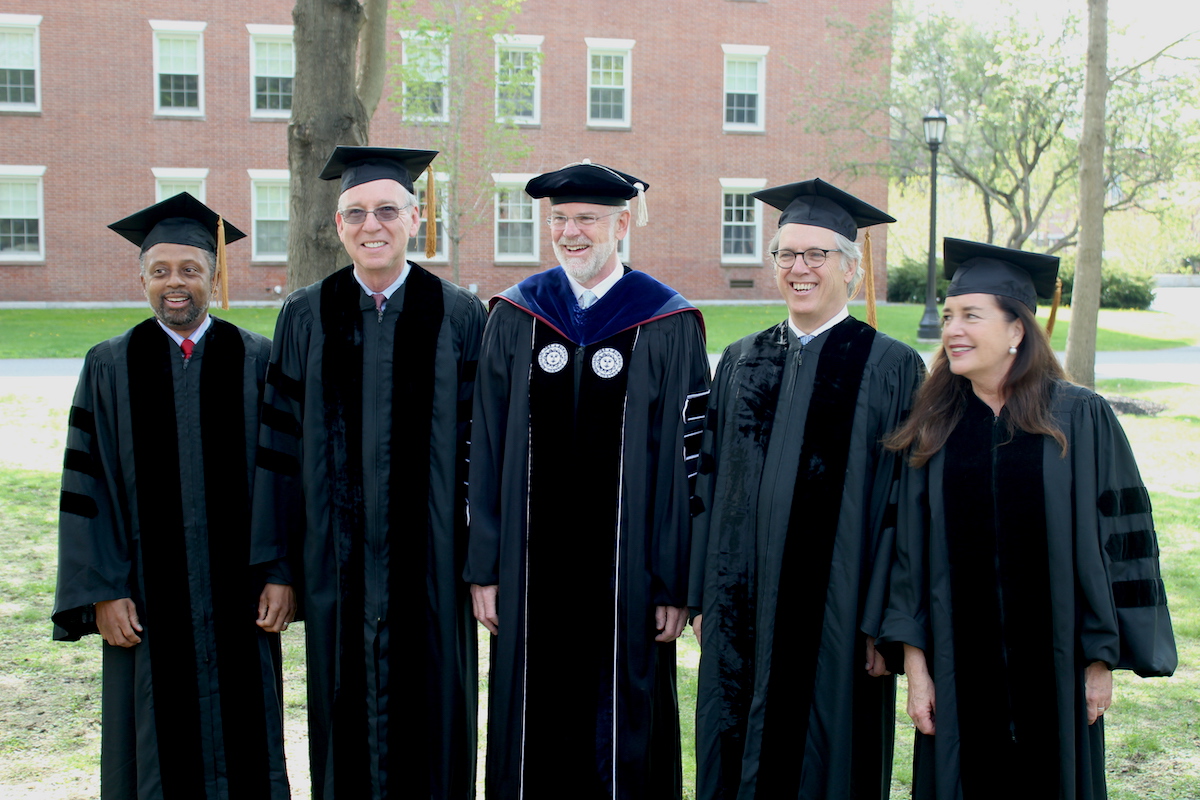 Bowdoin awarded four honorary degrees at the ceremony:
Social historian

Earl Lewis

Mammalian molecular geneticist 

Nadia A. Rosenthal

 

Philanthropist 

Paul M. Ruddock

Bowdoin College Trustee Emeritus 

Sheldon M. Stone 

'74.
Senior Class Gift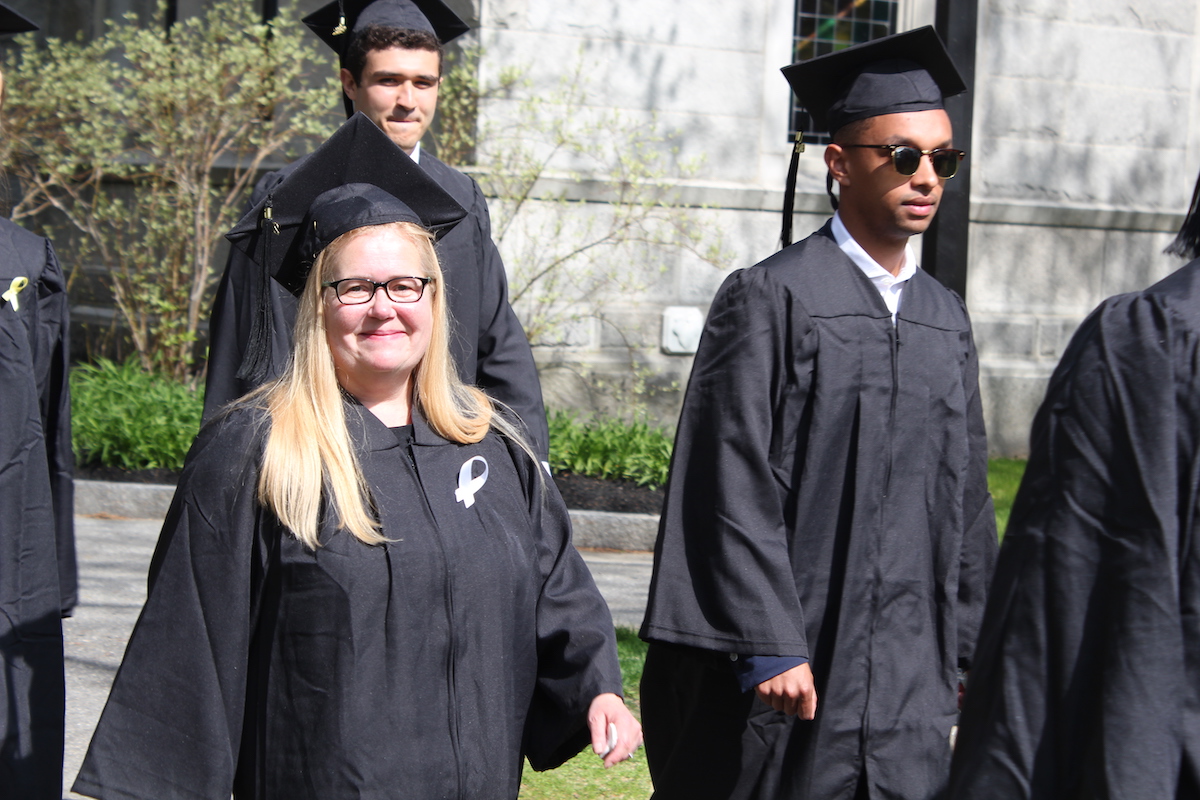 Class President Henry Bredar '19 announced the class gift—The Class of 2019 Lisa Yankura Bouffard Scholarship Fund—for an incoming first-year student. It is named for long-time Bowdoin dining employee and Bowdoin student Lisa Bouffard '08. Read the full text of Henry Bredar's remarks.
Senior members of the Chamber Choir, Chorus, and student a cappella groups performed "The Star-Spangled Banner" and "Raise Songs to Bowdoin," accompanied by Beckwith Artist in Residence George Lopez on piano. 
Read about Bowdoin's Baccalaureate ceremony, held Friday, May 24, 2019 in Sidney J. Watson Arena, with talks by President Clayton Rose, Gerlin Leu '19, 2019 Bowdoin Honorand Earl Lewis, and Dean of Student Affairs Timothy Foster.