The Four Languages of Actor Michael Wood '06: English, French, Italian, and the Body
By Tom Porter
Michael Wood '06 is a professional actor who can perform in three languages. He is fluent in French but also speaks Italian, so his voice is clearly very important to him. "However," he said, "if I lost my voice tomorrow and couldn't speak any language, I should still be able to tell a story."
Wood recently visited the Bowdoin campus, where he conducted student workshops in French and Italian, as well as English. He also delivered a public talk, mostly in French, on physical theater, although he described it as more of a masterclass than a lecture. Physical theater is an art form Wood began studying seriously when he went to live in Paris after graduating from Bowdoin, having earned a double major in French and English combined with theater studies.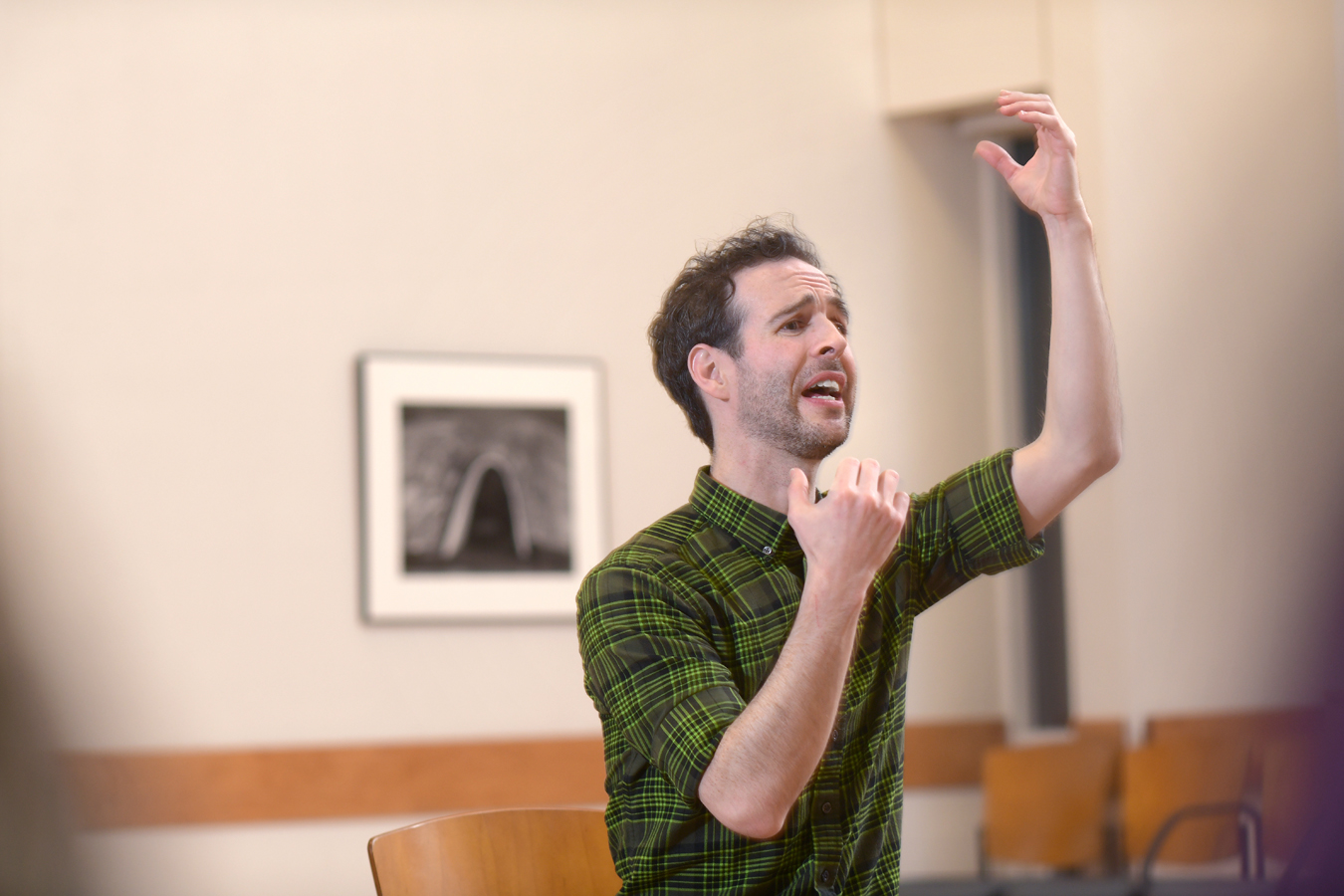 "I studied at the École Jacques Lecoq, an international school that specializes in physical theater and where we learned about movement and mime. Not the Marcel Marceau, man-in-a-box-type mime, but mime as a tool for actors on stage, to help them connect with the audience." Paris was already familiar ground for Wood, who spent his junior year studying abroad there. He has returned on several occasions over the years, for two or three months at a time.
Wood currently resides in Washington, DC, and works as a jobbing actor, which means going to a lot of auditions. "Along with Chicago, DC is the nation's second biggest theater market after New York." He also likes the fact that the buildings are shorter than New York and there's more sunlight. "It felt like a good place to invest in long-term, without subjecting myself to the rat race that is New York City's 'theaterland.' Plus there's a little bit of southern hospitality in DC."
An Interesting Journey
Wood harbored acting ambitions from an early age, he said, but the defining moment in choosing this career was playing Puck in A Midsummer Night's Dream as a high school senior. "It was a great experience. The teacher let us help design the set and the choreography."
After Bowdoin and the six-month stint in Paris, Wood lived in Boston for a while, where he joined a zany theatrical troupe called the Gold Dust Orphans. "We did parodies of classic works. For example, one of our pieces was called Pussy on the House, inspired, of course by Tennessee Williams's Cat on a Hot Tin Roof. Then there was Phantom of the Oprah and Peter Pansy. We were like an underground drag company."
Then it was a back to Paris for a spell training with the acclaimed Theatre Du Soleil, where he further honed his talent for physical theater. ("I was sleeping on a friend's floor for two-and-a-half months, getting up at six, home at eleven or so, not getting paid, and spending my savings. I loved every minute of it!")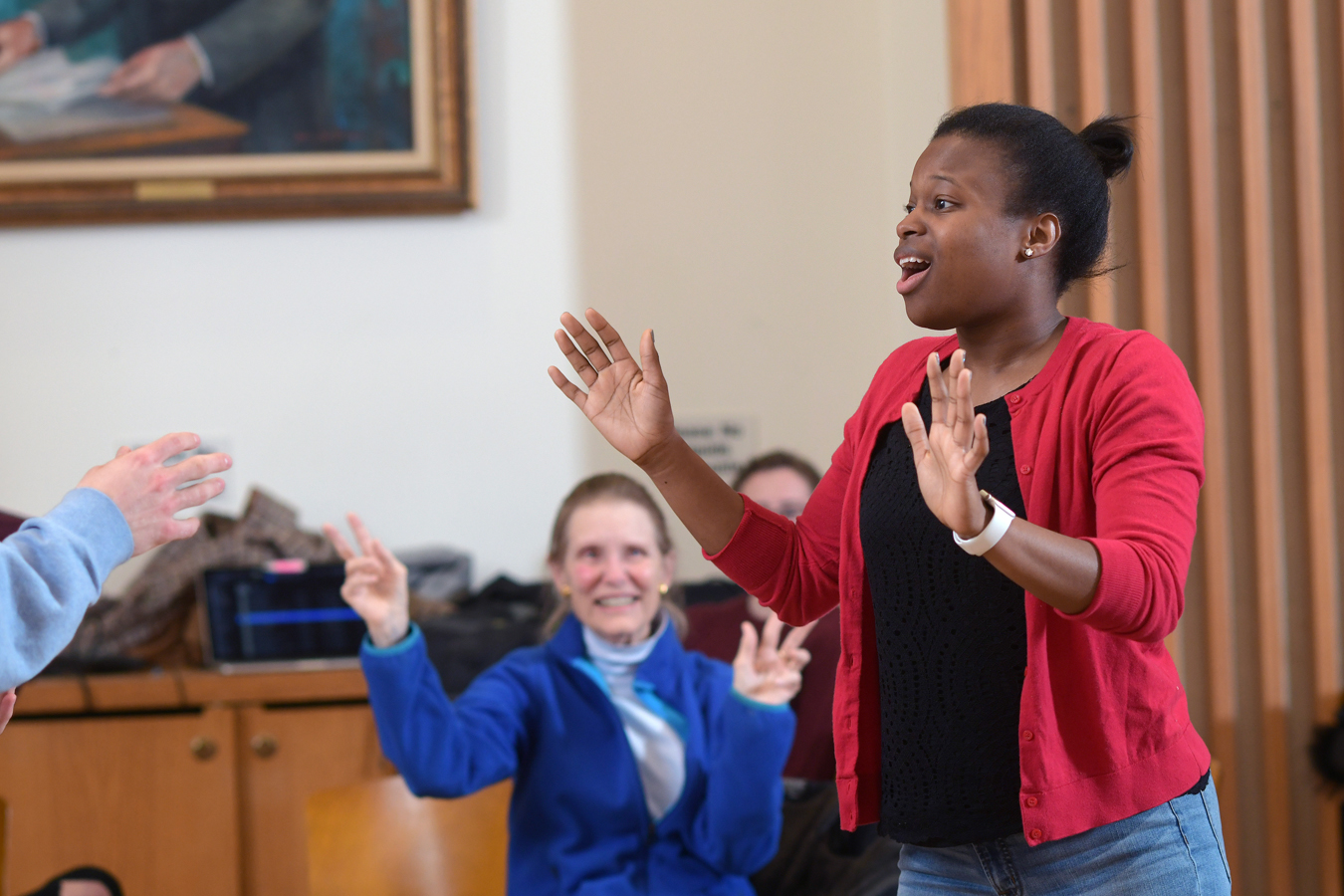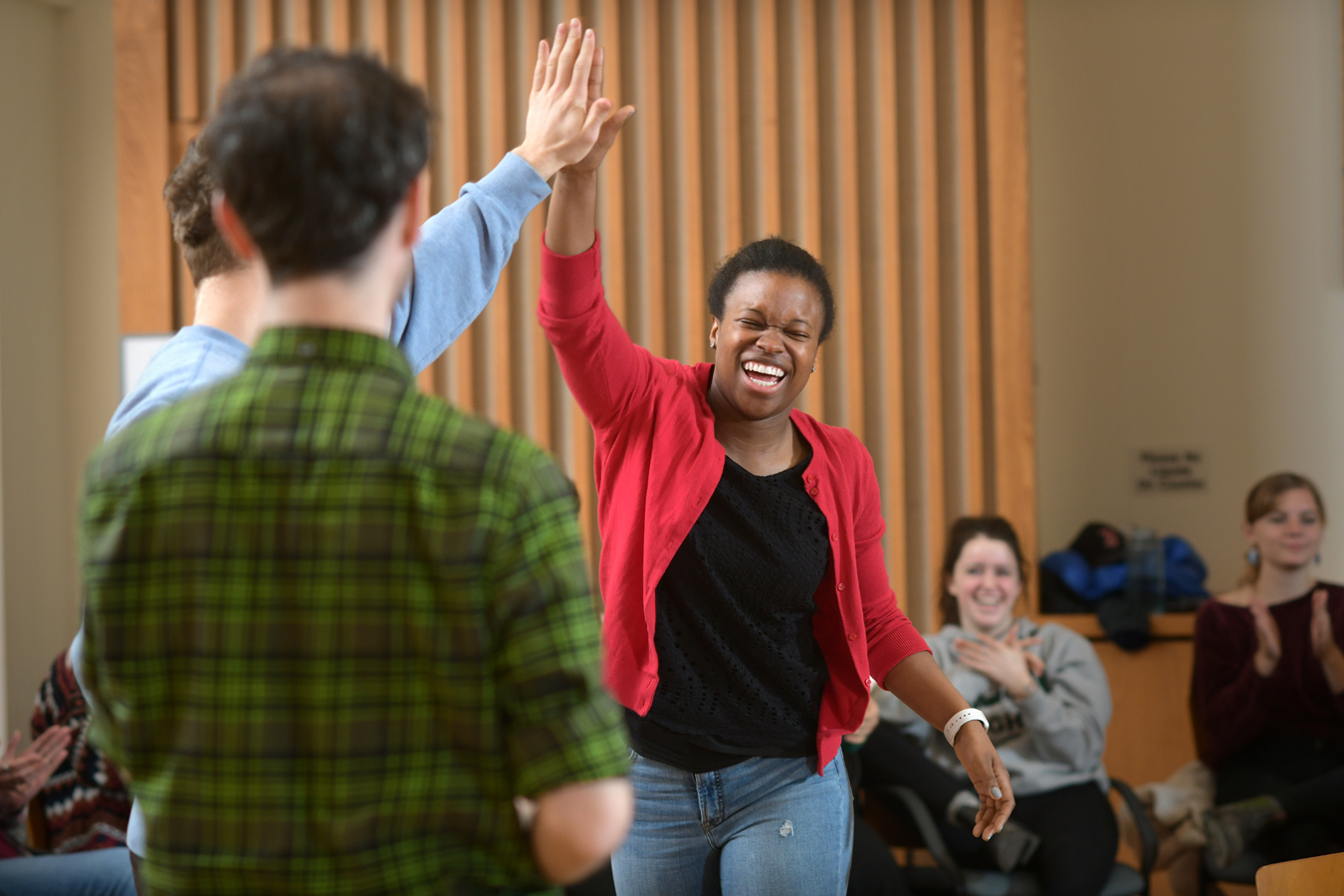 Back in the US, he spent about a year touring the country doing dinner theater ("we did classic American musicals. I sing and dance if you pay me!") When this was over, he spent a brief period experiencing the "rat race" of New York, where he did eighty-five auditions in four months. "Sometimes I had a five in a day," he recalled. "It all got a bit much, so I decided to move back to Maine, where my family is."
In search of more stability, Wood worked at Bowdoin for three years, ending up as assistant dean for first-year students. "In spare time, I also did theater in Portland, which was great because, being in a small community, there was the opportunity to do many things. For example, I created two solo cabaret shows for Portland fringe festivals." Another memorable experience during this time was choreographing a high school musical in Falmouth. "I taught fifty kids to tap dance. It was totally unexpected but great fun."
After the dispiriting experience of New York, Wood's love for the theater was rekindled, and in 2016 he moved to his current home of Washington, DC, to pursue an MFA in classical acting. "It was basically a year of doing Shakespeare at George Washington University." The benefit of local connections he made during that year, he said, is one of the reasons Wood decided to remain in DC, where he now pursues full-time acting—including the occasional TV commercial. "When acting on television, I have to make a conscious effort to physically calm down and do less with my body. It's about learning you don't need to use all your tools all the time."
Advice for Would-Be Actors
Learning to take criticism from teachers is important, stressed Wood. "Try and take your ego out of the equation. You need a thin skin when you're on stage, but a thick one when you're off it."
Another piece of advice he has is to listen to yourself. "Someone once told me 'if acting is not making you happy anymore, stop doing it.' I don't just mean not wanting to do it because you're nervous—most people get stage fright—but not enjoying the actual process of being an actor. I stopped after New York, and then came back doing it in different ways. Now I'm in a new place and want to keep doing it."
Wood's Great Asset?
"My face maybe? I was told I have a face like rubber. I chose to take it as a compliment!"