Published April 26, 2019 by Tom Porter
Seven Bowdoin Scholars Made Full Professors
Seven faculty members from across the academic spectrum have been promoted from associate to full professor based on their excellence in teaching, distinction in research, and service to the College. They come from the fields of physics, philosophy, government, art history, education, computer science, and anthropology. They will become full professors on July 1, 2019.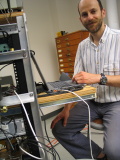 Mark O. Battle (physics) lists his research interests as atmospheric composition and climate change. Before coming to Bowdoin in 2000, he was a visiting lecturer at the University of Pennsylvania for a year and a research scientist in the Department of Geosciences at Princeton University. This semester, Battle is teaching Electric Fields and Circuits (PHYS 2130) and Atmospheric and Ocean Dynamics (PHYS 2810/ENVS 2253/EOS 2810). A talented clarinettist, Battle also earned a bachelor of music from the New England Conservatory in 1988.
Sarah O'Brien Conly (philosophy) is currently working on a book about liberty: when it is important, when it is not, and why. She is also the author of Against Autonomy: Justifying Coercive Paternalism (Cambridge University Press 2013) and One Child: Do We Have a Right to More? (Oxford University Press, 2016.) Articles she has published include "Procreation Ethics," "Moral Paternalism," "Overpopulation and Individual Responsibility," and "When Free Speech is False Speech." Conly will be on academic leave for the 2019-2020 academic year, working on her new book, provisionally titled Does Liberty Matter? She earned her PhD at Cornell University.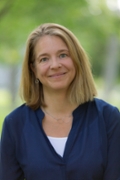 Laura A. Henry (government and legal studies) studies the development of Russia's state-society relations, with a particular focus on environmental politics and cooperation among domestic and international actors. She teaches courses on contemporary Russian politics, the European Union, environmental politics, and social movements. She is the author of Red to Green: Environmental Activism in Post-Soviet Russia (Cornell University Press, 2010) and coeditor of Russian Civil Society: A Critical Assessment (M.E. Sharpe, 2006). This semester she is teaching The Politics of Climate Change (GOV 1027/ ENVS 1027) and West European Politics (GOV 2400).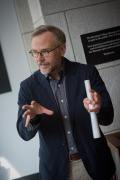 Stephen G. Perkinson (art history) is associate professor of art history and is currently serving as associate dean for academic affairs. His scholarship focuses on medieval and Renaissance art of Northern Europe, addressing topics in periods ranging from the thirteenth to the sixteenth centuries. His 2009 study of the origins of portraiture (The Likeness of the King, University of Chicago Press, 2009) was the recipient of that year's Morris D. Forkosch Prize for Best First Book in Intellectual History. He has also collaborated extensively with art museums. More recently he published The Ivory Mirror: The Art of Mortality in Renaissance Europe (Yale University Press, 2017), which accompanied a major international loan exhibition that he curated at the Bowdoin College Museum of Art.
Doris A. Santoro (education) is a philosopher of education who conducts empirical research to study and theorize about the moral and ethical sources of teacher dissatisfaction and resistance. Last year, she authored Demoralized: Why Teachers Leave the Profession They Love and How They Can Stay and coedited a collection of essays called Principled Resistance: How Teachers Resolve Ethical Dilemmas. Both were published by Harvard Education Press. She's teaching three courses this semester: EDUC 2211: Education and the Human Condition; EDUC 3303: Student Teaching Practicum; and EDUC 3304: Bowdoin Teacher Scholars Seminar.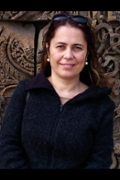 Laura I. Toma (computer science) works on the theory and practice of memory-efficient algorithms for applications that involve large, high-resolution geospatial data. She is interested in algorithms for fundamental problems on terrains, such as visibility, flooding, sea-level rise, and least-cost-path surfaces. "My goal is to come up with approaches that can be theoretically proven efficient (e.g. CPU-efficient, IO-efficient, cache-efficient, PRAM-efficient"), she said, "and that at the same time are simple, fast in practice, and exploit realistic features of data." Toma, who earned her PhD from Duke University in 2003, is currently on sabbatical.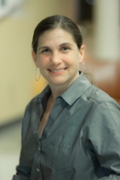 Krista E. Van Vleet (anthropology)  investigates power inequalities in the intimate relationships of everyday life in the Andean highlands of South America. Her scholarship is based on ethnographic fieldwork in Bolivia (1995-present) and Peru (2009-present). She is author of Hierarchies of Care: Girls, Motherhood, and in Inequality in Peru (University of Illinois, in production) and Performing Kinship: Narrative, Gender, and the Intimacies of Power in the Andes (University of Texas Press, 2008). She is coauthor of Making Families through Adoption (Sage, 2011). This semester, Van Vleet is teaching Hierarchies of Care: From Kinship to Global Citizenship (ANTH 2246 / GSWS 2246) and Language, Identity, and Power (ANTH 2230).