New Dorms, New Opportunities for Juniors and Seniors
Published by Communications and Public Affairs
The fall 2019 opening of four brand new Passive House dorms on Park Row added a new element of excitement at this year's housing lottery.
Last week, students went through the housing lottery process—as they do every spring—to determine where they will live next semester. The favored building choice for juniors and seniors?—the new Park Row apartments.
The apartments
The new apartments will house eighty-eight students in four three-story buildings. Each building has four-, six-, and eight-person "suite-style" apartments that all have a full kitchen, a living room, bathroom, study area, third-floor shared laundry, a single bedroom for each resident, and full-service elevators making living spaces accessible to all.
What's inside? In the living room and study areas, there will be comfortable seating and natural light. Bedrooms will have full-size beds, a desk, a desk chair, and built-in closets. Kitchens have a full stove and oven, full-sized refrigerator, dining room table and chairs, and plenty of countertop space and cabinets. The six- and eight-person apartment kitchens will also have an island with stools. Vinyl tile flooring is installed throughout, and there will be a communal coat closet in each apartment near the entrance.

According to student focus groups, having single bedrooms away from shared living areas, and a large living room and kitchen to host small events is what was desired most by upperclass students. "We have met both of these goals in Park Row Apartments in addition to creating comfortable, homey apartments where I know the students will enjoy their experience," says Lisa Rendall, director of residential and housing operations.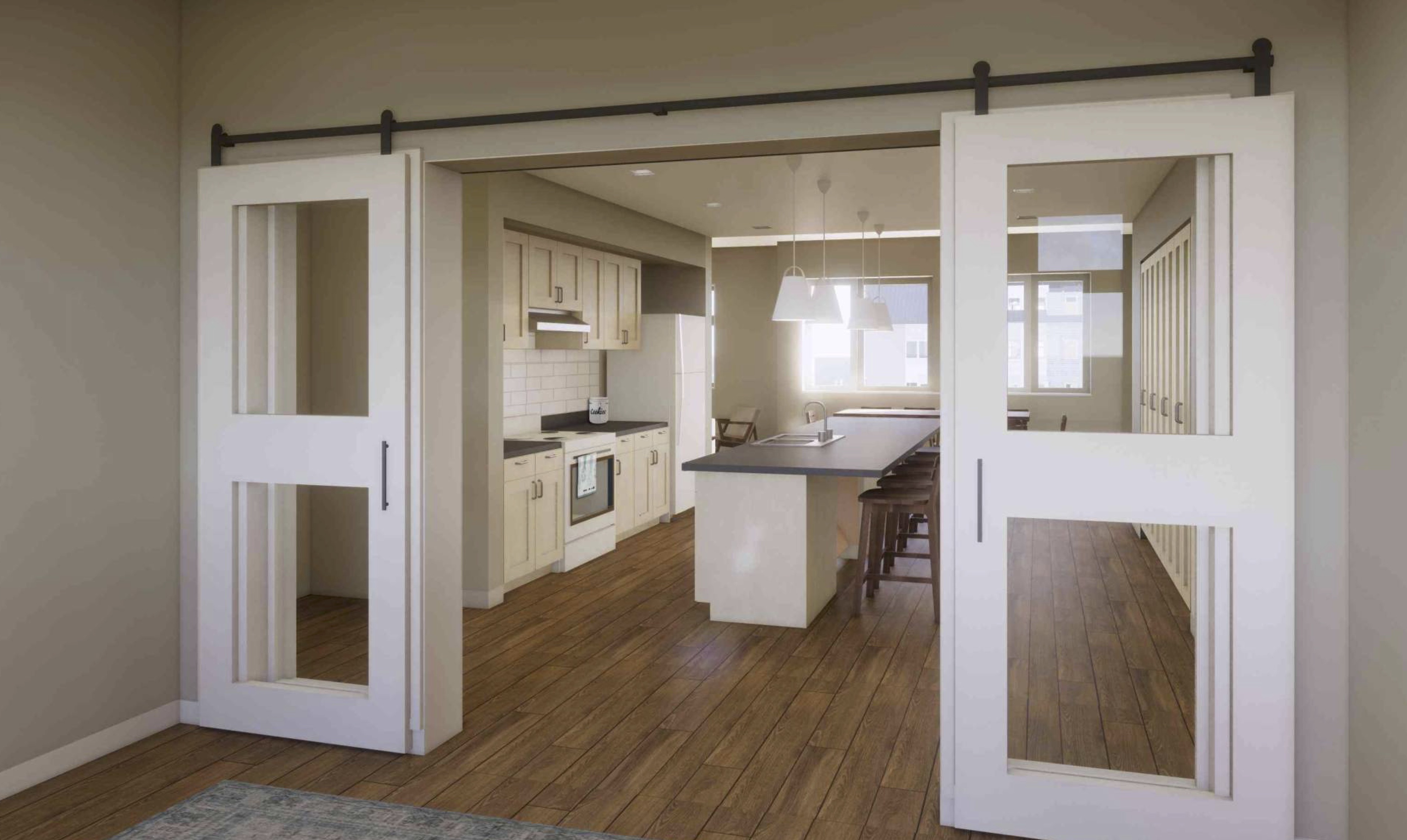 Let's get together
Building community is encouraged in the Park Row Apartments. The full kitchen space and adjacent dining table are conducive to hosting dinner parties, game nights, and gatherings with friends. An open space in the basement of building two is also available to reserve for larger events. 
Outside, courtyards and pathways run between the buildings, offering space for frisbee matches, cookouts, or just sitting with friends. The buildings are also connected to town and the rest of campus. Residents are close to the library, dining halls, athletics facilities, classes, and their classmates—and can stay integrated in campus life while enjoying some independence.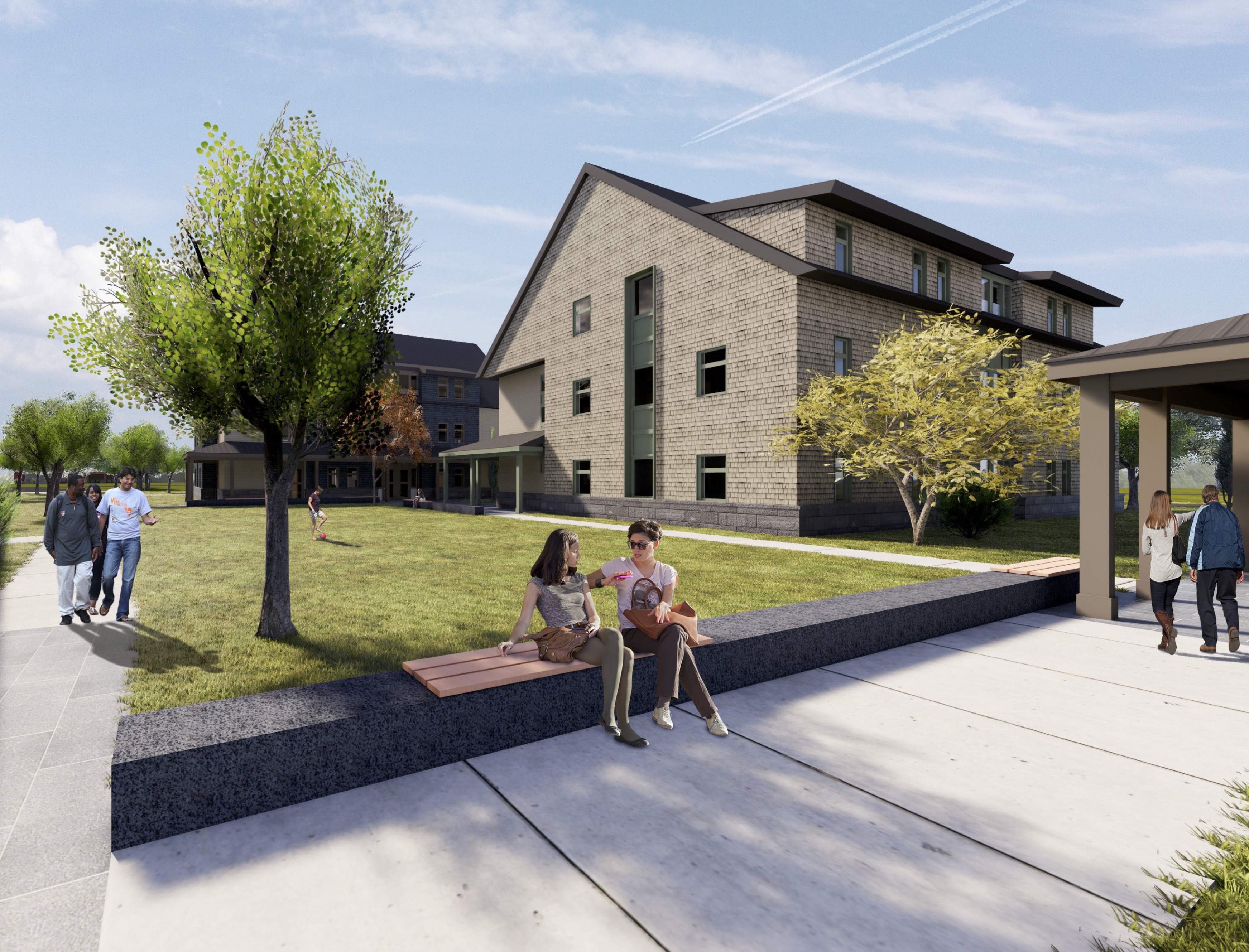 The greener side
The Park Row Apartments are being built to achieve Passive House certification, with thick or "super" insulation, triple-pane windows, and efficient air-exchange systems for heating, ventilation and dehumidification—leading to a fifty percent reduction in their energy use.
Keisha Payson, associate director of Sustainable Bowdoin feels that living in these dorms will feel a bit more "green" as well. Natural light will come through windows in the kitchens and common areas. Students who wish to compost will be able to get a "We Compost It" bucket from their eco reps to use in the kitchen. "Students will be more comfortable and notice no drafts with the three-pane windows and thick walls." Payson says.
As for new residents, "There are still things I am so curious about before we move in," says Isabella Vakkur '20. "What will the furniture look like? Will the toilets and showers be different than the rest of campus? So many things to look forward to!"
---
Photos courtesy of  Lavallee | Brensinger Architects