Maple Syrup: The Art of the Boil
Published by Tom Porter
Spring is here and the sap has risen, which means it's maple syrup time again. For several years now, Bowdoin has been producing its own syrup, tapped annually from maple trees on campus. Free samples of the sweet stuff were recently being handed out with scoops of ice cream outside Moulton Union.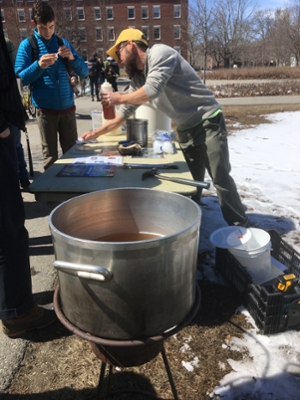 "This year we tapped about 300 gallons of sap, which produces about seven gallons of maple syrup" said Jeremy Tardif. He manages Bowdoin's organic garden, source of much of the food served up on campus by Dining Services. It's early April and Tardif has set up an open-air stand offering free samples of this season's bounty, as a vat of sap bubbles away next to him. 
"It takes about forty gallons of sap to produce one gallon of syrup," he explained, "and boiling it down is a delicate process." When it comes out of the tree the sap is almost clear, with a slight blue tinge. Then as it is boiled down, it gets darker. "But you have to keep an eye on it, said Tardif.
"The temperature must not exceed 219 degrees. If it does, you scorch the product and it's no good for syrup." It does make for really good toffee though, he added. "We found that out by accident last year when I burned a batch. You could smell it downtown, nearly a mile away."
VIDEO: Maple Syrup at Bowdoin
There was no accidental toffee produced this year, which is a good thing, because for some reason, it was a poor harvest. "This year we tapped about twenty maple trees on campus, but only about twelve of them yielded any sap. I have some really good producers over at Quinby House, and I didn't get anything out of them. It's a mystery!" This year's seven-gallon harvest compares to fifteen gallons last year and eighteen produced two years ago.
Still, there's enough Bowdoin-produced maple syrup to serve at special events and dinners this semester, said Tardif, and not just as an accompaniment to ice cream.
"Some of it will be used to glaze the carrots being served at the upcoming locavore dinner."