Published April 22, 2019 by Rebecca Goldfine
Alumni Connections at Storied Moscow Paper Transform a Study Abroad
During her study-abroad semester in Moscow, Laura Howells '20 interned at the independent The Moscow Times, which has connections to Bowdoin that span from present day to the early 1990s.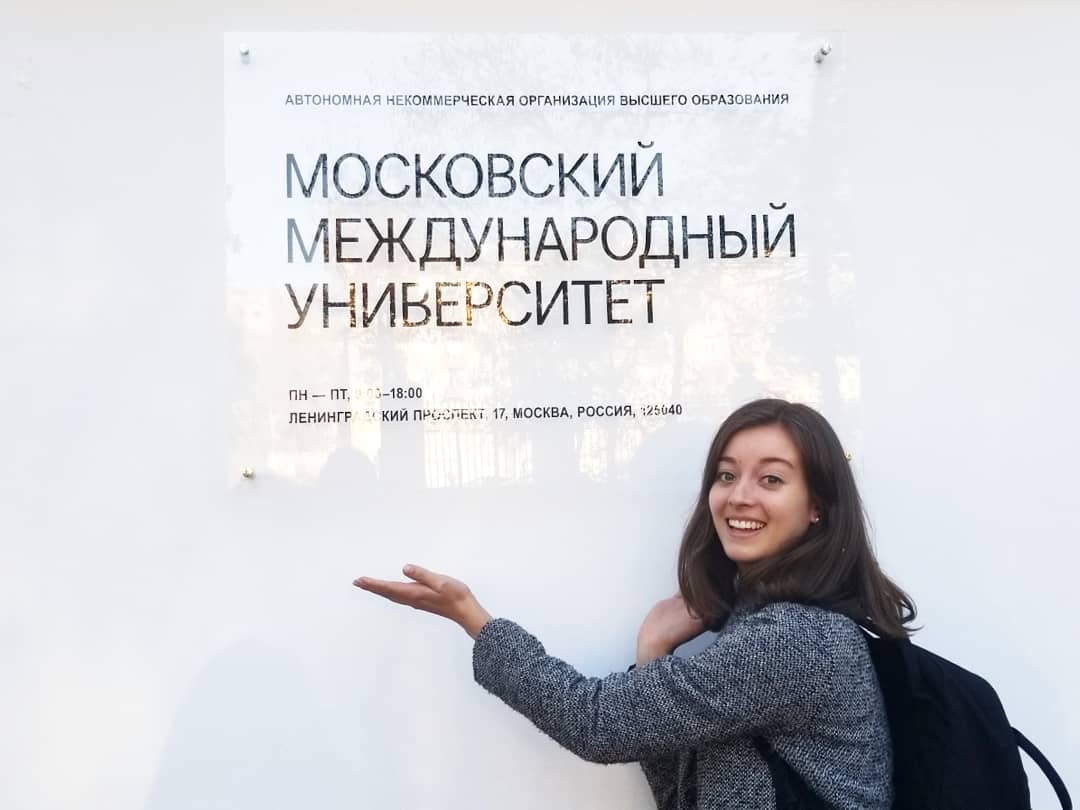 After studying Russian for just two semesters at Bowdoin, Laura Howells '20 opted to study abroad at Moscow International University last fall. "It was sink or swim!" she said, adding that she was drawn to Russian because it paired her interests in international relations with the thrill of learning of new language.
While Howells was away, Bowdoin Associate Professor of Russian Alyssa Gillespie put her in touch with Evan Gershkovich '14. A child of Soviet emigres, Gershkovich moved in 2017 to Russia, where he landed a reporting job for the English-language paper The Moscow Times. The Times was the first Western daily to be published in Russia, in 1992.
Gershkovich reached out to Howells, suggesting they meet up at a "classic Soviet restaurant," sort of a hole-in-the-wall. "The place was sort of dark, with not a lot of signage outside," Howells recalled. The smoky dining room appeared to not have changed at all in sixty years. "You have to know about it to find it."
The two ended up having a long conversation about Bowdoin, living in Russia as Americans, and their shared interest in journalism and international affairs. (When Gershkovich was a student, he wrote for the Bowdoin Review, formerly Bowdoin Globalist, a student magazine Howells now edits.) Then Gershkovich suggested she intern with his newspaper.
"I told her to write our editor, because Laura was clearly smarter than me, and if our editor hired me, then she'd hire Laura, too. Which the editor did," Gershkovich said. He recommended that any Bowdoin student or young graduate in Moscow check out the paper. "It's one of the few English-language outlets left in Moscow that can offer a young journalist a chance," he said. 
Howells worked for the paper for two months, editing and translating. 
A Bowdoin connection: When Laura Howells was searching the paper's microfiche archives (it was founded in 1992), looking for early mentions of Vladimir Putin ("he was a nobody for a long time, and then all of a sudden he appeared," she said), she came across photos of Thomas Pickering '53, H'84. Pickering was the US ambassador to Russia from 1993 to 1996. 
One of her most valuable experiences at the paper, which has a small office and a collaborative editorial team, was observing the differences in international and domestic media coverage of Russia. For instance, when the Russians captured Ukrainian navy ships last November—raising an international cry of alarm—it was clear to Howells that the situation "was more complicated than the US was reporting," she said. "It took US newspapers much longer to appreciate what was happening under the surface."
The internship enriched and transformed Howells's study abroad. "It made my experience in Russia so different, and it changed the way I think," she said. "Interning at The Moscow Times provided me an unparalleled opportunity to learn from the unique and fascinating experiences of professionals and cut my teeth on professional journalism."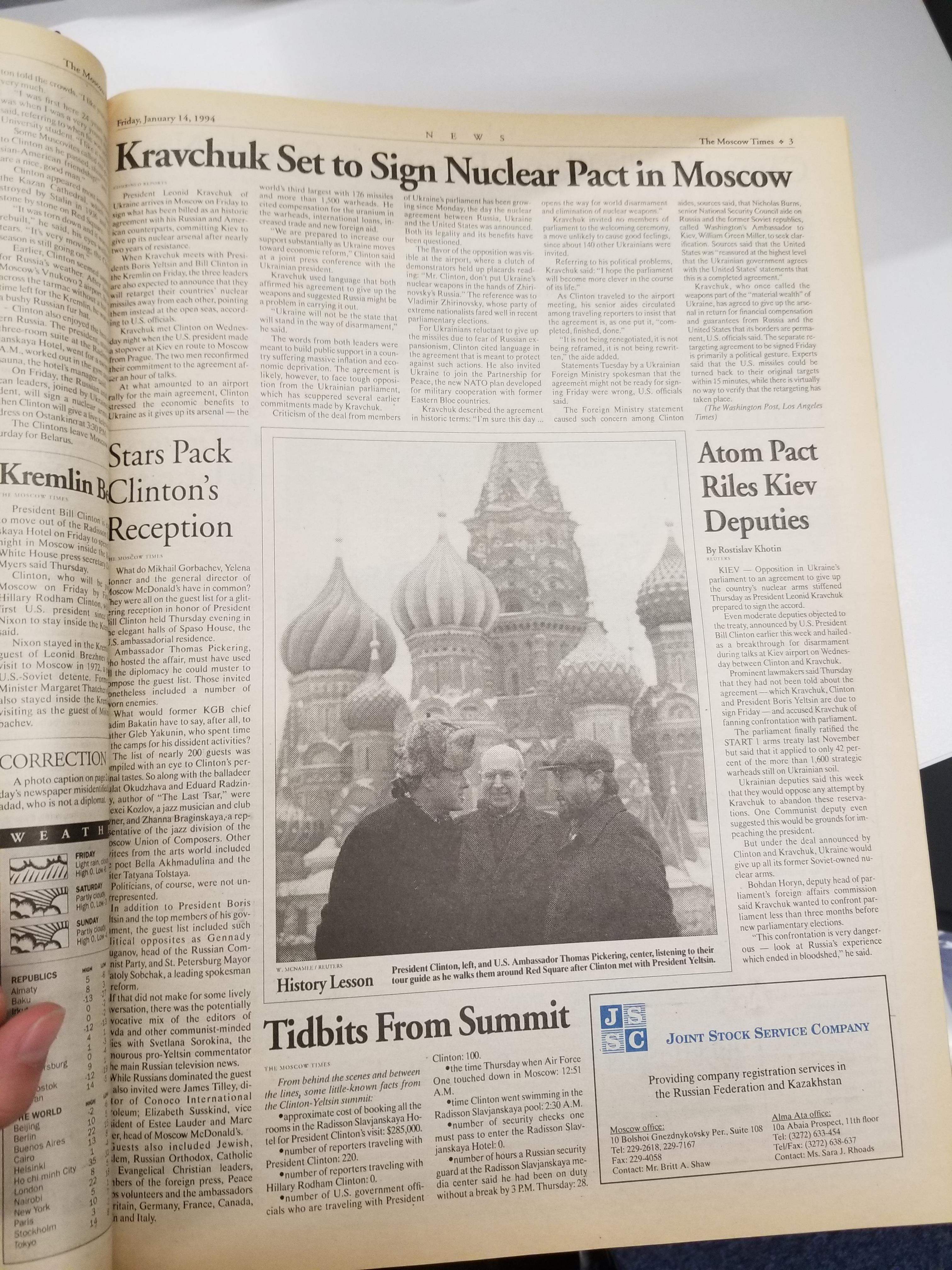 In Laura Howell's words:
How did you choose where you would study abroad?  I started studying Russian in my second year at Bowdoin, when everyone began thinking about and applying to abroad programs, so it seemed only natural to continue studying in Russia. I wanted to learn more about the language and culture firsthand. 
Can you describe a time when you felt lost/confused/misunderstood? My first night in my homestay was challenging because I was so new to the language, and my host mother didn't speak any English. We ended up acting out a lot of things to make ourselves understood to each other. At first this was really challenging but it pushed me to learn a lot of vocabulary quickly to make things easier at home!
What about a time when you felt at home? When people began approaching me for directions in the metro and I was able to give quick (and correct!) instructions, I felt like I was finally becoming comfortable not only with the language, but with the area.
What did you learn about yourself? Things that seem impossible don't have to be.
What was a favorite idiom or saying you learned? When the lobster whistles on the mountain (i.e., when pigs fly). 
What was your favorite view? See pictures of Red Square during the winter fair!
You favorite daily habit, or favorite snack/drink? Pelmeni, traditional Russian dumplings.