Published March 12, 2019 by Symone Marie Holloway '22
White House Reporter April Ryan Defends the Resilience of the Press
April Ryan is currently the only African American reporter covering urban issues in the White House, and is one of only three African Americans to have served on the board of the White House Correspondents Association. In 2017,  she was named journalist of the year by the National Association of Black Journalists.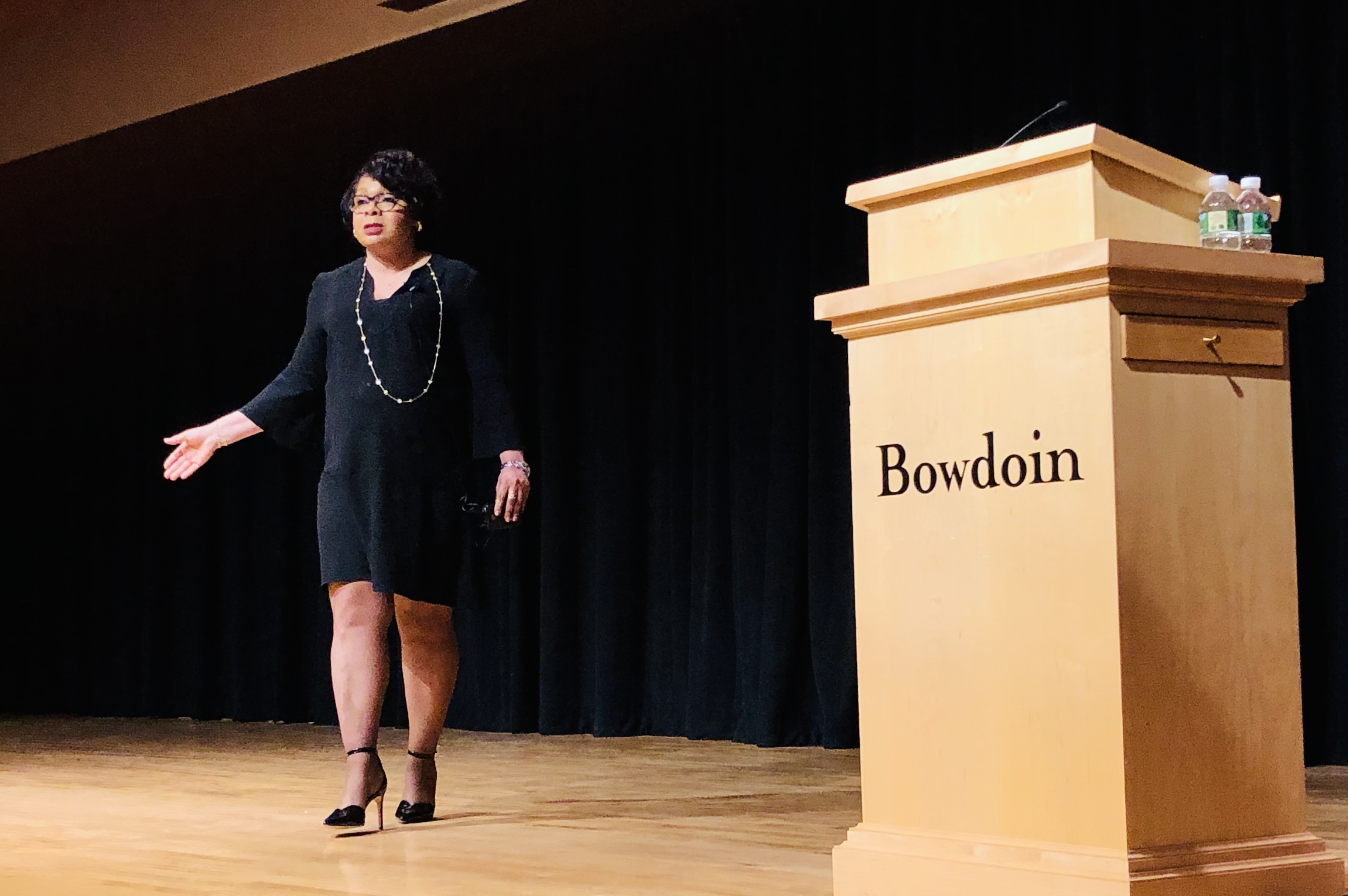 In the more than two decades that Ryan has worked as a White House correspondent for American Urban Radio Networks, she has covered four presidencies and "asked questions on everything," believing that if she weren't asking them, they might not be asked or answered. "I get in trouble for correcting the record," she said.
Ryan visited Bowdoin in early March to give the final talk for Black History Month and Beyond, when Bowdoin celebrates the achievements of African Americans, and to help kick off Herstory Month, a month of celebrating women in history.
To hear Ryan's talk, Kresge Auditorium filled up with students, faculty, staff, and Brunswick residents. Benjamin Harris, director of the Student Center for Multicultural Life, and Mohammed Nur '19, president of the African American Society, introduced her. Nur took a moment to thank those who had been part of Bowdoin's programming for Black History Month, which he said "reflected the diversity, complexity, and brilliance of black history and black people."
Ryan prefaced her talk with, "We're going to laugh, we're going to cry, and we're going to talk about what's on my heart." She lamented the need for a specific designation, like Black History Month, to "recount the greatness of people in this nation," because we shouldn't have to "pause for the cause to celebrate certain selections of society."
In her talk, she reflected both on current politics, as well as on diversity in America and how her identity as a black woman has affected her experience as a reporter. 
"My history is American history," Ryan said, striding across the stage in high heels. "It's our history. And my parents taught me the beauty of my history as a woman of color, particularly as a black woman…[My mother] taught me about the beauty of my culture, the hurts, the pains, and the overcoming."
Shifting from the personal to the political, she commented, "We the people...are still forming a more perfect nation. We the people are full of power, are full of strength, and are creating greatness." She said she believes America is still growing, and that the political tensions of the past two years are signs that the country is suffering from growing pains.
Ryan's most recent book, Under Fire: Reporting from the Front Lines of the Trump White House, provides insight into the chaos and controversy of the Trump White House and how journalists have adapted to today's political environment.
Throughout her career, Ryan herself has adapted to different challenges, one of them being that she is an African American woman working in the largely white and male world of political reporting. While she has been targeted before due to her reporting, she said that in recent years, she questions whether she's also been targeted because she is a woman of color.
President Trump has publicly called her "nasty" and "a loser," and other politicians at press briefings have told her to stop shaking her head or to sit down after she asked questions. Her family has even received bomb threats, prompting her to travel with security.
"The stakes have always been high for certain members of our community, so what happens when we ask questions about issues that concern our people—and you're told you're unpatriotic?" she said.
She continued: "What do you do when you're under a line of fire for asking legitimate questions?" Despite such pressures, she is adamant that she and the rest of the press corps will not be intimidated. "We can't go anywhere. It's not about us. We stand on the pillars that our founding fathers—these white men who we never knew, who never imagined that we would even be here—gave us, like freedom of the press."
After Ryan finished her talk, the floor was opened to questions from the audience. Many asked about the current political situation in the US and what Ryan thought could be lasting effects from the Trump presidency.
"When it comes to the press—there are no longer any briefings. Things have changed, and I am not going to say this the new normal. This is not normal. But what will normal look like?" she said. "When ground is lost it's hard to make up."
But in the final minutes of the event, she said, "I'm going to end on this. This year marks four-hundred years since slavery, and only in the last fifty or so years have African Americans been franchised in this nation. We can overcome, but it takes people who can see what it is they need to fix. People need to rise up and come together. They need to shed a bright light in dark places, and that's how things can change."
In addition to the African-American Society, sponsors for Ryan's talk included the Student Center for Multicultural Life, the Sexuality, Women, and Gender Center (SWAG), Student Activities, the Center for Religious and Spiritual Life, and the departments of Africana studies, government and legal studies, and English.