What the Frankenstein Ballet Can Teach Us about Disability Studies
By Tom Porter
Many of us might be familiar with Mary Shelley's legendary gothic thriller, Frankenstein. The story of an unhinged scientist and an experiment gone horribly wrong is regarded as a lesson in the dangers of intellectual arrogance and the ruthless pursuit of knowledge. But, said Professor of English and Bioethics Rosemarie Garland-Thomson of Emory University, Frankenstein is also a fable about how society treats people with disabilities.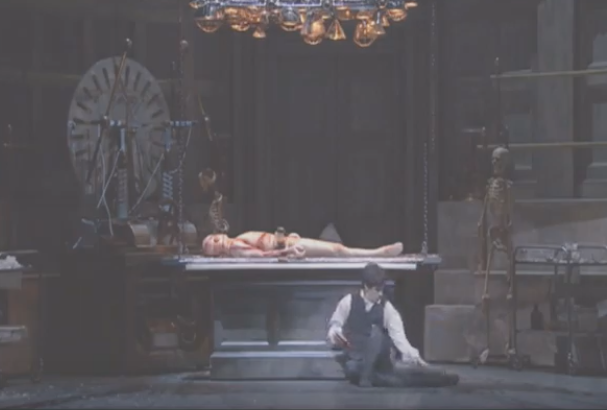 "It's a cautionary tale of the tragedy that ensues when a family refuses to recognize the differences of a family member," said Garland-Thomson, a leading voice in disability studies and an advocate for disability inclusion and equity. Her 2016 editorial "Becoming Disabled" was the inaugural article in an ongoing weekly series in the New York Times about disability by people living with disabilities. She came to campus in late February to deliver a lecture to the Bowdoin community titled "Disability Studies from Theory to Practice. Finding Bioethics in the Frankenstein Ballet."
Using video excerpts of a 2016 ballet adaptation of the classic story, Garland-Thomson explained why she had chosen this medium. Dance lends itself to a bioethical reading of the story, she explained, because, unlike film or visual art, "it's constrained to what humans can physically do."
In the story, Victor Frankenstein, a troubled young scientist, creates a human-like creature in a laboratory but is appalled by the horrific-looking "monster" he has made and refuses to recognize the creature's existence. The creature, tortured in his loneliness, lives in the forest and haunts the Frankenstein family, with tragic consequences. The ballet, said Garland-Thomson, is able to "use some of the convention of classical tragedy… to tell the tale of how children need to be accepted in families as they are." It's an example that Garland-Thomson said can be translated into the applied field of bioethics and health humanities, an area that considers policy and ethics of medical practice and decision-making.
The event was the first of what will be an annual lecture in disability studies and accessibility, inaugurated as a partnership between the Accessibility Task Force—a campus committee of students, faculty, and staff—and the faculty initiative for health, culture, and society. 
In a related event, Associate Professor of Art Carrie Scanga hosted a reading by acclaimed memoirist Emily Rapp Black, who has written widely about disability, health, and medicine. The two speakers also took part in a workshop for Bowdoin faculty and staff to discuss their work and issues of disability and accessibility. The workshop was cohosted by Scanga and Associate Professor of Romance Languages and Literatures Margaret Boyle, both members of the faculty initiative. "I was glad to help facilitate the important work bringing together faculty, staff and students in conversation about disability and accessibility across academic perspectives," said Boyle.
Rosemarie Garland-Thomson's lecture was supported by the Harold and Iris Chandler Lectureship Fund, an endowment established by family and friends in memory of Dr. Harold L. Chandler of the Class of 1934.
Published March 13, 2019