Published March 19, 2019 by Tom Porter
Twelve More Seniors Nominated for Phi Beta Kappa Membership
The members of Phi Beta Kappa, Alpha of Maine, have nominated twelve seniors for membership. They join the thirteen outstanding students who were nominated last semester.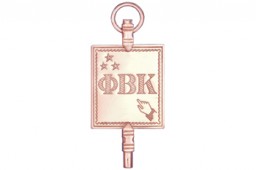 The nominations are in recognition of the students' outstanding academic records at Bowdoin and any other college or university where they may have studied through the first semester of their senior years. The most recent nominations, made at a meeting on February 25, are:
Natasha A. Belsky
Zihao Chen
Hugo Hentoff
Colby T. Joncas
Samuel J. Lewis
Cathy Liu          
Mikayla S. Kifer
Kacie J. Nelson
Kyle M. Polson
Derek M. Sederman
Noah S. Rothman
Aleksia M. Silverman
These students join the following thirteen members of the class of 2019 who were nominated for membership in ΦΒΚ in September 2018 on the basis of their academic records through their junior years:
Evelyn R. Beliveau
Ivy S. Elgarten
Susannah C. Lawhorn
Brandon S. Morande
Hannah E. Pucker
Sophie A. Sadovnikoff
Sierra E. Soghikian
Yijie Sun
Daniel W. Viellieu
Evan A. Walters
Derek J. Yau
Victoria E. Yu
Phoebe B. Zipper
All twenty-five students will be officially elected and initiated into Phi Beta Kappa at a ceremony to be held Friday, May 24, 2019, the day before Commencement.
The Phi Beta Kappa Society, the national honorary fraternity for the recognition and promotion of scholarship, was founded at the College of William and Mary in 1776. The Bowdoin chapter (Alpha of Maine), the sixth in order of establishment, was founded in 1825.
Election is based primarily on scholarly achievement, and consideration is given to the student's entire college record. The total number of students selected each year does not normally exceed ten percent of the number graduating in May.
Students elected to Phi Beta Kappa are expected to be persons of integrity and good moral character, and must have completed at least 24 semester courses of college work (including 16 courses at Bowdoin).