Published March 08, 2019 by Bowdoin College
Jeffrey K. Hom '04 to Receive 2019 Common Good Award
While still early in his career in medicine and public health, Jeffrey K. Hom, a member of the Bowdoin Class of 2004, has already made profound commitments to equity and social justice, advocating for wider access to health care and improving the health of underserved populations struggling with substance abuse and addiction.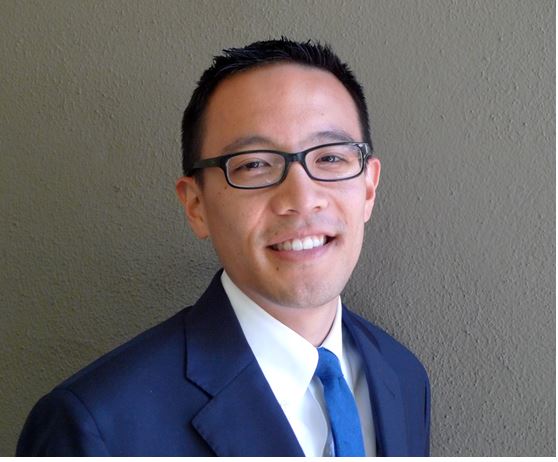 For his efforts, Hom has been selected by the Bowdoin College Board of Trustees to receive the 2019 Common Good Award. 
Originally from San Francisco and now living in Philadelphia, Hom is a board-certified internist and policy advisor in the Philadelphia Department of Public Health, where he provides guidance to the health commissioner. He was also named a fellow of the College of Physicians of Philadelphia. 
An art history major and chemistry minor, Hom graduated magna cum laudeas a member of Phi Beta Kappa, Sarah and James Bowdoin Scholar, and Book Award winner. He engaged with local schoolchildren as a tutor, mentor, and Big Brother, among many other activities. Hom earned a master's in public health and a medical degree from Harvard University, and he was selected as a Zuckerman Fellow at Harvard's Center for Public Leadership. He then earned a master's degree in health policy at the University of Pennsylvania, as well as a presidential scholarship for Academy Health's Institute on Advocacy and Public Policy, and was named a Robert Wood Johnson Foundation Clinical Scholars Program Fellow. 
In 2018, he was selected as a Presidential Leadership Scholar. His work on access to treatment and overdose prevention for people suffering from substance abuse and addiction, particularly those who are members of underserved populations, has benefitted residents from coast to coast, including those in Philadelphia, San Francisco, Boston, and Shiprock, New Mexico, as well as in the international communities of Lesotho and Cambodia.
Hom has also served as a member of the Philadelphia Medical Reserve Corps and has participated in the New Leaders Council. 
Established in 1994 on the occasion of the Bowdoin College Bicentennial, the Common Good Award honors those alumni who have demonstrated an extraordinary, profound, and sustained commitment to the common good, in the interest of society, with conspicuous disregard for personal gain in wealth or status.
Common Good Award recipients personify the idea of the common good as set forth by Bowdoin's first president, Joseph McKeen. In his inaugural address on September 2, 1802, McKeen reminded his audience, "It ought always to be remembered that literary institutions are founded and endowed for the common good and not for the private advantage of those who resort to them for education. It is not that they may be able to pass through life in an easy and reputable manner, but that their mental powers may be cultivated and improved for the benefit of society."
The Common Good Award will be presented, along with others, Saturday, June 1, 2019, during Reunion Convocation. Read about the other award recipients.
Registration for Reunion 2019 (May 30-June 2) begins in March.