Nineteen Fulbright Fellowships Awarded to 2018-19 Bowdoin Grads
Published by Rebecca Goldfine
Bowdoin is once again near the top of the Fulbright list for undergraduate institutions (it's number two, after Williams College). For the 2018-2019 academic year, nineteen recent Bowdoin graduates have Fulbright fellowships to teach English or pursue research in countries around the world.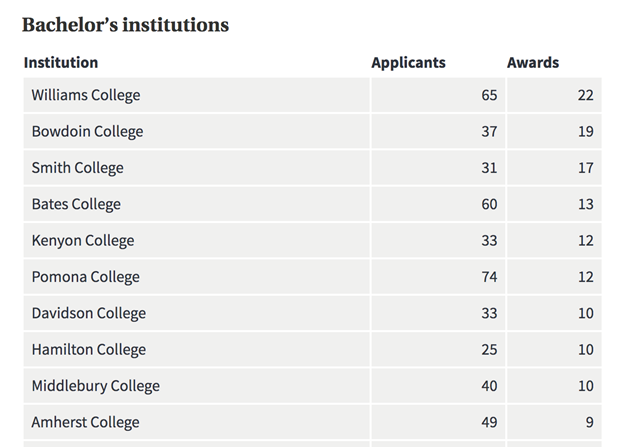 But numbers are one thing. Real life is another. We checked in with four recent graduates who have Fulbright fellowships this year to teach English or do research in Taiwan, Indonesia, Germany, and the Canary Islands.
Life in the Canary Islands
Phoebe Thompson '18 is spending the year teaching English to children ages three to twelve on La Gomera, which is the second smallest of the seven Canary Islands. At its widest, the island is fourteen miles across. In her small town of Valle Gran Rey, it takes her seven minutes to walk to school, three minutes to get to the grocery store, and two minutes to reach the ocean.
"The Canaries are of volcanic origin, so the landscape is very dramatic—think rugged cliffs and black sand beaches," she described. "My town is sandwiched between two such cliffs, fanning out in a triangle bordered by the ocean. There's one road out of town, and the other option is the ferry."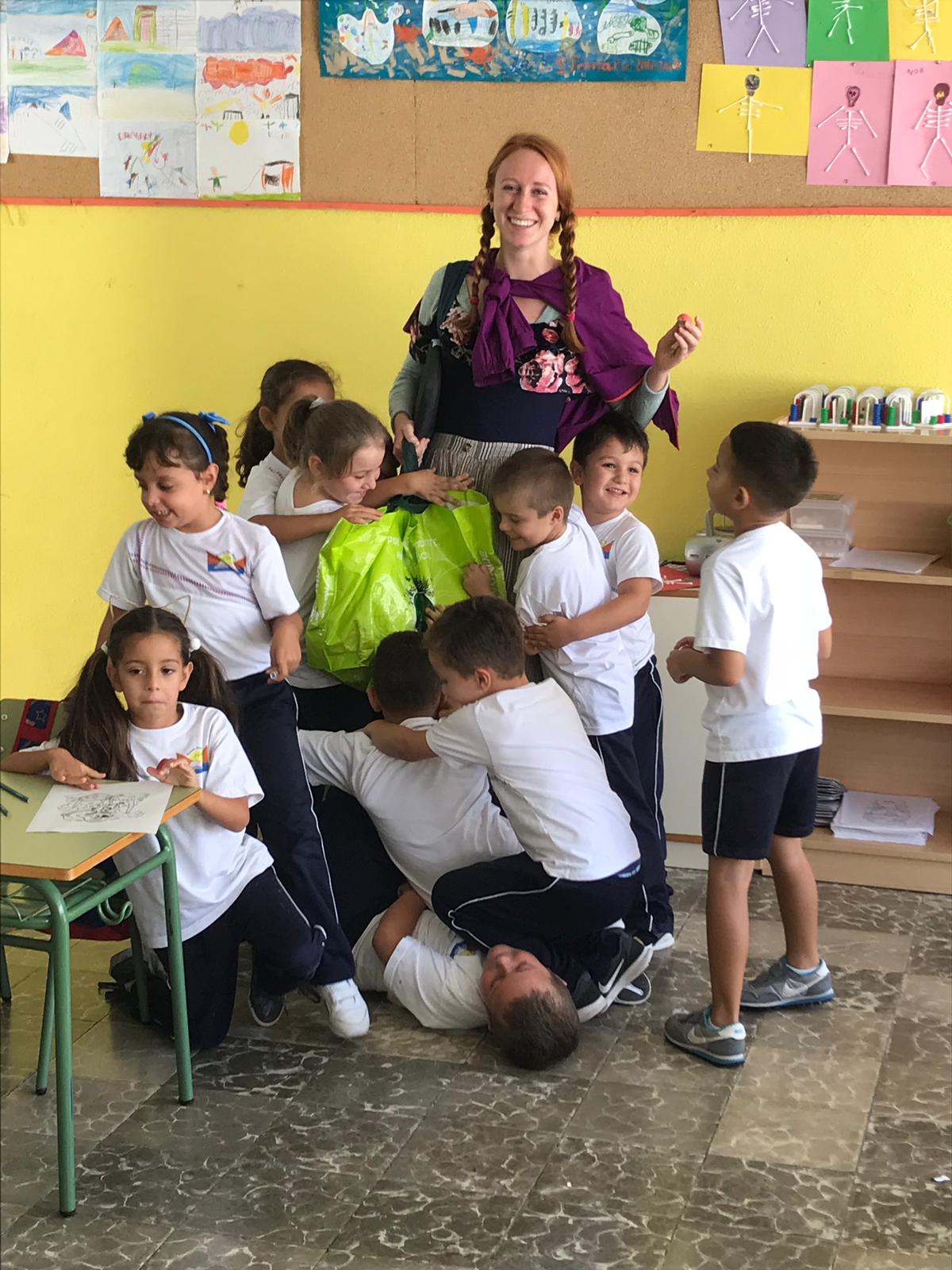 She's the only American in town, and the island's first Fulbright fellow. While the islanders speak Spanish, they also have an island dialect, a whistling language called silbo. "It takes the cadence of Spanish and stretches it out by syllable, changing pitch based on the vowels," Thompson said.
During her senior year, Thompson said she became inspired to pursue a Fulbright after talking with Cindy Stocks, who runs Bowdoin's student fellowships and research office. "I wanted to teach, exchange cultures, and represent the United States as best I could," Thompson said. Fulbright fellows, who are funded by the US State Department, are selected based on their ability to promote "international good will...in the fields of education, culture, and science."
Because she majored in earth and oceanographic science and Hispanic studies at Bowdoin, Thompson understands both the island's volcanic geology and language. To succeed in the classroom, however, she has leaned on some of the more intangible aspects of her liberal arts education. "I graduated knowing how to convey information to varied audiences, and how to weave together a narrative from seemingly disparate strands. It also sharpened my tools of cultural awareness and sensitivity, and gave me so many reference points and lenses through which I can process my everyday life," she said.
While she jokes that her life on a peaceful island can't quite be described as "eventful," she's learning a whole new way of being. "No pasa nada is the motto, and there are very, very few things that can't be postponed to make way for a sit-down at a café; or a moment's pause to watch the sunset," she said. "The type A part of my brain is almost entirely dead and gone at this point, which is not great for productivity, but better for my general well-being!
As she's adapted to a different pace of life, she's also tapped into new aspects of herself. "In my time away, I've learned that I am more flexible and independent than I'd ever imagined," she said. "I honestly didn't know that I could find so much peace in own company. I feel very resilient."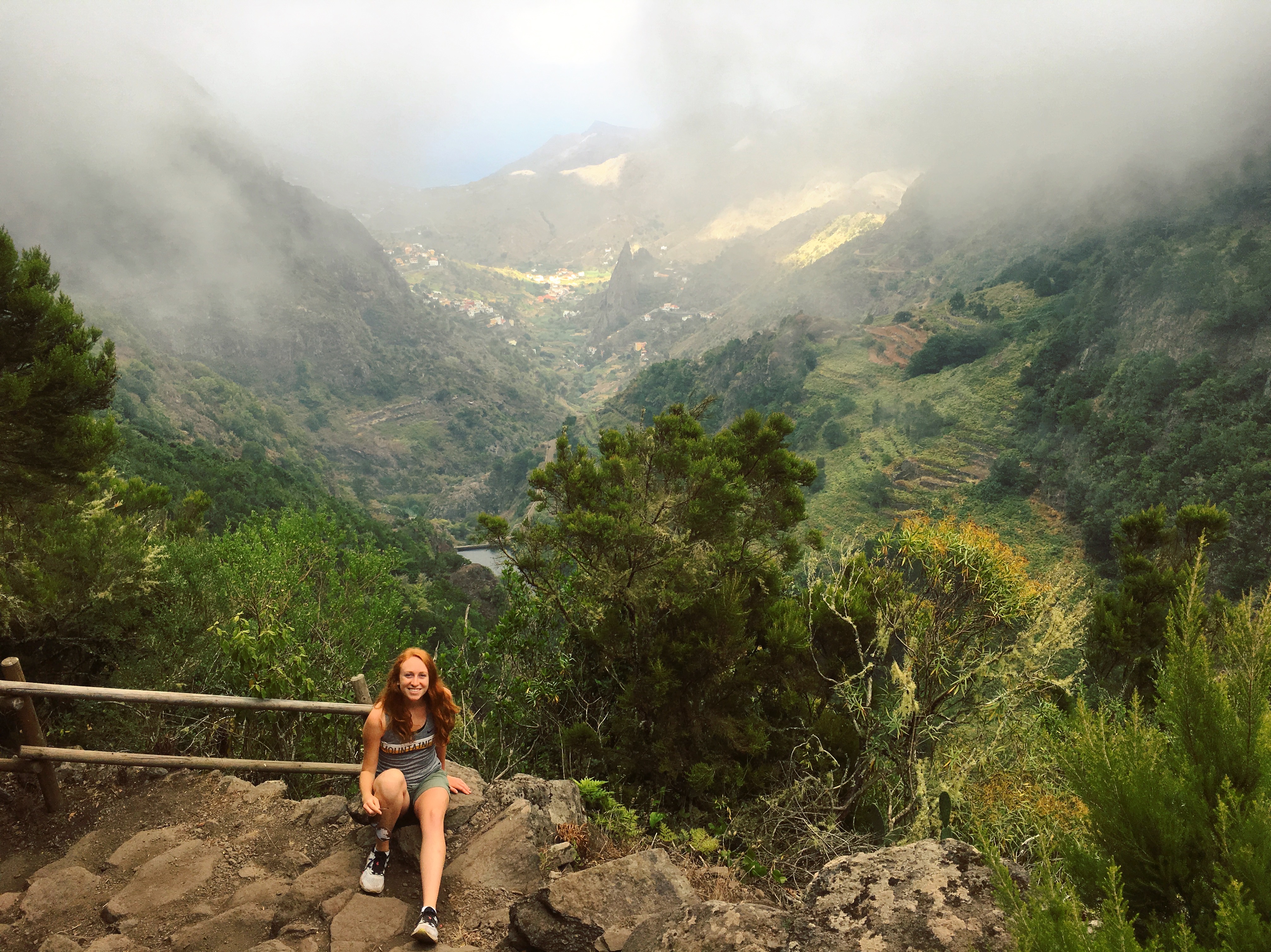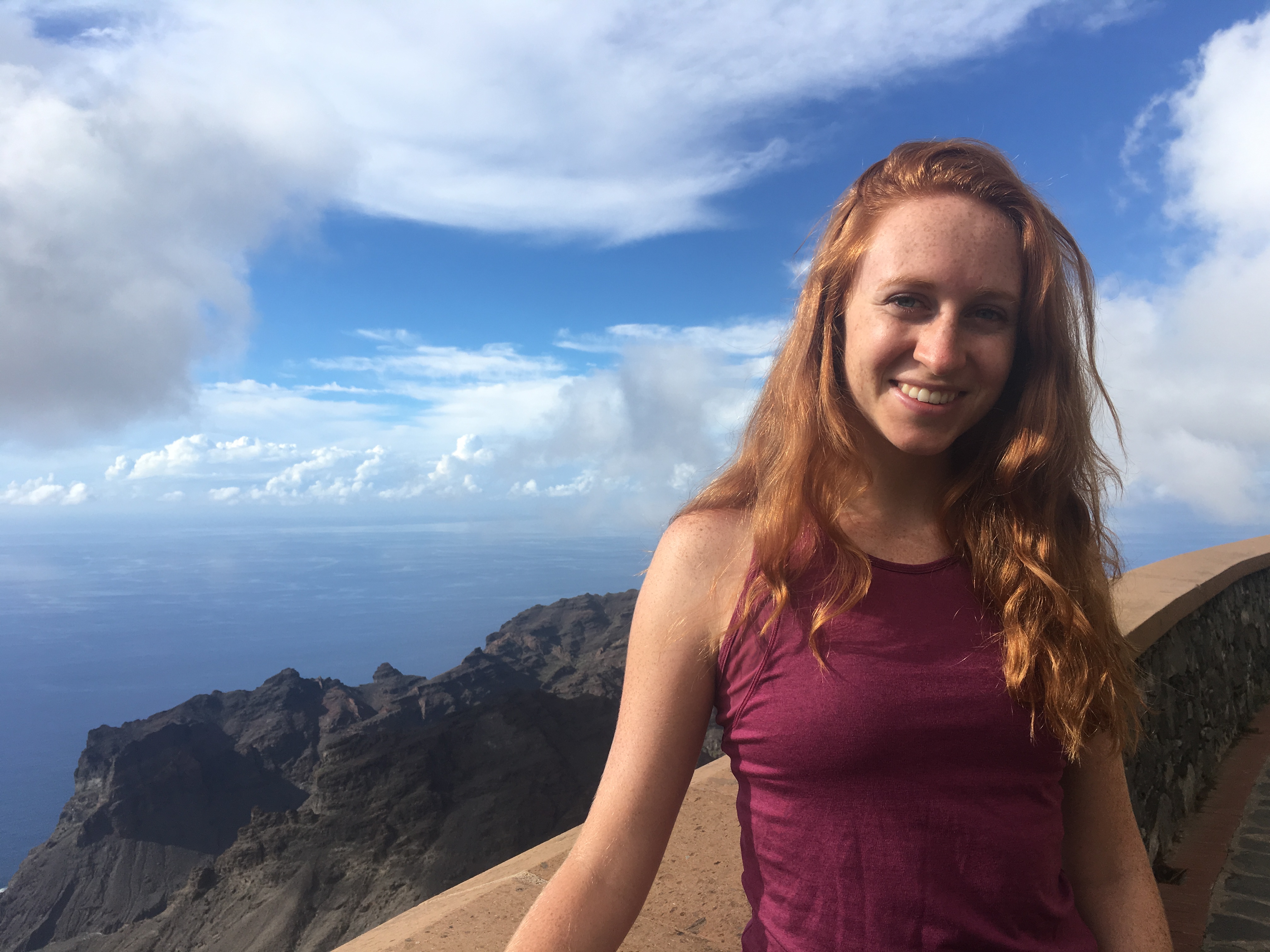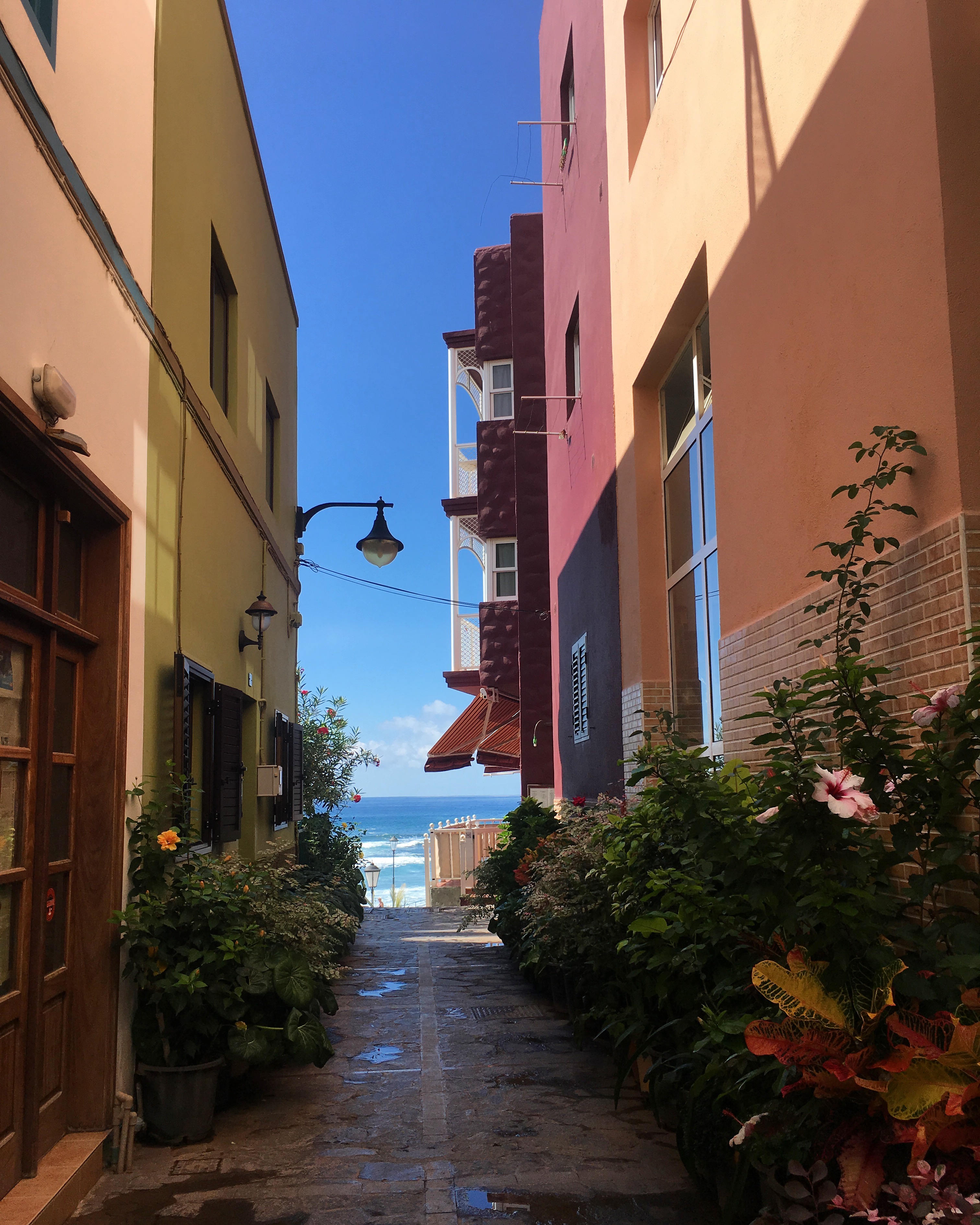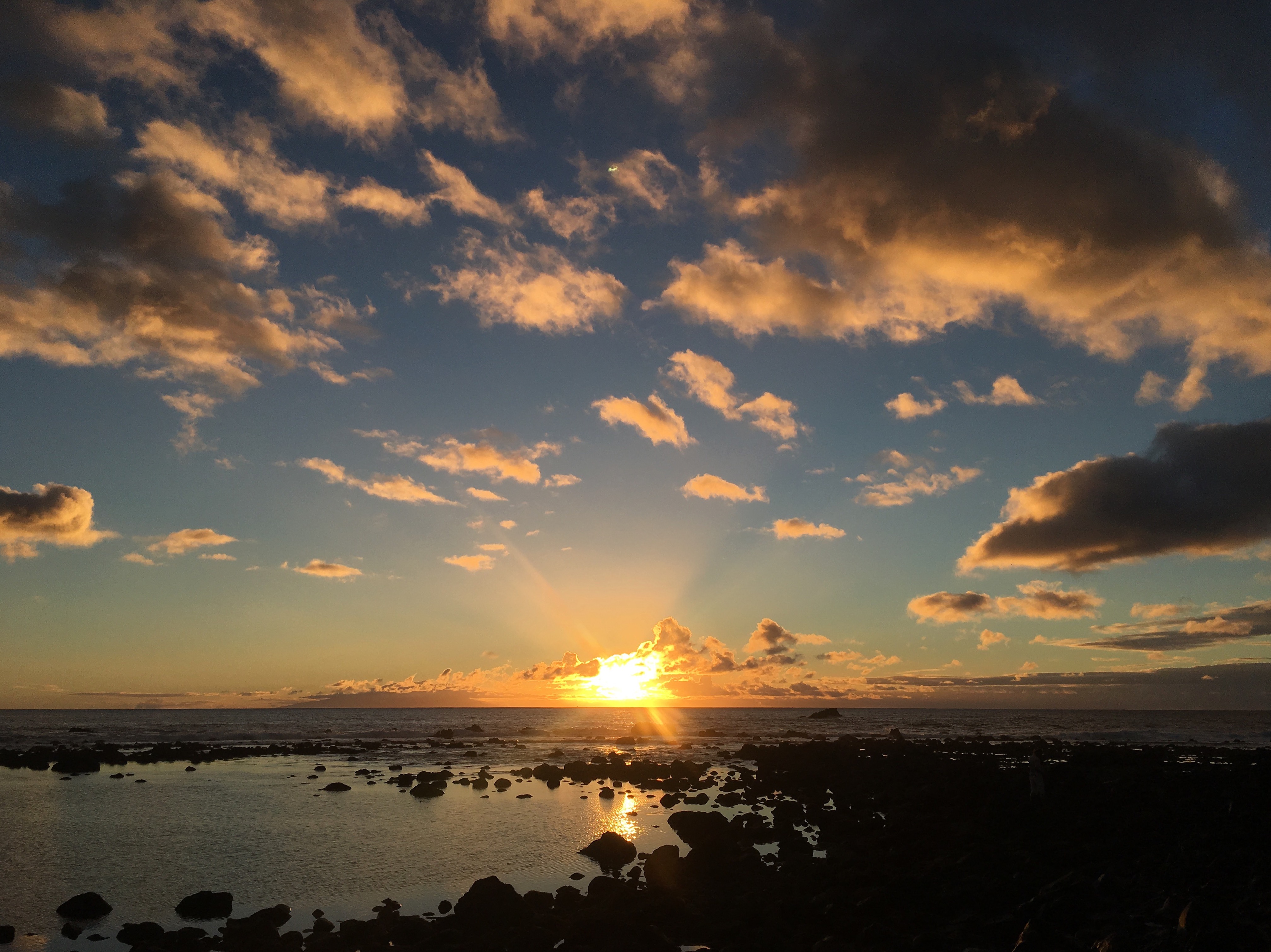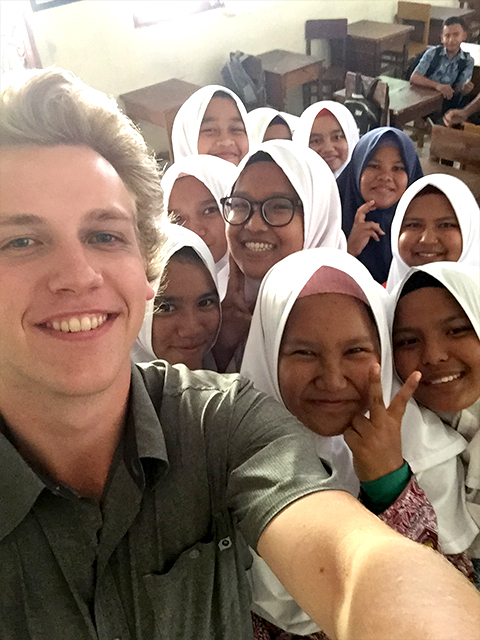 Something Different from New England
Peter Bensen '18 is teaching English in Indonesia, in the city of Payakumbuh. The city has between 250,000 and 300,000 people, but Bensen said it feels much smaller. "It's very spread out, and built in a valley," he said. "It's a sprawling city surrounded by mountains. One main strip leads to markets, and then dirt roads lead to rice fields and to smaller communities that are part of it."
Bensen grew up in Vermont playing hockey and skiing. After attending New England schools and majoring in math at Bowdoin, he said he wanted a completely different experience before applying to medical school. A Fulbright year appealed to him for the opportunity it offers to be fully engaged with a community.
Each day, Bensen teaches English classes to high schoolers, and he runs the afternoon English club for schoolchildren and teachers. He also voluntarily offers a more casual English club to the kids in his neighborhood. Local children are frequently popping by to see him in his little house, which has a fishpond (with fish that are reproducing at an alarming rate, he says) and a small garden.
Bensen is the first foreigner many of his neighbors have ever seen. "I get stopped every five minutes to take selfies," he said. To date, he's attended twenty-one weddings. He's frequently invited over for dinner or given prepared meals, and he's booked every weekend for social engagements, like hiking with families or visiting relatives in nearby towns.
Living in a Muslim country has been eye-opening, fascinating, and occasionally challenging, he says. "It's very interesting learning from people whose religion" [dominates their daily lives], he said. Classes begin with readings from the Koran, and the school day is broken up to accommodate Islam's five daily prayers.
This fall, Bensen's school canceled classes to allow teachers and students to attend an anti-LGBT rally, which ended up drawing 40,000 people. Benson declined to go, and he invited other teachers and administrators to speak to him about why. "I had some informative talks," he said.
Despite differences like these, Bensen said "I have become close friends with people with such different values than me. I care for people, and they care for me, so much, even though we have fundamental values that are so different, based on exposures we've had and experiences we've had and where we've grown up."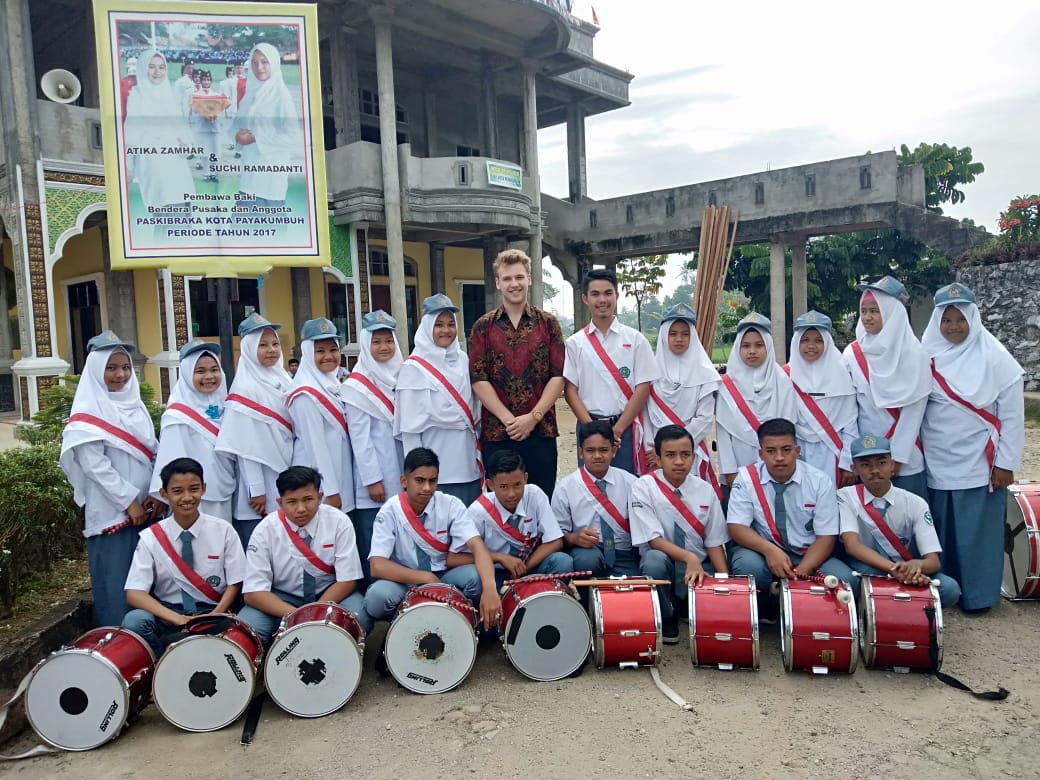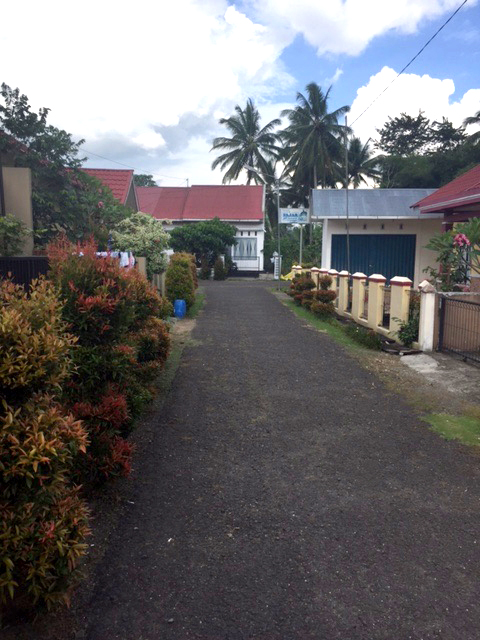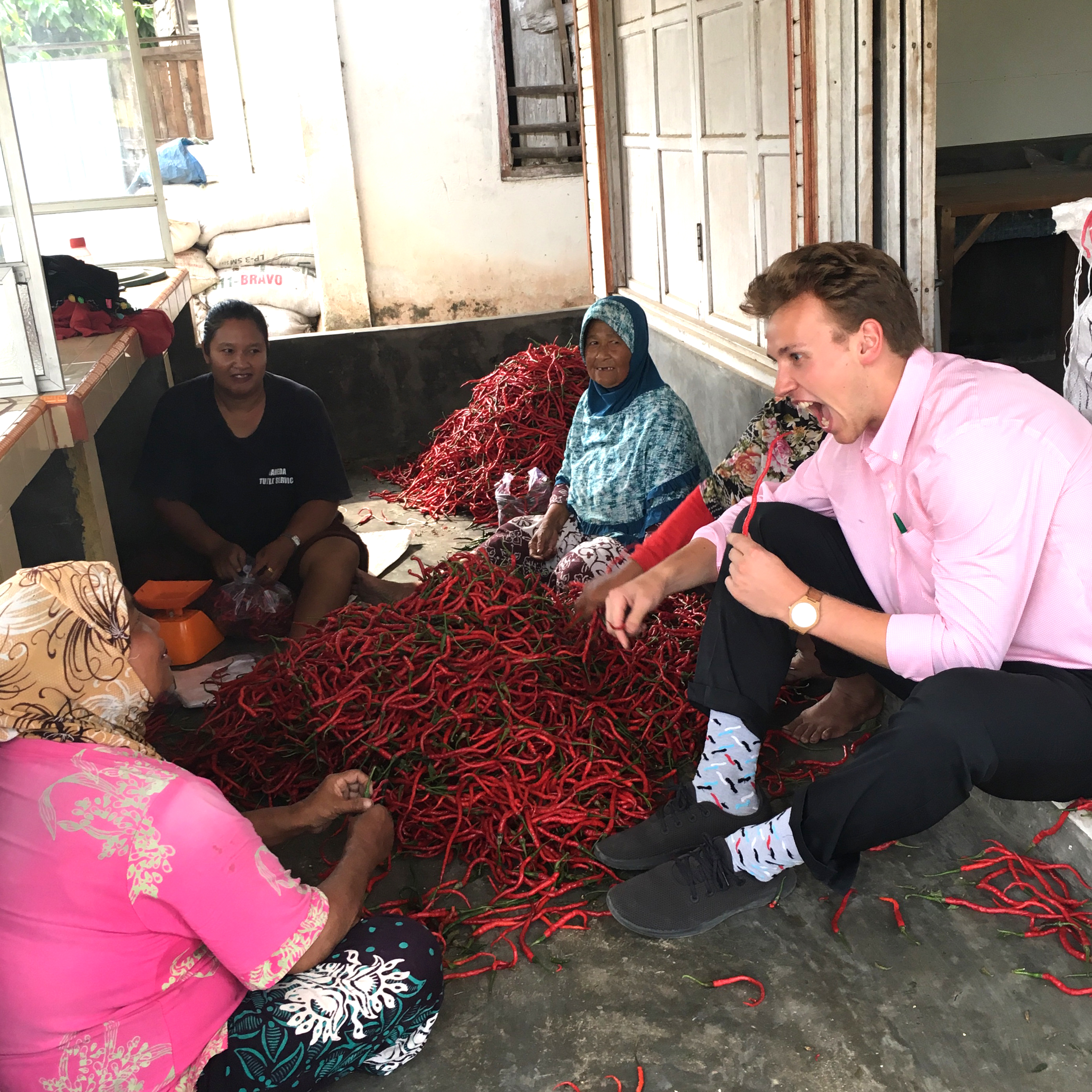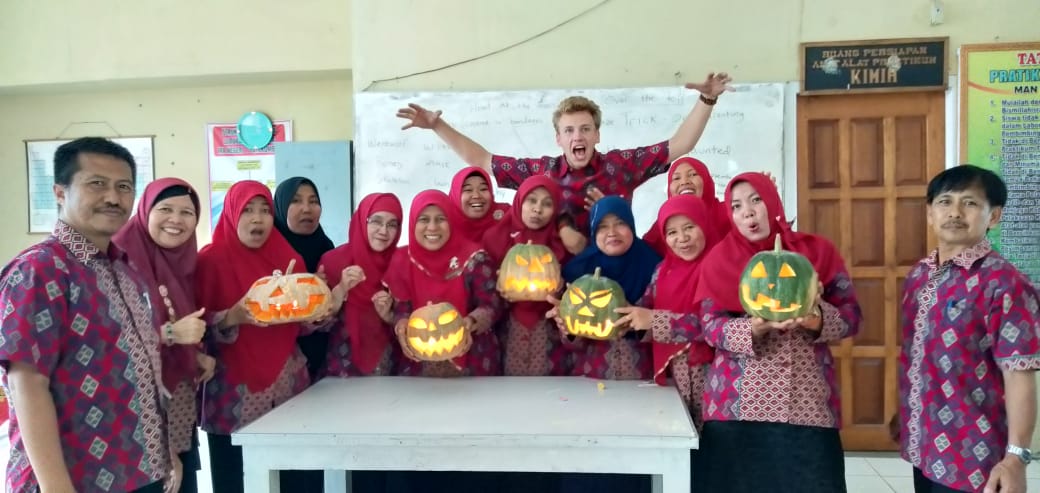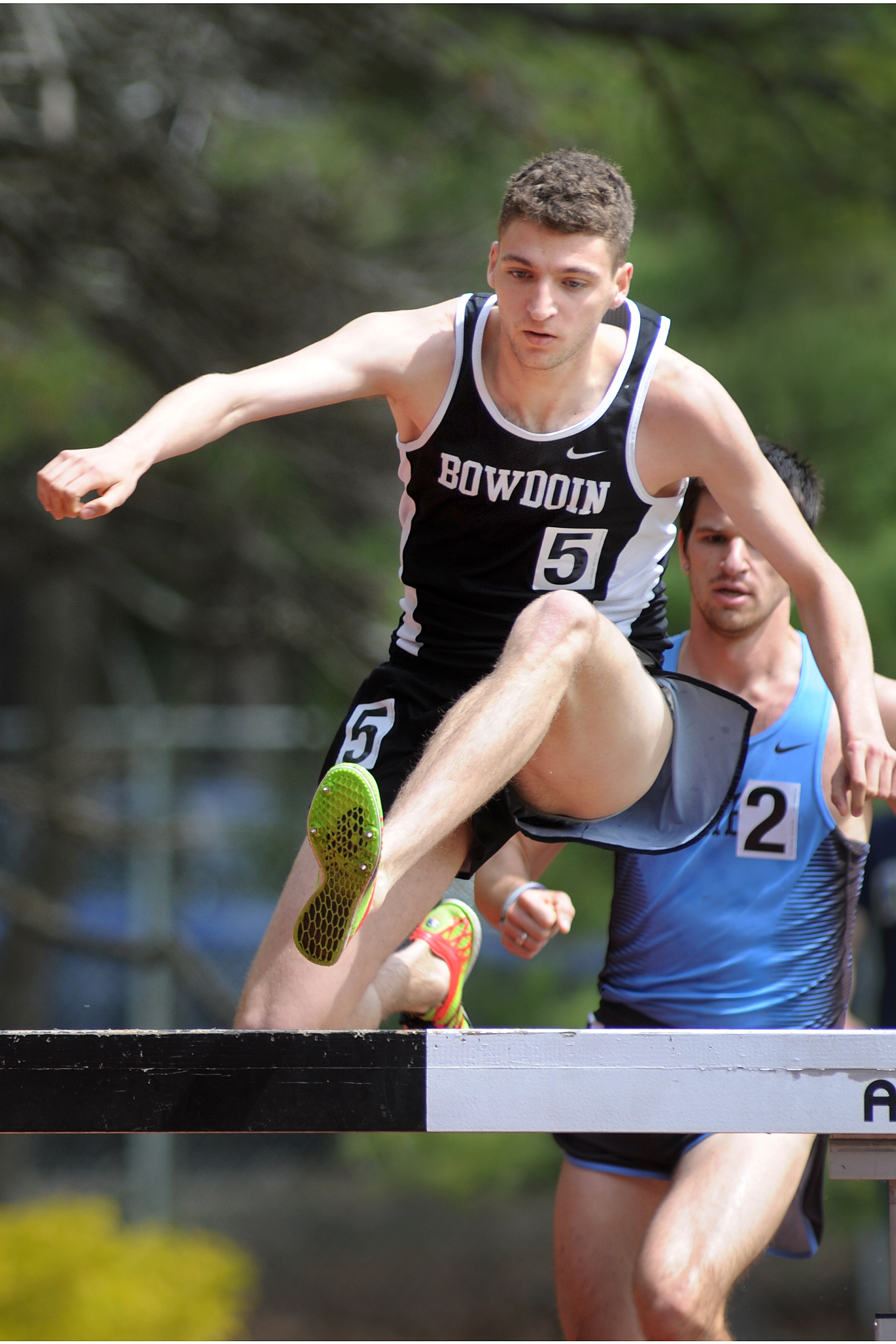 Solar Energy Research in a Sunny City
Each year, a small percentage of Fulbright students from bachelor's institutions go abroad to pursue research. Ben Torda '19 has a fellowship this year to work at a renewable energy research institute in Germany called the Fraunhofer Institute for Solar Energy Systems. "I was drawn to its combination of fundamental and applied research," he said.
Also, after studying German at Bowdoin and spending a semester abroad in Austria, he wanted to continue to improve his language skills.
Torda is based in southwest Germany, in Freiburg im Breisgau—a "beautiful, medium-sized college town at the foot of the Black Forest." He added, "It's also the sunniest (fitting for solar energy research!) and warmest city in Germany."
He spends his days working in Fraunhofer's production technology division with the plasma technology team. His colleagues come from around the world: Germany, Bangladesh, Egypt, France, Iran, Nepal, Pakistan, and Tunisia.
Torda's research is centered around using plasma to simplify the many complicated steps that go into manufacturing solar cells. He's already co-authored one paper submitted for publication to a journal, and he's working on an individual project to increase the efficiency of one of the thin layers in a solar cell. "The work is directly relevant to industry, which is motivating—you can see how your efforts will have an impact," he said.
After majoring in chemistry at Bowdoin and working this year in engineering research and experimental design, Torda said he's considering a career in the renewable energy field. But he's not certain whether he wants to remain in technology development or transition to clean-energy finance or energy policy.
"I think there are fascinating challenges," he said, "in how to implement renewable energy sources," whose technology is rapidly becoming more powerful and efficient. "Now we have to create the economic conditions and business models that allow green energy to out-compete fossil fuels."
Gaining a Global Perspective on a Taiwanese Island

Dia Su '18 is living on Kinmen, a tiny island that is technically part of Taiwan but is much closer to the Chinese mainland. Further complicating this socioethnic and political mix is the fact that the island people have their own ethnic identity.
"I was confused at first when people would say, 'Oh, I'm from Kinmen,' or 'I'm from Taiwan,' or, 'I will go to Taiwan this weekend.' I was always like, 'Well, aren't we in Taiwan now?'"
Su applied for a Fulbright last year because she wanted to gain a more global perspective by immersing herself in a new culture while challenging herself with a teaching job. She also has a Taiwanese connection—her father is from Taiwan.
Though the island recently acquired a Starbucks, Su said Kinmen—which takes forty minutes to cross on a bicycle—feels rural. She prefers to get around by scooter, which has become one of the more delightful aspects of her life abroad. "I was so anxious when I first started driving because traffic can sometimes be crazy," she said. But now that she's comfortable, she loves the freedom—and what the scooter has come to mean to her. "I feel like it represents personal growth from my time here in Taiwan...in independence, confidence, and reassurance."
Su is teaching English to second graders in a school with about 150 students. She also serves as the school's conversation instructor. To make it fun for students, Su combines grammar and vocabulary drills with cultural lessons. "We've made s'mores while learning about camping; we've played dreidel while learning about Hanukkah; we've watched YouTube challenges that have gone viral around the world, and we've done the Coke and Mentos science experiment," she said.
Now in her second semester, she is feeling more confident. "I know what my kids enjoy, and I enjoy teaching them about things in life that interest me! I love my kids!" she said, adding that she has learned to be a good judge of her own work and teaching abilities.
She also credits her Bowdoin education with giving her an awareness and sensitivity to her students and their varied backgrounds. While Bowdoin seeks a socioeconomically and racially diverse campus population and tries to support all its students, students from disadvantaged backgrounds still struggle in ways that more privileged ones do not, Su pointed out. "This is why I am I think that because I saw how privilege mattered academically and socially at a place like Bowdoin, I'm more cognizant of how privilege functions in my own classroom and what I need to be doing."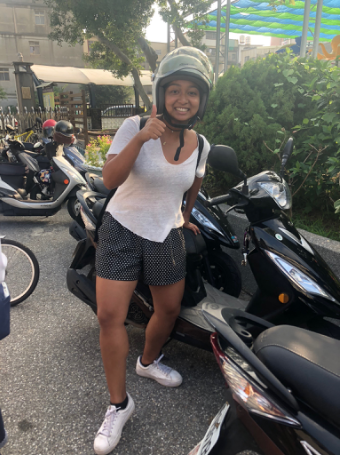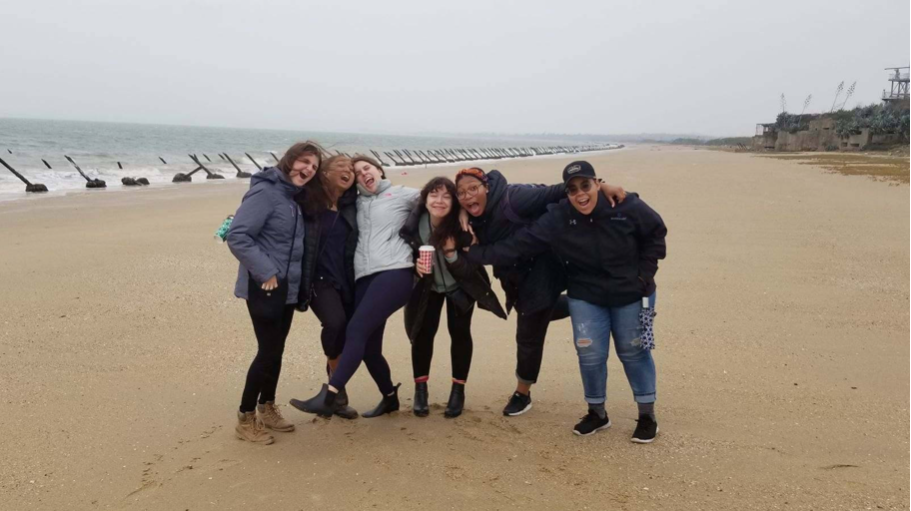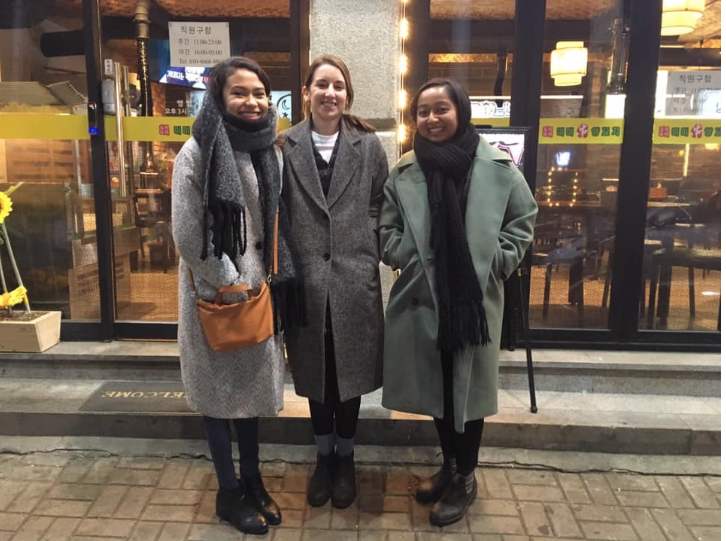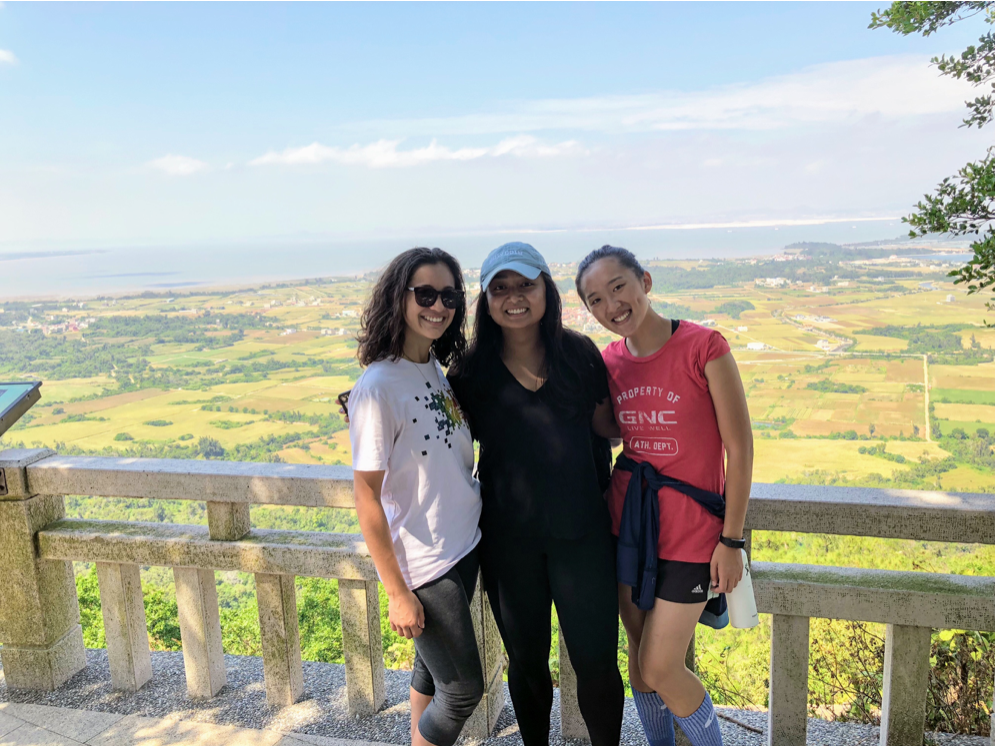 A Few Favorite Things about Life Abroad
Views
Peter: "There is this strip of road that I drive on to get to school, where you break out of one little village and cross this massive rice field. In the mornings, I am alone on this narrow strip of road overlooking the rice field. It's a commute to work that I will miss one day."
Ben: "I bike to work, so twice a day I get a gorgeous view of the mountains in the Black Forest. There's usually fog up in the mountain valleys, and in the morning and at dusk the sunlight is beautiful."
Dia: "I live next to a farm and I really like looking out my window and seeing the cows in my backyard. I'm from a suburb on Long Island, and that's not something I've seen much of prior to this experience."
Sayings
Peter: "Tidak apa-apa, which translates to, no, what-what? It's their equivalent of no problem. There is never, ever a problem. No one is ever stressed out by anything."
Phoebe: "Agüita, which technically translates to "little water," but is used as an exclamatory in all sorts of situations. I've checked with my friends on other islands, and none of them have ever heard it used."
Dia: "加油!! The pinyin or phonetic representation of this phrase is "Jiāyóu!" It's a word of encouragement, and I feel like there's no word in English that has its exact meaning. It means like "Yea! Let's go!" Or, "You can do it!" Or, "Come on!!"
Food
Phoebe: Queso asado, an appetizer made of fresh goat cheese. It's browned over heat, which softens the inside. It's often drizzled with miel del palma, the island's specialty honey that comes from the endemic date palm.
Peter: Rendang, which is meat slowly cooked over banana leaves for four to five hours. It's a delicacy of the region and very spicy.
Dia: "How could someone come to Taiwan and not say that their favorite drink was bubble tea?! My favorite drinks are either jasmine green milk tea with boba or coconut milk tea with coconut jelly or a purple rice with red bean latte. So yummy!!!"