Published February 06, 2019 by Aleksia Silverman '19
Nonprofit Symposium Opens Up World of Work to Students
When thinking of the theme for Career Planning's Eighth Annual Nonprofit Symposium, Meg Springer, associate director of career planning, said she was inspired by the words of Maine's new governor Janet Mills. "Though we agree on the goal, we differ on how to get there," Mills declared in her inauguration speech.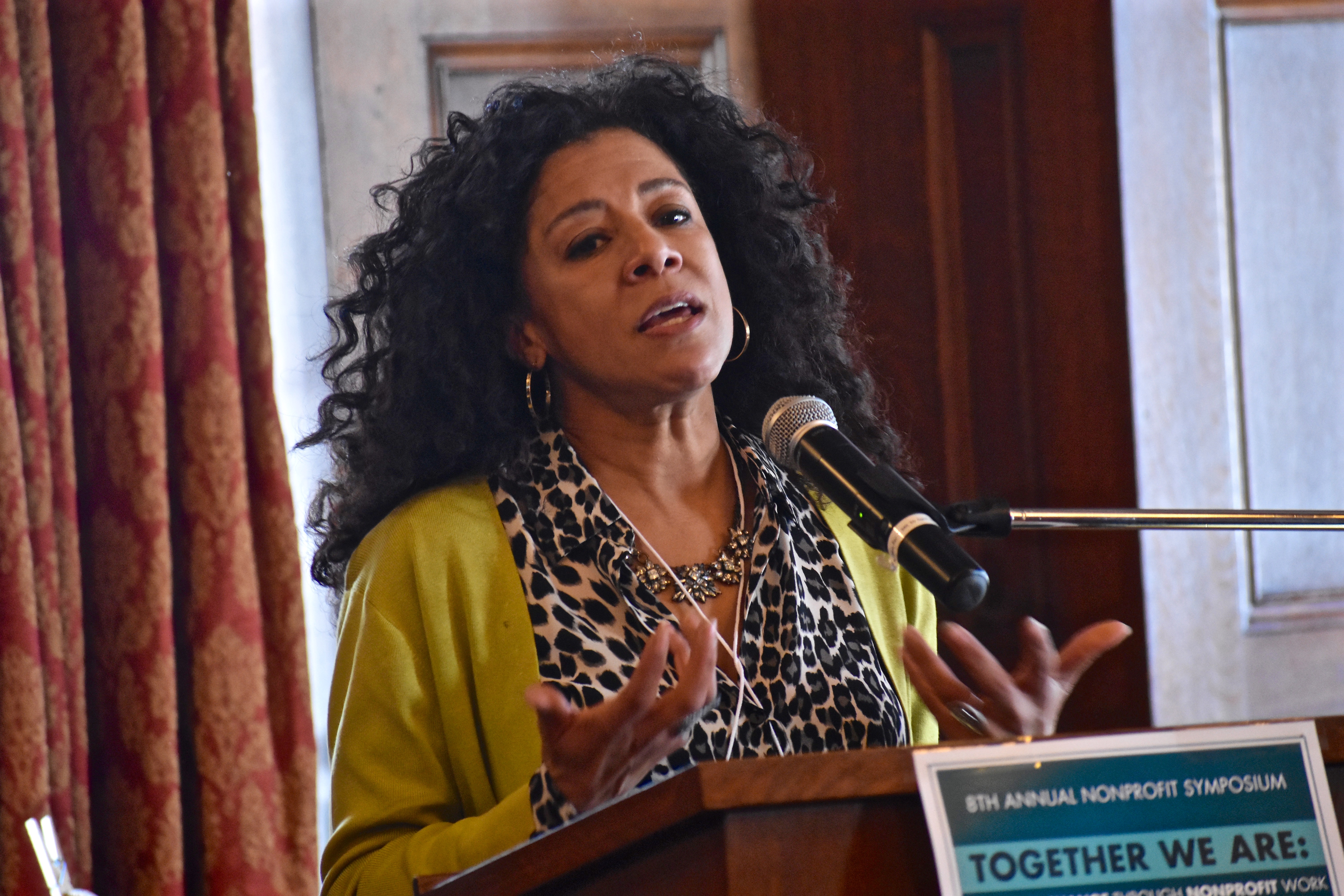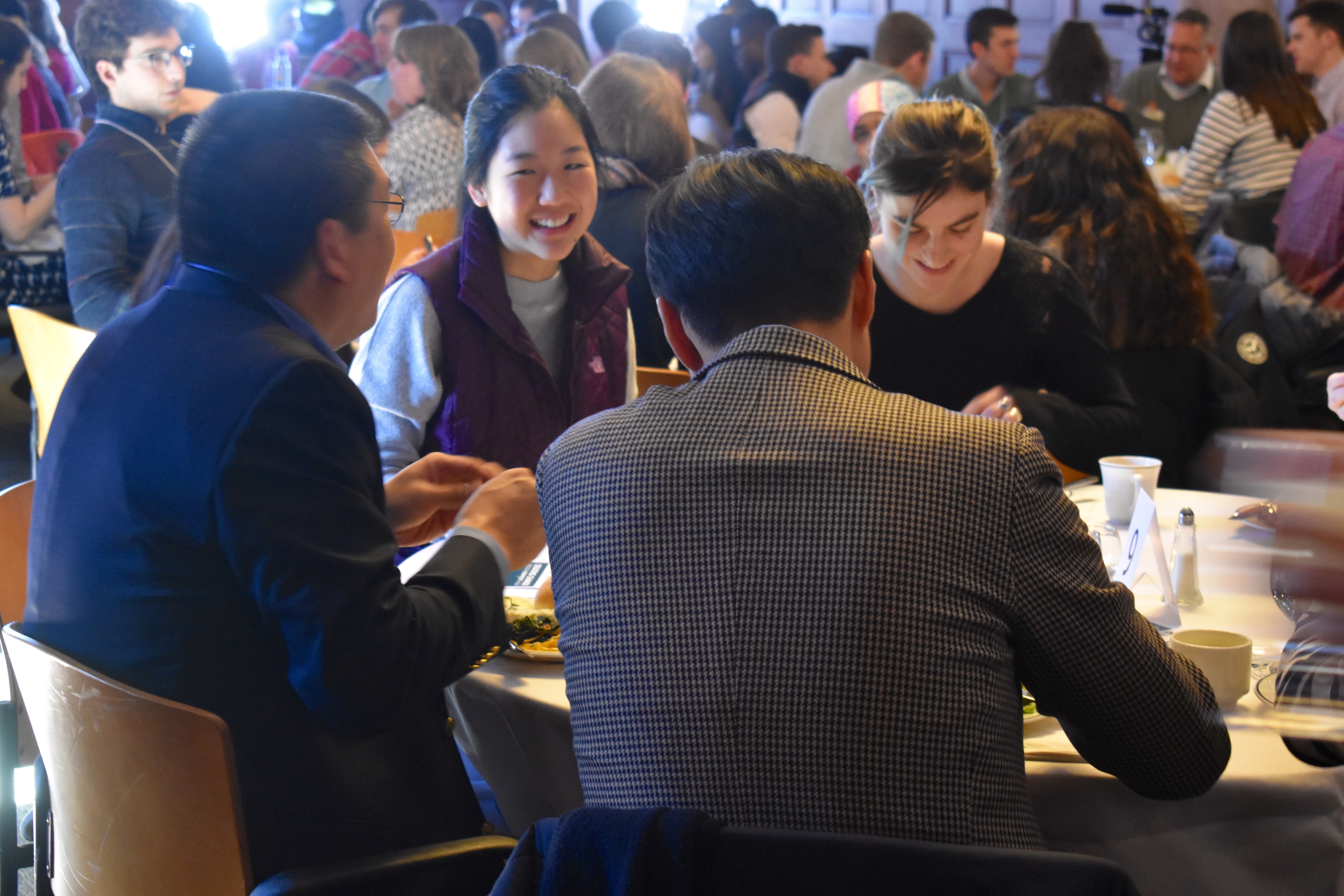 What can I do? Can I make a difference?
Reflecting on the power of communal actions and community cohesion to achieve a shared goal, Springer said she asked herself, "What can I do? Can I make a difference? Can I be part of the solution rather than part of the problem?"
She answered, "My answer to myself has to be, yes I can…And yes, you can. And yes, together, we can."
These ideas were behind the theme of this year's symposium, "Together We Are: Creating Change through Nonprofit Work." About sixty students attended the four-hour event to network with roughly thirty alumni working in the nonprofit sector and to hear several professionals speak about their careers. 
Committed to Making a Difference in Communities
This year's symposium was dedicated to Leslie Preston '88, who died from cancer in 2017. Preston's engagement with social justice and community service began in high school when she volunteered with people with disabilities. After graduating from Bowdoin, Preston earned a master's degree in social work from Smith College.
For many years, Preston was the director of behavioral health at La Clinica de La Raza, a community health center  in Oakland, California. She oversaw programs providing prevention and treatment services for thousands of East Bay residents dealing with mental illness, substance abuse, and other behavioral issues. In recognition of her work, Preston received the 2016 Common Good Award from Bowdoin. Her brother, Dean Preston '91, was also a recipient that year.
The Preston family has not only been a force in the nonprofit world, but are generous to Bowdoin, Springer said. Leslie Preston's "commitment to making a difference in communities inspired her family" to create the Preston Public Interest Career Fund Fellowship. The grant supports student summer internships in services agencies, legal services, humanitarian organizations, and public education.
In the spirit of Preston's dedication to underserved communities, this year's keynote speaker, Lelia DeAndrade, delivered a speech called "Putting Passion into Action." DeAndrade has a PhD in sociology from Syracuse University and is currently a vice president at the Maine Community Foundation, a statewide nonprofit. DeAndrade is also a former faculty member at Bowdoin who taught courses in Africana studies and sociology.
Putting Passion into Action
DeAndrade began her talk by sharing stories from her work with civil rights organizations. She led training programs on battling prejudice and discrimination and on creating welcoming work environments. Her work took her to places ranging from a school district in rural Tennessee to a youth detention center in Maine.
"Whose voice is at the table? Are you making room for people so that they can be heard?" -
Lelia DeAndrade
She left work each day, she said, "feeling really charged up about seeing my work in action, but feeling like I was on the front line.
"Following these intense situations, DeAndrade returned to the office to write grant proposals. "I had to learn how to shift from being out in the field to being in the office learning how to keep the organization sustainable," she said. The process was jarring for DeAndrade, who valued the intensity of the "front lines," but also encouraged her to learn, quickly and thoroughly, how to be successful in all aspects of nonprofit work.
DeAndrade drew from her multifaceted experiences to offer students advice on the skills they would need to succeed in the nonprofit field. She advised students to speak clearly and without jargon, to shore up basic math skills, and to be entrepreneurial. She stressed the need for having a strong sense of fairness and good listening to skills to serve the needs of a community. "Whose voice is at the table?" DeAndrade asked of the audience. "Are you making room for people so that they can be heard?"
Amanda Cassano '22, who attended the symposium and is interested in nonprofit marketing, said she appreciated DeAndrade's insights, "specifically the importance of speaking to your audience. It was a great experience, and I'm glad I got the opportunity to attend."
Yuxuan "James" Wang '20 said he attended the symposium out of curiosity. "I wanted to know how nonprofit workers could sacrifice potential income to serve others," he explained. "I found that it is a matter of value. For [nonprofit workers], recovering the dignity of suffering people is more important than a BMW, and I think that's a perspective worthy of consideration."
Keynote
Lelia DeAndrade, Vice President of Community Impact Maine Community Foundation
Panelists
Noah Bragg '15, Program Coordinator, Maine Inside Out
Tae Chong, Manager, Social Enterprise and Workforce Development, Catholic Charities
Gia Drew, Program Director, Equality Maine
Community Professionals
Keith Bisson, President, CEI (Coastal Enterprises, Inc)
Monica Bouyea '14 , Program Manager, Maine Youth Court
Daniella Cameron, Director, Preble St Anti-trafficking Coalition
Dan Coyne '98, Senior Vice President, Community Impact at United Way of Greater Portland
Oronde Cruger '11, Program Coordinator, Speak About It
Pete Didisheim, Advocacy Director, Natural Resources Council of Maine
Nicole Evans, Development Director, Coastal Humane Society
Leislie Godo-Solo, Education Programs Specialist, IRT (Institute for the Recruitment of Teachers)
Nicole Hart '06, Strategic Initiatives Director, YMCA
Jeff Mao '92, Senior Strategic Outreach Education Manager, Wonder Workshop
Danny Mejia '18, Program Facilitator, Maine Boys to Men
Anita Ruff, Executive Director, Oasis Free Clinics
Bob Stuart, Director, Maine College Circle
Barrett Takesian '12, Executive Director/President, Portland Community Squash
Marjolaine Whittlesey, Lead Teaching Artist, Telling Room
Marcela Wilk, Campus Recruiter, Teach for America
Kaylee Wolfe '15, Education Program Manager, Planned Parenthood New England
Ian Yaffe '09, Executive Director, Mano en Mano         
Bowdoin Staff
Kristin Brennan, Executive Director, Career Planning
Jessica DePaiva, Assistant Director, Career Planning
Matt Gee, Assistant Director, McKeen Center for the Common Good
Eduardo Pazos, Director of Religious and Spiritual Life, Diversity & Inclusion
Jessica Perez, Director, THRIVE
Seth Ramus, Director of Health Professions Advising
Meg Springer, Symposium Moderator, Associate Director, Career Planning