Published February 27, 2019 by Rebecca Goldfine
Masculinities Summit: Mental Health, Race, Friendship, Sexuality, and Sports
The two-day event featured a visit by a comedian and a talk by a scholar of masculinity studies. It also included lots of time for students to reflect on what shapes boys and men, how men respond to pressures and struggles, and how men contribute to a positive culture.
The Masculinities Summit, a new campus event, was organized by Isaac Greenawalt '19 with help from Marcus Williams '21. They were supported by Bowdoin's Office of Gender Violence Prevention and Education and the Sexuality, Women, and Gender Center.
While Greenawalt's interest in masculinity studies originates in part from from his work on gender violence prevention—with the student groups Alliance for Sexual Assault Prevention and Safe Space—the senior said he wanted the summit to look at masculinity more broadly.
"Our approach to thinking about masculinity came from gender violence prevention, but that was the starting point," he said. "We realized masculinities was an expansive topic, and so decided to open it up and have lots of different conversations and people involved in those conversations."
In that spirit, Greenawalt and his advisors invited comedian, actor, and podcaster Chris Gethard to kick off the event, hoping that a well-known personality would appeal to more students beyond those specifically interested in masculinity. The comedian spoke in Morrell Lounge last Thursday evening, touching on topics like coping with setbacks in his career, his mental health, and being a stand-up comedian in the #MeToo era.
"Chris has been open about discussing his own mental health and relationships," Greenawalt said. "I thought he would be really good for setting the tone for sharing and exploring how these things intersect in our own lives."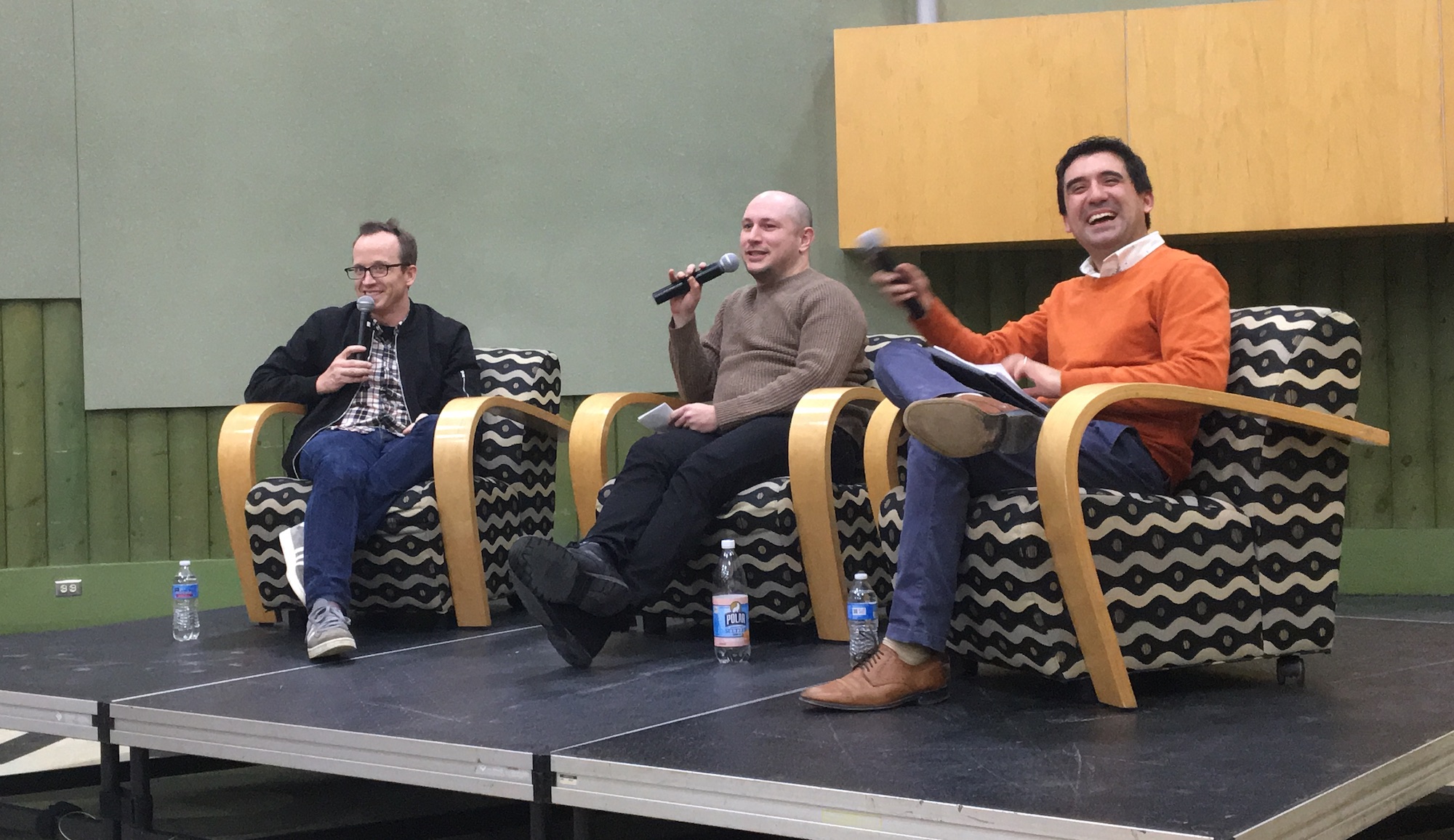 The next speaker at the summit was education professor Mark Tappan, of Colby College, who studies the socialization of boys and the development of healthy masculine identities. In his talk on Friday morning, he supported feminist theorist bell hooks's idea of a "feminist masculinity," that is, a masculine identity inspired by equality, justice, and compassion.
After Tappan's talk, students, staff, and faculty split into break-out sessions to discuss how masculinity plays out in sports culture, race, friendship and intimacy, sexuality, and mental health. Each session was facilitated by at least one staff member and one or more students.
The discussion of masculinity and sports culture was moderated by Director of Athletics Tim Ryan, Noah Nelson '19, and CJ Masterson '19. Ben Painter '19, who participated in the session, said it was valuable having a conversation with those who participate in Bowdoin athletics and those who do not.
"It was great to hear from both athletes and non-athletes about the way that the environments we are in shape our own masculinity, what elements of our masculinity others assume about us because of the groups we are a part of, and the best way to create a positive culture in whatever groups we are a part of," he said.
Eduardo Pazos, director of religious and spiritual life, helped facilitate a session on male friendships and intimacy. "We had fifteen people in the room," he said. "It was amazing to see so many people willing to discuss these subjects and to question constucted ideas we're taught about male friendships and what it means to be vulnerable."
Seventeen staff and students served as facilitators for the event. Besides Pazos and Ryan, they included Director of the Student Center for Multicultural Life Benjamin Harris, Assistant Dean of Upperclass Students Michael Pulju, and Postdoctoral Fellow in Counseling Psychology Chris Johnson.
Student facilitators included Noah Nelson '19, Thomas Namara '91, Zander Ederer '19, Will deBruynKops '20, Benjamin Felser '22, CJ Masterson '19, Isaac Greenawalt '19, and Archer Thomas '21.
Greenawalt said the major goal of the event was to encourage future conversations and campus events on the issue. He also hoped that participants left the summit with one or two "ah-ha" moments. "That is not too lofty of a goal, but if we have a couple of moments like those for everyone that will stay at the back of their mind for the next few weeks, hopefully it will spark more thoughts and connections."