Published February 04, 2019 by Tom Porter
Alternative Winter Break: Making a Difference
Members of the Bowdoin community came together recently to reflect on the good work being done by the McKeen Center for the Common Good's Alternative Winter Break trips. Last Thursday night, students, faculty, and community partners, came together over dinner to celebrate the program.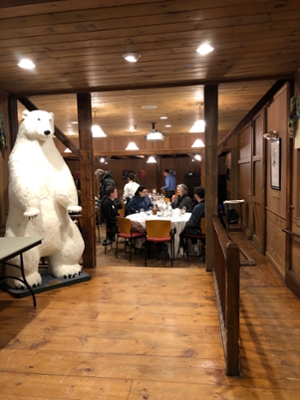 Associate Director for Service and Leadership, Andrew Lardie, began the evening by thanking the thirteen different Maine organizations that hosted and worked with the McKeen Center and participating students. Lardie also praised the student leaders, who not only led the trips but also ran seven-week–long seminars to help prepare their peers.
Launched by the Center seven years ago, Bowdoin's Alternative Winter Break program offers students the chance to spend a week in January doing intensive, meaningful work. This year's trips, both of them in Portland and nearby communities, helped two particularly vulnerable populations: immigrants and refugees and those affected by addiction.
Immigrant and Refugee Education
Five students, plus student leaders Sam Kenney and Jenna Scott, who are both seniors, headed back to Bowdoin a week early this year to engage with New Mainers of all ages and backgrounds. The trip included working with a number of agencies, including Portland Public Schools, Portland Housing Authority, Portland Adult Education, and the financial literacy nonprofit ProsperityME.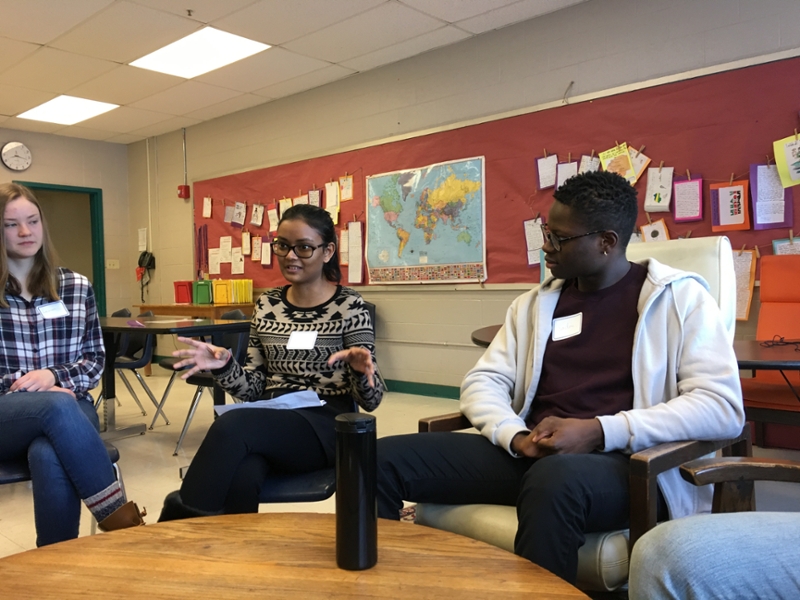 The group also visited the city's Multilingual and Multicultural Center, which provides interpreters for the more than sixty languages spoken in the school system. Basmattie Dookie '21 was impressed by the commitment of these interpreters, who go far beyond the task of providing translation services for these new arrivals in Maine. "They help them look for jobs and housing, provide emotional assistance, and even try their best to assist with items such as clothing."
The group spent several mornings observing and assisting in middle school classes that include a large proportion of English language learners from Portland's immigrant and refugee population. "One of the most salient things that I have learned on this trip," said Lauren Hickey '20, "is how well public school teachers and administrators are attending to the needs of diverse student populations." Hickey said she volunteered for this program because of the "wonderful experiences" she's had on other Alternative Break trips organized by the McKeen Center. She also said she was interested to see how new Mainers are received and cared for in Portland, "given the clear political challenges and heightened antiimmigrant sentiment there is at the national level."
The other students on the trip were Saidou Camara '19, David Pachter '19, and Uriel Lopez Serrano '20.
Addiction and Recovery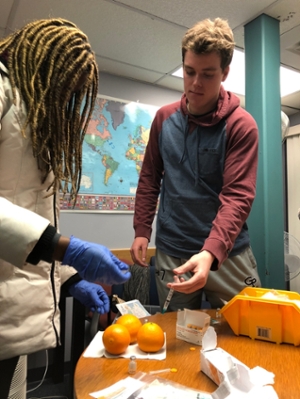 A total of ten students, including two student leaders, worked with government and grassroots organizations that serve Mainers experiencing addiction and recovery. Student leaders Annie Rose '20 and Nina Alvarado- Silverman '19 proposed the trip last April and planned the itinerary during the fall semester. They organized five seminars to help students prepare for the trip.
Students worked with a total of nine groups during the week, including Portland Needle Exchange Project, Amistad, Portland Recovery Community Center, and a couple of programs run by Mid Coast Hospital, including the Addiction Resource Center. A number of these community organizations were partnering with Bowdoin for the first time, said Rose. "Many students here spend their four years mainly inside the 'Bowdoin Bubble,'" she commented. "But, as students living in Maine for four years, it's our privilege and responsibility to understand what's happening in our local community."
Alec Goffin '21 said the experience showed him how substance abuse disorder can affect anyone, regardless of background. Anu Asaolu '19 said it would be an understatement to describe the trip as eye-opening. "This immersive week helped me fully understand the complexities of substance use and recovery." Sophie Wilson '22 was impressed with the model of care offered by one community organization in particular. "What's unique about the Portland Recovery Community Center is that all their volunteers are in long-term recovery."
"Each person's story is unique, but everyone's is the same," said Elizabeth Sweeney '21. "As a group and privileged community, we have had the opportunity to immerse ourselves in a serious social issue that can only be fully addressed with cohesive community efforts and individual connection." Sweeney said the trip taught her that the opioid epidemic is not just about drugs, "but also poverty, trauma, mental suffering, isolation, and lack of human connection."
Tam Phan '21 wants to work in the public policy sector and said she's grateful for the perspectives encountered throughout the AWB trip. "Hearing the personal stories of people who've experienced addiction and homelessness made me realize that the solutions to these issues require mental health, medical, and societal attention," she said.
Also taking part in the trip were Audrey Reuman and Michael Covell from the Class of 2021, and first-year Patrycja Pekala.
With additional reporting by Clayton Starr '19.