Published January 30, 2019 by Rebecca Goldfine
Black History Month: History, Yes, but Also Poetry, Politics, Comedy, and Music
Organizers of this year's Black History Month at Bowdoin are rounding out several campus lectures on historical and contemporary issues with poetry readings, comedy routines, concerts, and celebrations.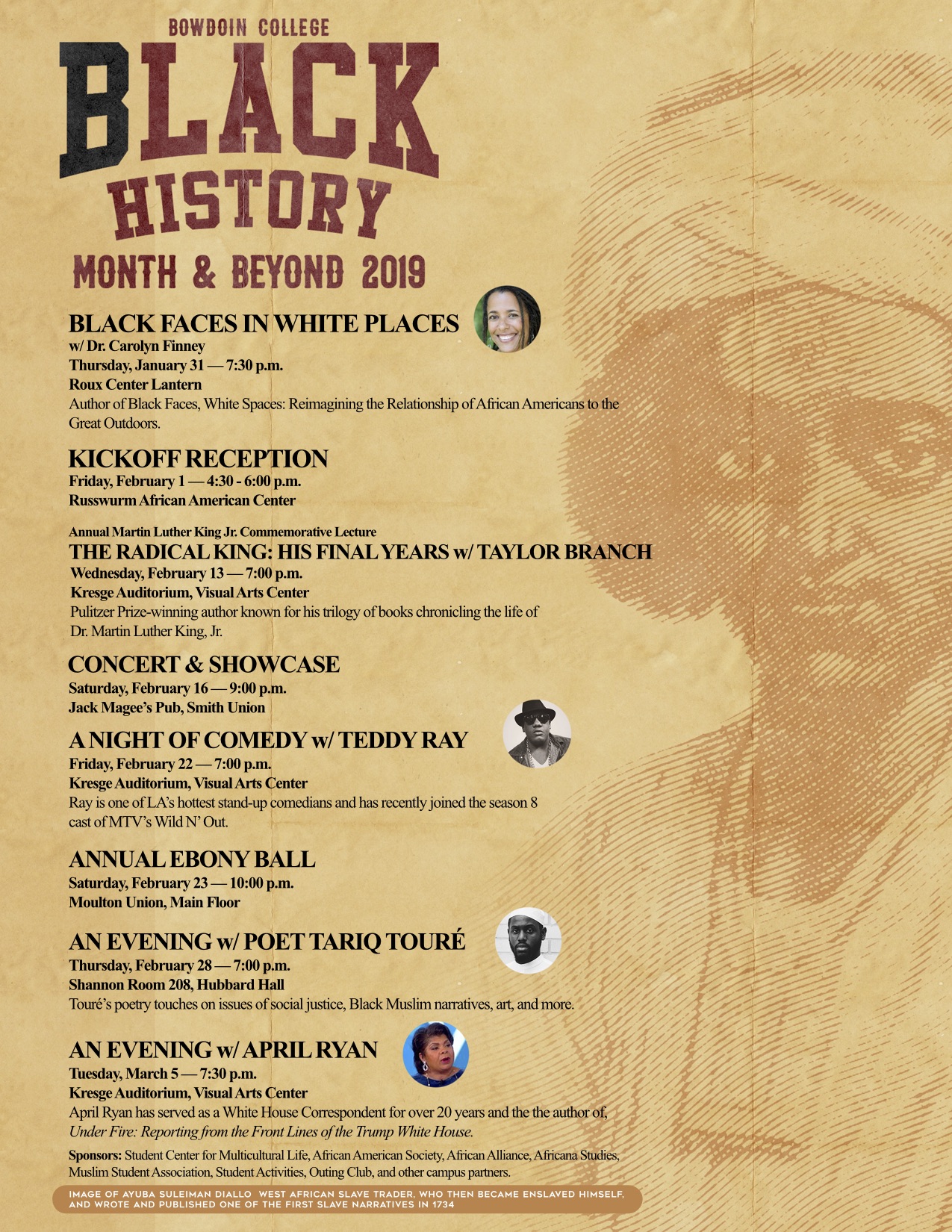 Three speakers  will visit Bowdoin in the coming weeks to meet with students and give talks on subjects from Martin Luther King Jr.'s final "radical years" to the Trump presidency.
The first scheduled speaker will address race and the environment. Carolyn Finney, the author of Black Faces, White Spaces: Reimagining the Relationship of African Americans to the Great Outdoors and a former member of the US National Parks Advisory Board, will be on campus Jan. 31.
The following week, Taylor Branch, whose trilogy on Martin Luther King Jr., America in the King Years, has achieved popular and critical success will give a talk called, "The Radical King: His Final Years."
Journalist April Ryan, who has covered the White House for over twenty years, will speak at Bowdoin on March 5. Her most recent book, Under Fire: Reporting from the Front Lines of the Trump White House, offers insight into the Trump White House and how journalists have adapted to its chaos and controversies.
In between these talks, Bowdoin is honoring Black History Month with a reception at the Russwurm African American Center, a night of comedy with Teddy Ray, an evening of poetry with Tariq Touré, and hours of dancing at the annual Ebony Ball for students.
Benjamin Harris, director of the Student Center for Multicultural Life, helped organize the month of programming. Additionally, the African American Society, African Alliance, Africana Studies, Muslim Student Association, Student Activities, and Outing Club are sponsoring its events.