Published November 02, 2018 by Rebecca Goldfine
Helping Faculty Enhance Their Teaching
The Center for Learning and Teaching is well known among students as a great resource for finding a tutor or learning better studying skills. But just as importantly, the Center also supports faculty teaching, and this year, has increased its offerings to inspire faculty in the classroom.
In a recent workshop on how to facilitate effective classroom discussions, a group of professors from across the curriculum sat around a long table in Thorne Hall and discussed, among other topics, how to encourage shy students to speak up more and how to convince eager talkers to do a bit more listening.
"In my first-year seminar with fifteen students, six carry the weight," one faculty member said, describing a phenomenon others said they, too, had encountered in their classes. Over the next hour, the faculty talked about methods to address imbalance in class discussions, both in large courses and smaller seminars, and to foster engaged, scholarly dialogues.
This Faculty Workshop in Writing and Rhetoric was one of a semester-long series, offered by Meredith McCarroll and supported by her colleagues at Bowdoin's Center for Learning and Teaching (CLT). In sessions that examine topics from "teaching close reading" to "writing with sources," professors learn new teaching techniques or share successful approaches they've already devised. The workshop series is part of a variety of programming that the CLT offers on campus to support both faculty teaching and student learning.
The CLT's faculty program is built around the idea of engaging professors in a voluntary, self-reflective, and collaborative process. Offering pedagogical resources to faculty can fill in a gap in their education, for rarely does the pathway to a specialized PhD involve learning how to teach undergraduates.
"The idea of being intentional in your teaching emerged in our work because teaching is something you spend your career doing better and better. And part of how you get better is being reflective and making intentional choices," said Meredith McCarroll, who runs the Faculty Workshops with Katie Byrnes, who is director of the CLT's Baldwin Program for Academic Development.
Besides the Faculty Workshops, the CLT offers faculty many other professional development opportunities, including a semester-long book group, the Faculty Fellows Program, and one-on-one advising.
Byrnes observed that discussions about educating, in all forms, are flourishing at Bowdoin. "I think a lot of people are having conversations about teaching and learning on campus, and are really appreciating those moments to do that, whether or not it's in a formal workshop," she said.
So, how do you facilitate effective classroom discussions?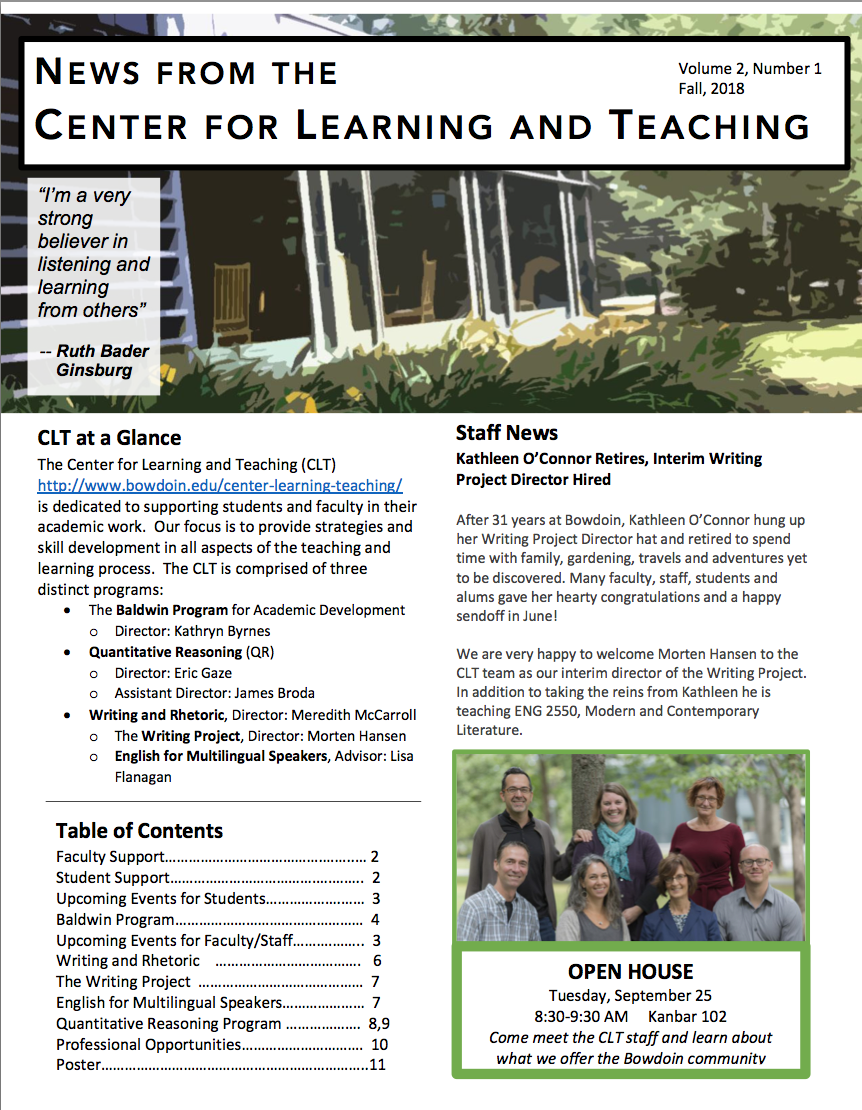 In the recent discussion about how to draw in all students into a classroom conversation, McCarroll suggested to the assembled faculty members to make it clear for themselves why they hold discussions in class, to pinpoint exactly what they're trying to accomplish. And they should share these objectives with their students.
In her own classes, McCarroll said she has found that "the transfer of knowledge is not always from teacher to student. And magical things happen in collaboration when you empower students' voices." She encouraged professors to tell their students that they are being invited to contribute to knowledge and the academic discourse, and that the purpose of discussing readings is not to compete or put on a show, but rather to approach understanding and truths. Being uncertain and even wrong, she added, is acceptable. "I tell students you're in college to learn, not to perform what you already know," she said.

One professor at the workshop shared that he had made a small adjustment that had transformed the classroom dynamic. Instead of pausing after a lecture and asking students whether they had any questions, he asks instead: "What are your questions?"

At the end of the workshop, Byrnes reminded the professors that already they were advancing the learning of their students through their engagement in the workshop. "All of your students are so privileged that you are here, processing and thinking through these issues," she said. "It is powerful work we get to do as educators."