Published November 29, 2018 by Rebecca Goldfine
Behind the Willner's Record-breaking $20M Fundraiser
The McKeen Center and Latin American Studies invited Dave Willner '06 to Bowdoin this week to talk about the aftermath of his and his wife's wildly successful online fundraiser—and suggest a few tips on how to possibly replicate this feat of organizing generosity.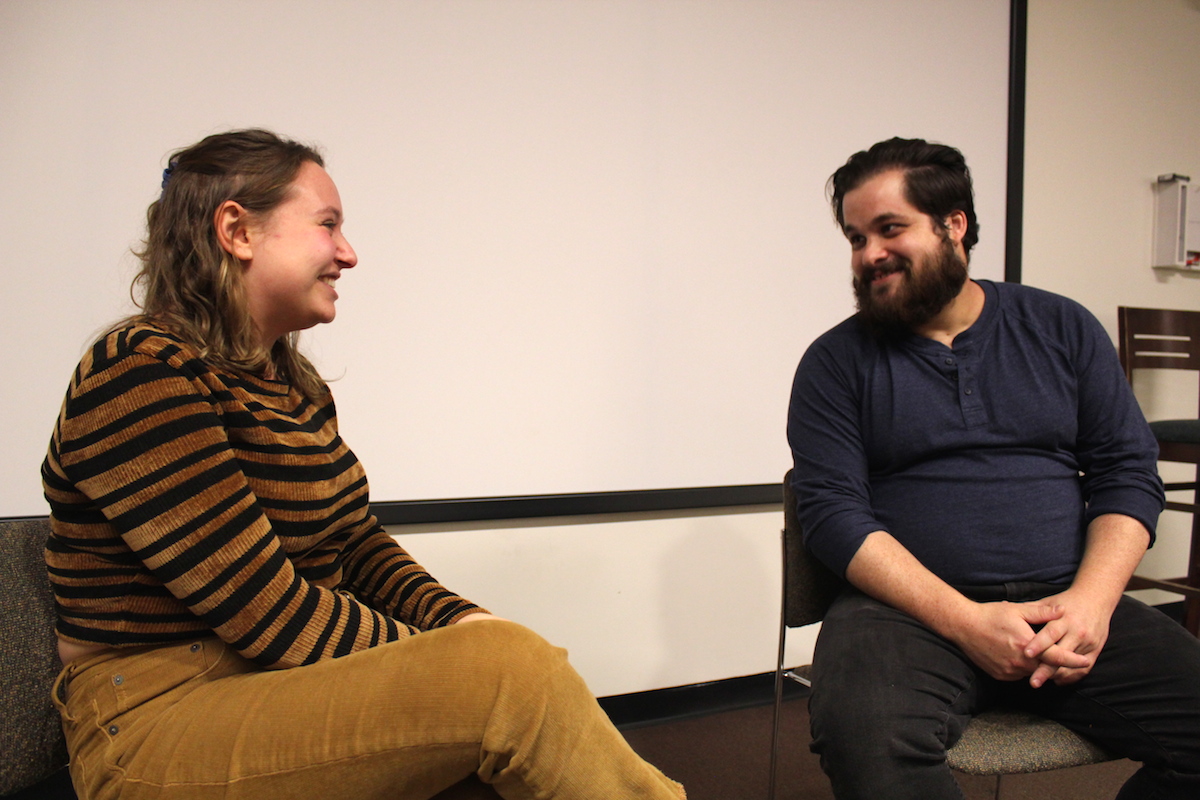 It's become an oft-told Bowdoin story: how Willner's wife, Charlotte Willner '06, set up an initially modest Facebook fundraiser, Reunite an immigrant parent with their child. She was responding to seeing images of distressed children affected by the Trump administration's "zero tolerance" immigration policy of separating families at the Mexico-U.S. border.

Her initial goal was to raise $1,500 for a nonprofit legal agency in Texas called the Refugee and Immigrant Center for Education and Legal Services, or RAICES. The amount would be enough to cover one bond and release one parent from a detention center.
But very quickly the fundraiser spread. Dave Willner jumped in to help. At one point, they were receiving $10,000 every minute. The fund eventually grew to $20,773,431.
While raising millions in just a few days for an organization that provides free legal services to immigrants is, in itself, an impressive and worthy act, Dave Willner pointed to another unexpected outcome—the way the message and support it gathered managed to cross party lines.
The gifts, which averaged under $50, came from people in all fifty states, and in thirty countries, from conservatives, liberals, and everyone in between. "It spread in a way that penetrated more deeply than our partisan divide, and I think that speaks to the notion of a fundamental decency in people," he said. 
Dave Willner was on campus this week to speak to students about careers in technology (he works at Airbnb) and visit a digital and computational class, as well as talk about the famous fundraiser that landed him and Charlotte in TIME, The Washington Post, The New York Times, CNN, and ABC.
But Willner insists that he and Charlotte don't deserve excessive accolades, despite garnering an inclusion in TIME's most influential people on the internet and breaking the prevous Facebook fundraising record by $18 million.
"I am not being humble when I say we didn't do this," he said. "This occurred—and we didn't screw it up."
He lamented not having a foolproof method for everyone who wants their fundraiser to go viral and raise millions for a good cause. But he did suggest some steps that might be replicable.
Use a compelling photo. He and Charlotte posted a photo of a toddler crying at the feet of her mother as she is being searched by a U.S. border patrol agent.
Start with a direct call to action. State it in a straightforward title.
Take advantage of a public outcry over injustice. "You need to do it on an issue that is making people mad, and give them an outlet to do something directly about it, now, because it gives people a sense of catharsis," Willner said.
Be lucky. "These things (above) feel like they are somewhat replicable but, I don't know, the universe is mysterious," he added. "We hit the charity jackpot."
Willner also said his and his wife's connections in Silicon Valley—they both had worked at Facebook and are now at Airbnb and Pinterest—helped. In addition to having lots of friends who could spread the fundraiser online, the couple was also essentially given a week off from their jobs to devote themselves to the endeavor. Other friends descended on their house, willing to pause their lives to help answer questions from donors and field media calls.
Though the hugely unpopular separation policy has been walked back, Willner said RAICES is still taking advantage of its $20 million bounty—three times its annual operating budget—to help people, mainly by paying for bonds and lawyers for immigrants.
Clearly, the Willners would not have been as successful raising money without social media. In response to a question by moderator Annie Rose '20 about whether he thought social media was in balance better or worse for society, Willner offered a nuanced answer.
It is, he said, a neutral, "agnostic" megaphone for many people, including for marginalized groups, from gay marriage advocates to neo-Nazi white supremacists. And so it can be used for good or ill will. But, overall, he believes social media is more positive than destructive.
"What we are realizing now is it is not exclusively positive, and we are mourning the fact that a magical technological utopia is not just going to occur," he said. "Social media is a mirror of who we are, just bigger, faster, and more efficient."