Published November 07, 2018 by Rebecca Goldfine
All She Wanna Do is Ride a Bike
For Ali Briere '20, it's no big deal to jump on her bike and go long distances (like between Portland and Brunswick) that the rest of us can't conceive of traveling unless we're on four wheels and surrounded by metal.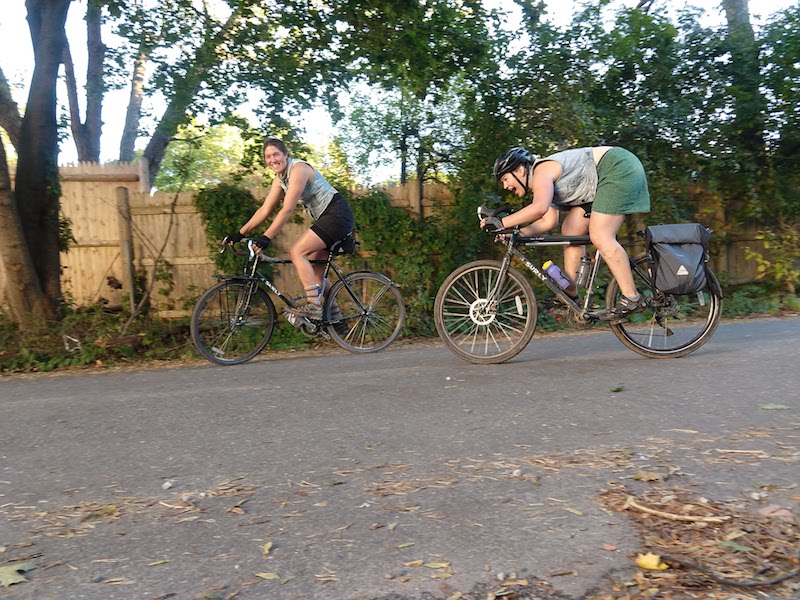 The first time Briere got up at dawn for a long ride on a bicycle—sixty miles from her home in Laramie, Wyoming, to Woods Landing and back—it was a freezing November day and she was pedaling a "crappy Walmart bike."
She brought no tools and wasn't wearing the right clothes. And when she got to Woods Landing, the burger place was closed. Yet, she remembers thinking at the end of her trip, "That was incredible.""
When she told her story soon after to the staff at the Pedal House, a bicycle shop in Laramie, they were so impressed with this audacious teenager riding far afield on a chintzy bike that they set her up with a thirty-year-old Univega bike. And she's been bicycling—miles and miles and miles and miles—ever since. Or, as Briere puts it, "It all tumbled from there."
Luckily there are not too many tumbles, even as Briere keeps it up in her new college environment. She has ridden her bike to Portland and back several times (sixty miles round trip) to catch concerts in the city. This means she returns to Brunswick on Bike Route 1 in the middle of the night, which is safe, she claimed, as long as you attach lots of lights to your body and bike. In September, she rode to Unity from Augusta (more than thirty miles) to attend the Common Ground Country Fair.
Briere started riding a bike in high school for expediency sake—her parents had only one (or at times, less than one) reliable car for the family, so biking made it easier to get herself to school and babysitting jobs. The bike became an essential part of her life very quickly. She is a regular on the mountain-bike and racing circuit in Wyoming, where she's biked more than 100 miles in one day (a personal record) on the Tour de Wyoming.
Today, she gets sad and antsy if she doesn't go out for regular long rides. "I need the physical movement; it makes my body feel better, and it makes me more creative," she said. "I think of so many things on my bike that I don't in the library." Briere is majoring in Hispanic studies and minoring in economics. She wants to be a Spanish school teacher one day. She also speaks Arabic and is learning French.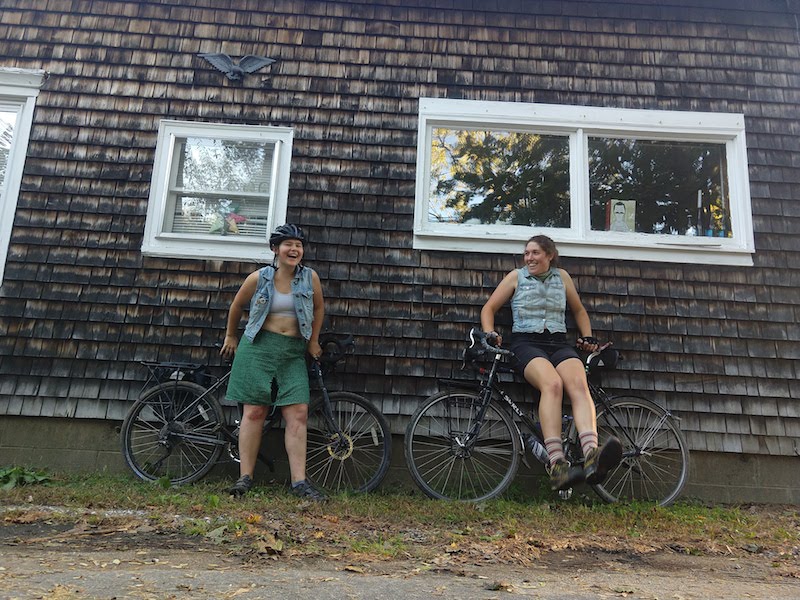 She is avoiding buying a car, even though she says she could. "Biking makes me happy, and you have to think and plan more than if you rely on the car-based system," she said. She added, "It's just about subverting in any way I can the consumption I feel is so compulsory."
Briere rides a Surly Disk Trucker, which is good on both pavement and gravel. In a perfect world for her, all roads would be unpaved. "I'm a dirt bag!" she said. "I've re-imagined that word. I love dirt." Beyond dirt roads and dirt paths, she also lives for dirty-making adventures, like heading out on rugged multi-day biking tours, "stealth camping," and dumpster diving. During Fall Break, Briere rode from Belfast to Wayne to Rockport and back to Brunswick, camping where she could find out-of-the-way spots.
In her tours through Maine, Briere says she's developed a strong attachment to the state, in part because it reminds her of her home and her upbringing in Laramie, another rural and working-class area. "There are so many things I see on my bike that I don't see at Bowdoin," she said. For instance, a roadside sign she spotted somewhere midcoast on Route 1 a few weeks ago. "Keep the peace and remember the poor," it read.
At seeing this, Briere was struck by the thought that it was unlikely she'd spot a similar sign on campus, with a message so simple and heartfelt. It felt direct and powerful in a way that many of the analytical arguments she has at Bowdoin do not. "This is the usual way of knowing," she said, referring to her school work. But she says her bike provides another source of knowing.
Getting out of Bowdoin, and out of Brunswick, and riding her bicycle many miles over hills, through valleys, by fields and farmland, into and out of small towns, and along winding and straight roads, provides her with another means of understanding, she said, one that's deeply connected to this place.
"I start to feel the geography in my body," she described. "It's a way of knowing I have in my body on my bike that is so special to me. To be mapping out Maine in greater nuance more and more, and more viscerally, is the coolest thing."