Published June 26, 2018 by Bowdoin College Museum of Art
Behind the Cases: Student Curators Prepare for Upcoming Exhibition, "A Handheld History"
Donated to the Museum over fifty years ago, between 1966 and 1967, the collection reflects the generosity of Cesare and Amanda Molinari. As this show demonstrates, their gift of over 1,500 medals and plaquettes, together with a remarkable library of related resources, further inspired the continued study and acquisition of medals at the Museum, further enhancing Bowdoin's already impressive holdings.
Organized by students Amber Orosco '19, Stephen Pastoriza '19, and Benjamin Wu '18, A Handheld History allows viewers to experience both the intimacy and the intensity of portrait medals. The show spans nearly five centuries, from Pisanello's groundbreaking first medal of John VIII Paleologus in 1483 to Marcel Duchamp's cryptic Bouche-évier (Sink-Stopper) in 1967. The process of researching and designing this exhibition presented many interesting challenges.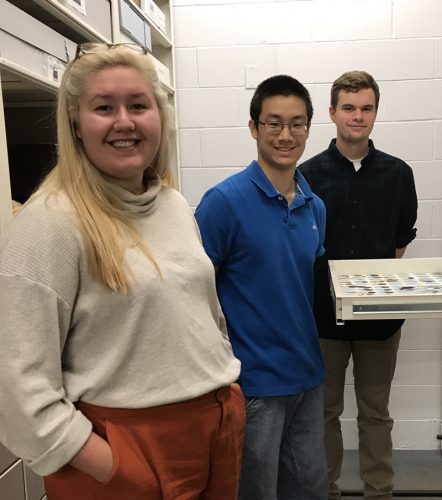 The first challenge is that medals, by their very nature, invite the viewer to hold them and appreciate them through close looking. However, by putting these medals on display in an exhibition, we change the context of interaction between viewer and object, turning a three-dimensional, tactile artform into a purely visual experience. To tackle this dilemma, the exhibition includes innovative exhibition design strategies. For example, high-resolution imaging can bring a sense of monumentality to these small, intimate works of art. Second, how can one tell a concise, coherent narrative of 500 years of medals with nearly 2,000 unique items to choose from? The installation will reveal the rich tales of revolutions, despots, triumphs, and personal narratives that are captured in the medals and are still relevant today.
Creating this exhibit has been an exciting experience, and we are fortunate to be surrounded by so many knowledgeable and helpful Museum staff and faculty members. We hope you enjoy our exhibition, which will be on view from July 26, 2018 to January 6, 2019.
Amber Orosco, Stephen Pastoriza, and Ben Wu