Published July 27, 2018 by Tom Porter
Isaac's Journey: Sophomore Launches IT Learning Program for African Immigrants (Like Himself!)
Isaac Kabuika '20 came to Maine on his own in 2014 from the war-torn Democratic Republic of Congo, aged eighteen. He moved to Lewiston, a city with a sizable African community and not speaking a word of English.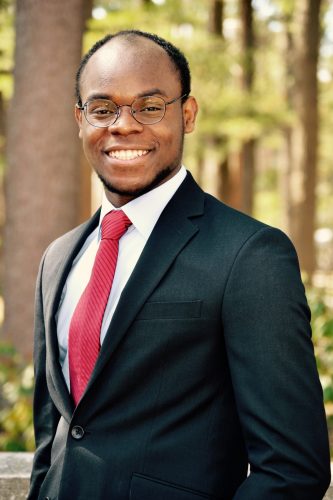 The community church did provide some support, but Kabuika was basically living alone with little help. "I was considered an 'at-risk' student," he said, "and simply getting through high school and into community college was regarded as my highest achievable goal."
Kabuika had bigger ideas though, and within two years he had mastered the language, graduated high school and been accepted at Bowdoin College, where he's pursuing a double major in neuroscience and computer science. "I want to study medicine, but I also have a deep interest in technology and computing."
A high school teacher introduced Kabuika to information technology and the world of computers, but he's concerned that many African immigrants are clueless about computer science and are presented with little or no opportunity to learn those skills which are so essential to advancing in the job market today. "One of the problems I had when I came here was access to IT knowledge and training, simply not knowing what was out there, and it remains a huge problem in the African community."
To this end, Kabuika has designed a program to teach the basics of computer science to African immigrants in Lewiston. "I intend to start by giving a broad overview of IT and what the different areas are you can specialize in. People need to realize that it's more than just learning Microsoft Word of Excel spreadsheets!"
The fourteen-week course will be in three phases, each about four or five weeks. After the introductory phase, Kabuika plans to offer instruction in specific areas like web design, programming and coding, and hardware and software trouble-shooting. The third phase will involve students working on their own projects, with help from Kabuika. The eventual aim, he said, is to prepare them to take IT certification exams or even to enroll in further, accredited courses.
Ask how he will find time to teach the course and Kabuika laughs. As well as the five classes he's taking at Bowdoin, he's also working on a summer research project, he's a teaching assistant with the computer science department, he works in IT at the College, and he volunteers at Mid Coast Hospital. "I have a pretty full schedule, but I have kept my Friday afternoons and Saturday mornings free to do this, and I have a friend—an experienced database administrator—who's going to help with the teaching."
About forty people tried to enroll in the program, which is being offered free of charge, but Kabuika can only accommodate about fifteen at a time. He hopes to start teaching over the spring break. He has no funding for it and seeks no personal reward. "My goal is simply to transfer some of my knowledge to the community and help people learn important skills."