Published March 01, 2018 by Rebecca Goldfine
Bowdoin Grads Doing Their Part to End Polarization
Social media is often blamed for worsening some of our most intractable political problems — polarization, a misinformed electorate, a wobbly democracy.
Noah Finberg '16 believes that social media, when used more thoughtfully, could also help alleviate these issues. For the last four years Finberg, with several Bowdoin peers, has been building an innovative social media start-up called
Considdr
. Like other social media platforms, Considdr has a news feed, and it allows users to follow others, see what they're reading and posting about, and have discussions with them.
However, unlike social media platforms that tend to personalize what people see, reinforcing news silo or echo chambers — and arguably entrenching our beliefs — Considdr wants to help users critically engage with information from diverse sources. To this end, it has been structured to expose people to viewpoints and arguments beyond what they would normally encounter.
"Our goal is understanding each other's perspectives," Finberg said. "You might not agree, you might never change your opinion, but at least you can disagree more productively and understand where people are coming from, and that is very important to us."
As the "first-ever social reasoning platform," Considdr attempts to help users organize today's overwhelming mass of information into uniform, "consumable Notes"—short summaries of articles contributed by users. According to its website, Considdr crowdsources these Notes, providing users with many arguments to consider as they work toward developing "well-substantiated Opinions." "These Opinions are like visual representations of each user's reasoning process; because they display the Notes that contributed to the user's reasoning, they can be challenged and updated with new information."
Finberg suggests that, in a way, Considdr acts like a second brain — just a more efficient and possibly more broadminded brain. With Considdr, Finberg said, "We don't have to rely on our memories to store that information where our opinions live, we can update our opinions over time with new information, and our algorithm can even suggest new information to you that you otherwise wouldn't have considered." He added, "It breaks the bubble a little bit more."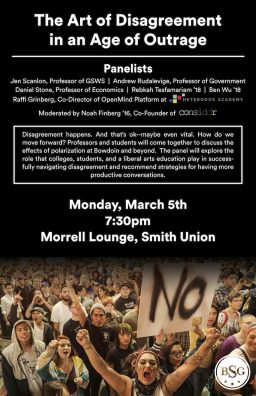 Finberg came up with the idea for Considdr when he was a 20-year-old sophomore at Bowdoin. The Boston-based company is awaiting the results of a utility patent in the United States for their novel search algorithm. It has a staff of four (including Finberg). Hailey Wahl '16 and Marcus Christiansen '17 work full time at the new business, and Bowdoin senior Maddie Jodka '18 helps out part-time.
Finberg reached out last year to Wahl to ask her to help him craft the messaging for Considdr. She was working in Boston at the time. "It's once in lifetime that a close friend you respect so completely asks you to help him solve a real-world issue that you feel passionately about," Wahl said. "It took me a few minutes to get past the disbelief, but I knew immediately what my answer was going to be."
Finberg got motivated to work on polarization and the way we form political opinions when this macro-scale problem became a personal one for him, in 2014. He had always thought of himself as being politically well informed. But two years into his college education, he became alarmed when he realized he was struggling to recall the reams of articles, data, and arguments that had, presumably, shaped his opinions.
"I didn't know why I believed a lot of the things I believed. My beliefs were more of feelings than anything else," he said. And possibly worse, he added, "I couldn't even necessarily articulate what other people who disagree with me think or why they think it."
He began studying political polarization in his government and economics classes. His academic interest culminated in an honors project ("the best I've ever read," says his advisor, government professor Michael Franz), which looked into the links between political polarization, political psychology, and social media. Finberg argued that our limited ability to process a growing amount of information has led us to be emotionally motivated reasoners.
Along the way, he also got the spark of an idea to build a new kind of social media platform to turn social media on its head, to weaken polarization rather than enable it.  But first, he had to build his tool. "I didn't know how to program at the time," Finberg said. "But when I had the idea, I decided I needed to start learning how to code. I switched my major to government and took a lot of computer science courses."
Besides Wahl, Jodka, and Christiansen, other Bowdoin students or graduates have also contributed as interns or employees: Joe Sherlock '16, Son Ngo '17, Alex Cheston '16, James Boyle '17, Grace Mallett '18, Amanda Rickman '20, Brooke Vahos '21, George Benz '20, Julia Zitzmann '20, Octavio Ibarra '20, Michael Borecki '21, and Tokio Takai '20. Considdr has raised initial funding and has a board of advisors; this year, they're seeking additional funds and are assessing several different monetization strategies, according to Finberg.
 
As the Considdr team has been developing their technology, they've worked closely with faculty at Bowdoin. Indeed this semester, 11 professors at Bowdoin — from across the curriculum — are incorporating Considdr into their classes. While Considdr has been created for the larger population in mind, professors are finding it a promising pedagogical tool. 
Last fall, Assistant Professor of Economics Dan Stone tried out Considdr in his introductory economics course, Principles of Microeconomics. He asked students to use Considdr to answer the question, "Should the federal government increase the minimum wage to $15 an hour by 2020?" To succeed in this assignment, students had to find outside sources, take notes on them in the Considdr platform, consult other students' sources and notes, and then write an opinion. "It pushed them to read about the issue on their own, outside of the textbook, outside of class," Stone said, "and it also showed them the relevance of the theory and the class material to important policy topics in the real world."
Additionally, Stone said he wanted to support Considdr's mission and principles. "I like their mindset of having this attitude of being truth-seeking and wanting to understand what's really going on, whether or not it is convenient or what we want to believe," Stone said. A social media company that makes "truth-seeking and open-mindedness" buzzy and cool might be "what's needed to get the general population to embrace this way of thinking."
This semester, 11 professors at Bowdoin — from across the curriculum — are incorporating Considdr into their classes:
 Daniel Stone (Economics)
-Principles of Microeconomics


Michael Franz (Government)
-Money and Politics


Shruti Devgan (Sociology)
-The Sociology of Emotion
-Collective Memory and Storytelling


Arielle Saiber (Italian)
-Dante's Divine Comedy


Eric Gaze and James Broda (Digital and Computational Studies)
-Data Driven Societies


Allen Harper (Computer Science)
-The Digital World


John Fitzgerald (Economics)
-Intro to Macroeconomics


Maggie Solberg (English)
-The Art of Rhetoric


Belinda Kong (English)
-Writing China from Afar


Mohammad Irfan (Computer Science)
-Social and Economic Networks
After students finished the assignment, Stone surveyed his 34 students about their Considdr experience. From the assignment on whether to raise minimum wage, 33 percent of the students said that Considdr helped them change their minds and 15 percent said that the exercise helped them formulate an opinion when they didn't have one before.
Michael Franz, professor of government and Finberg's honors project advisor, opted to test Considdr last fall in his Public Opinion and Voting Behavior course. He asked students to grapple with the question of whether our democracy is in trouble. "I want students to engage in materials. The ideal student is not someone who just crams for class, shows up, and then loses it," he said.
Considdr could also applications beyond the hot topics of the day. Professor of Romance Languages and Literatures Arielle Saiber is using Considdr in her class Dante's Divine Comedy. She is asking students to answer the perplexing questions of why Dante called his intense work a comedy, and whether readers should laugh when they read it?
Besides anticipating that Considdr will spur thoughtful debates among her students, Saiber said she seized the chance to use a new communication technology. "It's important to listen to young people and to pay attention to the technology they're developing, because it is serving a need or function that is important to them," she said.
So while Considdr helps users reason through their opinions, prodding people to change their relationship both to their own opinions and to those of others, it also holds the promise of creating a new kind of conversation. "As a collaborative discussion and research tool, we hope Considdr can help the broader user-community naturally become more open to other perspectives," Wahl said.