Published November 29, 2017 by Rebecca Goldfine
Adaiah Hudgins-Lopez '18 Creates 'Reciprocal Storytelling' for Hard Conversations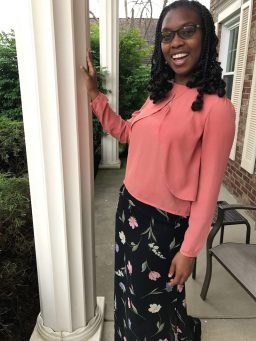 It happens often in a liberal arts setting: a student gets a spark of inspiration for a new research idea after concepts she has encountered in her classes fuse together in an original way. Sometimes this insight comes when an outside event resonates with classroom lessons.
For senior Adaiah Hudgins-Lopez, this moment came in the fall of 2016, when she was studying the importance of reciprocity in her History of Anthropological Theory class, taught by Associate Professor of Anthropology Krista Van Vleet.
This influential course followed an earlier eye-opening English class, called Fairytales and Retellings, which she took the previous spring with Associate Professor of English Elizabeth Muther. Since then, as a Mellon Mays Undergraduate Fellow, Hudgins-Lopez has been doing independent research on storytelling.
Both of these subjects — storytelling and reciprocity — have affected how Hudgins-Lopez has thought about conflict and communication, topics that have been on her mind since a series of divisive racial incidents on campus  set off intense debates about race and cultural appropriation.
Hudgins-Lopez dived into these community discussions, but said she often came away frustrated. "It seemed people were talking at each other. They weren't opening up or trying to engage in other ideas," she recalled. She wondered, "How can we get with people to talk to each other, with each other?"
In her fairytale class, she had learned about how and why ancient stories have been passed down, and how they have changed over time. "It got me thinking about storytelling as a transformative tool, and it was interesting to connect that with my anthropological academic history," she said. "When we started talking about reciprocity, something clicked. I wondered if there could be something called reciprocal storytelling."
"I don't want it to be that a storyteller tells a story, people clap and go home, and no one is changed."
—Adaiah Hudgins-Lopez
Reciprocity, according to anthropologists, is a non-monetary exchange, typically of gifts. Hudgins-Lopez's notion of reciprocal storytelling, which she is still developing and refining in her senior-year honors project, involves at its most basic level the exchange of a story between a storyteller and audience. The storyteller gives a gift of a tale; the audience returns with another gift, perhaps some indication that the story has been heard and absorbed, or perhaps with a story of their own.
"I'm thinking about [reciprocal storytelling] as a tool for successful communication across difference," Hudgins-Lopez said, serving as a bridge across race, ethnicity, age, religion, class, geography, and other divides. She is interested in understanding how trust and solidarity are created during these exchanges, or conversely, how distrust and defensiveness arise.
Moreover, Hudgins-Lopez, who is a dance minor and an English and anthropology major, is not only examining the words conveyed in a discussion, she is also analyzing the performative aspects of communicating — e.g., laughter, hand movements, body language, facial expressions. In another example on how her broad interests have merged to fuel her reciprocal storytelling project, she points to a dance class she took in 2015, Introduction to Black Performance, which pushed her to consider "the importance of performance and its potential to alter perspectives," she said.
This past summer, she got a chance to test her ideas in Southfield, Michigan, a suburb outside of Detroit. Hudgins-Lopez's father is the head of the school district there and asked if she could help facilitate discussions between parents and principals. These dialogues were part of a larger project to get families more involved in the area's schools.
"It was amazing," Hudgins-Lopez recalled. Both father and daughter led conversations about the notions both parents and principals had of one another and of the schools. Participants shared how they thought problems could be solved and conflicts resolved, and how schools could get to know students more and serve them better.
Though she started her project on reciprocal storytelling with Muther in the English department, she is now working with Professor of Anthropology Sara Dickey. ​Dickey noted that "lots of evidence shows that telling someone a story about your life is one of the best ways to get the listener to recognize why you feel and think and act as you do." She added, however, that, "we don't have a lot of evidence about what makes some storytelling practices more successful at mutual recognition and regard than others do, and Adaiah's research has great scope for demonstrating how people can most effectively use narratives to come to recognize each other's perspectives."
Dickey said that her student is combining theory and real-life observations to create a model that can be used to help people in opposition communicate and listen, and to motivate them to act on what they have learned from and about each other.
For reciprocal storytelling to be successful, according to Hudgins-Lopez, participants must walk away with a new perspective. "I don't want it to be that a storyteller tells a story, people clap and go home, and no one is changed," she said, adding, "What can result from it?"