Published November 21, 2017 by Carly Berlin '18
Acclaimed Mexican Writers Discuss Art in Times of Crisis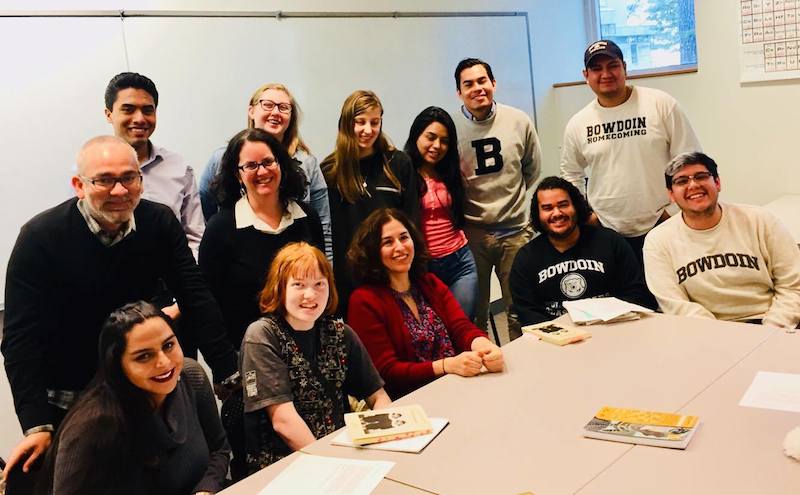 Film scholar Ignacio Sanchez Prado and novelist Guadalupe Nettel, both of Mexico, joined together to give a talk at Bowdoin this week on "Aesthetics in Times of Emergency: A Conversation on Mexico."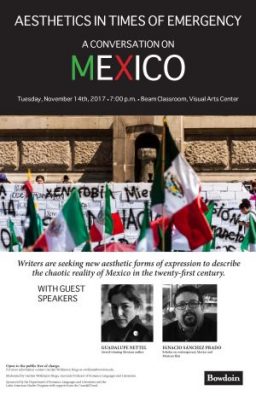 Brought to campus by the Department of Romance Languages and Literatures, the Latin American Studies Program, and the Crandall Fund, Prado and Nettel spoke to the historical roots of contemporary Mexican crises, and the ways cinema and literature can represent an ever-more complicated present. Bowdoin Associate Professor of Romance Languages and Literatures Carolyn Wolfenzon Niego moderated the discussion.
The event was framed as a chance to discuss the ways writers and filmmakers are attempting to find new aesthetic ways of describing the ever more chaotic happenings of our times. The current emergencies that Mexico is experiencing, as well as the high levels of violence resulting from the 11–year war on drug trafficking, are themes that predate immigration issues under Trump and are of equal importance to understanding what is occurring in Mexico, according to Wolfenzon Niego.
Prado, who is a professor of Spanish, Latin American studies, and film and media studies at Washington University in St. Louis gave a presentation on his latest book of criticism, Screening Neoliberalism: Transforming Mexican Cinema, 1988-2012. "Cinema is one of the most important places that we can see the impact of Neoliberalism," Prado began. Walls in Mexico are not new, he argued, and neither is the uneven economic relationship between Mexico and America. The demands for cheap labor, the drug trade, and undocumented migration are issues that have existed between the two countries for decades.
"The cinema that matters is the cinema that people actually see," Prado said. He is not interested in highbrow documentaries that "preach to the choir," but in popular film. He acknowledged Hollywood's wide domination. Mexico produces around 140 films a year. Only 40 are actually shown, and only around 20 prove profitable. "Because Americans don't go to the movies anymore," Hollywood is seeking profit on the other side of the border. But a movie ticket in Mexico costs a day and a half's income on minimum wage. "Making cinema in a country like Mexico is heroic," Prado said.
Next, author Guadalupe Nettel gave a brief talk called "Imagining the Other: Literature in Times of Crisis." Nettel's collection of short stories El matrimonio de los peces rojos won the Premio Internacional de Narrativa Breve Ribera del Duero, and her novel Después del invierno won the Premio Herralde in 2014. Nettel began by describing how, when she was young, she believed that "art and literature should be just art and literature" — devoid of politics. A quote from writer Amos Oz changed her philosophy. Nettel read Oz's words: "Reading a novel from another country is like being invited to other peoples' living rooms. You are invited to enter into their most secret sadness, their joy, and into their dreams." Nettel added, "Literature has the power to connect beyond ideologies."
Nettel said she writes according to the words of indigenous protestors from Chiapas, whom she heard speak in college: "Only when Mexicans agree to look at what hurts us, what makes us feel ashamed, what makes us hide from everybody else, only then will we acquire integrity and integration as a country." In writing, Nettel confronts her fears of blindness—both physical, and cultural—and aims to confront the uncomfortable. She called upon the audience to read foreign literature as a way of allowing "us to imagine our neighbors." For "curiosity has a moral dimension," Nettel concluded.