Published October 20, 2017 by Tom Porter
Pioneering Deep Sea Research by Serrato Marks '15 Published in Academic Journal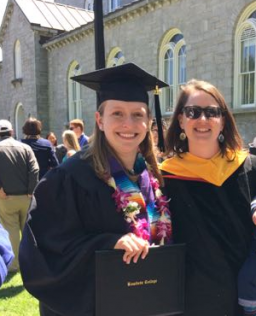 Gabriela Serrato Marks '15 now has the distinction of being a published academic author. Her paper—Reproducibility of Ba/Ca variations recorded by northeast Pacific bamboo corals—has been featured in the peer-reviewed academic journal Paleoceanography. The study is based on research she carried out as an undergraduate at Bowdoin under the guidance of Assistant Professor of Earth and Oceanographic Science Michèle LaVigne.
"Gabi's work is an important step in the development of new climate proxies that enable us to reconstruct ocean conditions back in time with these corals," said LaVigne.  "She also discovered rapid changes in deep water conditions that may be related to ocean circulation and carbon cycling."
Serrato Marks said she started working on LaVigne's deep-sea coral project in 2013 as an undergraduate with no previous research experience. "On my very first day in lab," she recalled, "I accidentally broke one of our important samples, which was scary at the time! But looking back, I feel I really grew as a scientist during the course of the project."
This experience, she said, was instrumental in her decision to apply for graduate school. Serrato Marks is currently enrolled in a PhD program at the MIT/Woods Hole Oceanographic Institute joint program. She is also the recipient of a graduate research fellowship from the National Science Foundation.