Published June 13, 2017 by Rebecca Goldfine
Has American Higher Ed. Lost Its Way? Bowdoin's Dorn Delves Into Question in New Book
Are colleges and universities in crisis today? Is college too expensive and yet still not preparing graduates for real-life careers? Do colleges and universities actually contribute to the common good? Or are they just masked corporations?
Bowdoin Professor of Education Charles Dorn takes a unique approach to answering those questions, and others, by looking back at 200 years of history of higher education. In his new book, For the Common Good: A New History of Higher Education in America, Dorn argues that we can't understand what's going on with colleges and universities today until we examine where they have come from, why they were founded, and how society has viewed their function at different points in time.
"There have always been periods where Americans have been disgruntled with higher education," Dorn said in a recent interview. "What people tend to do is, one, they push for reform — they want what currently exists to change. And two, they create new kinds of institutions that better meet the needs they have defined."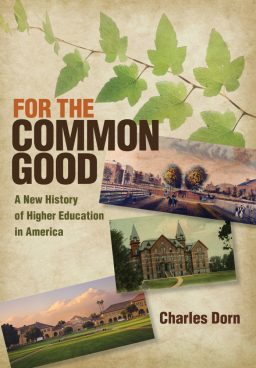 Dorn follows the evolution of higher education as colleges and universities move from placing a priority on civic-mindedness, and then on practicality, before embracing commercialism and affluence. The heartening message in Dorn's book is that as higher education has refashioned itself over the past two centuries to respond to a changing society, a consistent thread has unspooled throughout. Although practicality, affluence, commercialism may have nudged aside civic mindedness as dominant themes in higher education, the pursuit of the common good is still at the heart of many colleges and universities. If this were not true, Dorn argues that colleges and universities would not be as concerned today as they are about access, diversity, and educating for citizenship.
But how this public-service mission has been defined and acted on by colleges and universities has shifted over time. Over the past 200 years, competing social, political, and economic forces have tempered higher education's adherence to serving the public. "The common good is always there, but other things have been prioritized," Dorn said.

In his book, Dorn argues that higher education has gone through four major transformations in America. These transformational eras are the "Early National Period" (1780-1820), Antebellum and the Civil War (1820-1865), Reconstruction through WWII (1865-1945), and the Cold War through the 21st Century (1945-present).

Using Bowdoin as one of the many institutions he examines, Dorn explains that when the College was founded in 1794 it manifested an ethos of civic mindedness. "Consequently," he described, "Bowdoin prioritized a moral education and the fostering of civic virtue over private advantage." Yet colleges established during the Early National Period were also exclusive, attended mostly by white Christian men. "Higher education was not meeting the needs of most people, including women, African-Americans, and others," Dorn noted.

So while schools like Bowdoin were under pressure to reform, new institutions were born to address the needs of women and students from the working class. In the second important era in the history of higher education, from the Antebellum to the Civil War, higher education focused more on practicality than civic mindedness, according to Dorn. From 1820 to 1865, agricultural colleges and teaching colleges were founded — schools with practical missions, and no Latin or Greek requirements.
When the Civil War upended the United States, it ushered in a new era for higher education, one stressing commercialism over practicality and civic-mindedness, Dorn argues. The rise of business put existing colleges on the spot, and, once again, helped to bring forth new ones.
During this period, from Reconstruction to the end of WWII, higher education opened up to more diverse students. Women's colleges (which prepared women not just for teaching jobs but for a range of vocations) and historically Black colleges and universities colleges, as well as research universities, opened across the country. These new institutions were products in some way of the new commercial environment, according to Dorn's thesis. Stanford University, for instance, was founded by the wealthy Stanford family, which made its fortune building railroads. "Students were very interested in doing well in society," enrolling in college to prepare not just to do good in the world, but also to engage in the commercial market, Dorn said.
In the years Chuck Dorn spent researching his new book, For the Common Good, he visited the archives of 11 colleges and universities: Bowdoin College, University of South Carolina, Georgetown University, Michigan State University, San Jose State University, Stanford University, Smith College, Howard University, University of South Florida, Community College of Rhode Island, and Santa Fe Community College. He selected these particular institutions as his case studies because they fulfilled specific criteria: they were founded at different times over the past 200 years; they included a range of types (public, private, parochial, single-sex, racially segregated, etc.); and they represented a broad geographic distribution.
Dorn researched students' diaries, journals, newspapers, and meeting notes from college and university archives. While he also scoured official college records, he found it useful to investigate how students perceived higher education and why they pursued it. "I was interested in knowing what the students were thinking, doing, or saying, and why they went to college," he said. Before 1960, fewer than 10 percent of Americans graduated from college, and non-graduates could be quite successful without a degree. "So why would the students do something that they didn't have to do? And that is what those sources say a lot about," Dorn said.
The fourth and final era Dorn defines in his history of higher education begins after WWII and continues to present day. It is a period in which affluence  — the desire for and pursuit of wealth — predominates over civic-mindedness, practicality, and commercialism. Students nowadays can be quite frank in their justification for college: they want to make a good income. "They're showing up at college and asking, 'What do I need to do in order to make money?'" Dorn said.
An interesting twist in this modern-day section of Dorn's history is that it's not just students who are engaged in the pursuit of wealth, but also colleges and universities. "They're as concerned about affluence as the students are," Dorn said. "Everybody's chasing dollars."
In conclusion, Dorn reassures his readers that higher education will endure, despite the critics who blame colleges and universities for not preparing graduates for success. "Higher education is resilient. Most colleges and universities in America have withstood economic recession, depression and war," Dorn said. And that is because "people have continued to see a social value in higher education." Citing a recent survey on Americans' perceptions of higher education conducted by New America (a Washington-based think tank), Dorn reports that over 60 percent of respondents expressed their belief that college is primarily a societal good rather than a private one, indicating that even today a majority of Americans maintain faith in colleges' and universities' commitment to the common good.
Additionally, Dorn maintains, even while practicality, commercialism and affluence might appear to be at odds with civic mindedness, these competing tensions have commingled to create a varied landscape of colleges and universities — and a diverse student body — in our country today. And that is good for the country. "Students have always used college to get ahead," Dorn writes. "The archival record is replete with examples of students expressing concerns — some apprehensively, some confidently, but almost always intentionally — that they engage in self-improvement in order to become useful members of society."